Greece – 9 Must-Have Items To Pack
Heading to Greece? Then, these must-have items should be in your luggage.
Are you traveling to Greece for the first time and wondering what exactly to pack?
Maybe it's not your first time, and you still want to ensure you cover all your bases.
A lot of online lists cover essential clothing items or electronics, but often forget some key basic items that will come in handy once you arrive.
Visiting Greece is definitely a dream, so let's make sure your experience is one to remember.
Let the preparation begin.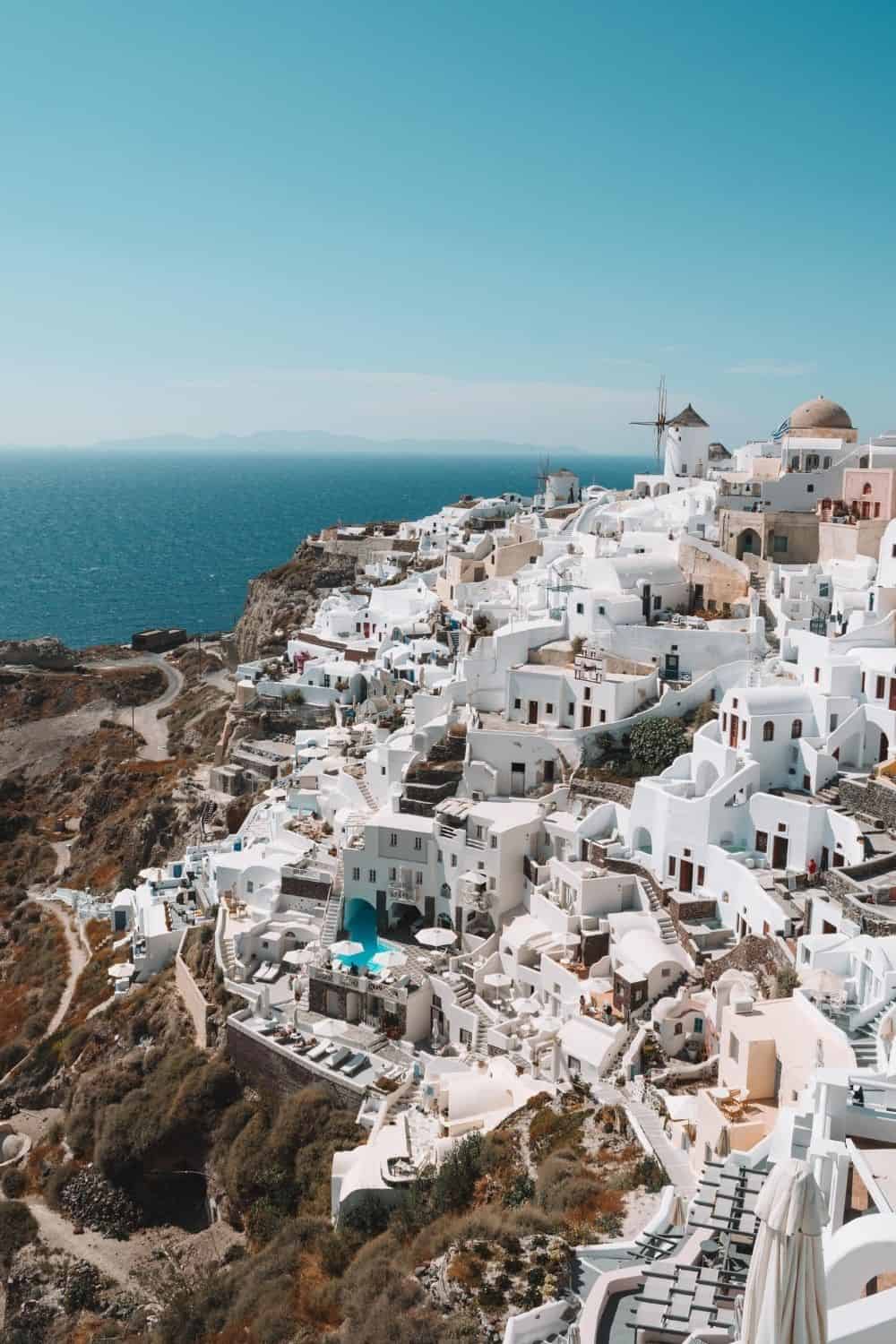 This post contains affiliate links. We may earn a commission at no additional cost to you if you make a purchase through a link. Please review our disclosure for more information
1. Dog Poop Bags
Yes, you read that correctly; pack yourself some doggy poop bags!
As you may have heard, the plumbing and sewage systems in Greece are not the most modern and have limitations.
This is even more present on some islands where the sewage system is even more complex.
Most restaurants, motels/hotels, and museums, among others, will have signs posted clearly advising you not to flush any toilet paper.
Toilet paper is to be discarded in the wastebasket next to the toilet bowl.
Now, Greece is a very popular honeymoon destination, especially the Cyclades Islands, such as Santorini and Mykonos, which share these same plumbing issues.
While using the wastebasket may work for some, if you are anything like me, I prefer to keep a little mystery with my husband, especially while on our honeymoon 😉
Although the wastebaskets are emptied once a day, we used doggy pop bags for our toilet paper and then placed them inside the bins.
To keep things simple, just keep a few on the toilet tank's lid.
The bags we used were scented and thick like these Extra thick waste poop bags, which was super helpful and made the task at hand even better.
You just have to remember not to throw the toilet paper in the bowl; that's the hardest part, as it's a habit we all have.
While a few locals may claim that it's okay to flush toilet paper in Greece, we respected each establishment's request and avoided any potential overflow issues that others experienced.
2. Quick Drying Travel Towel
While this may not necessarily qualify as unusual, travel towels are often omitted from packing lists.
I believe everyone should invest in a quick-drying towel, especially if you love the water and visiting beaches is high on your list of activities.
One of the great appeals of Greece is its turquoise blue waters and abundance of beautiful spots to swim.
On some islands, such as Milos, we are talking about 72 different beaches to choose from.
That means a whole lot of water and drying off time.
On some days, we hit 7 to 8 different beaches, which meant a quick-drying towel was most definitely an essential item.
There are plenty of great options available on Amazon for affordable prices.
This 3-piece OlimpiaFit Microfiber Towel is well-priced and available in multiple colors.
3. Insulated Beach or Grocery Bag
Now that you have your beach towel ready, let's not forget another great item to bring along to Greece: your insulated grocery/beach bag.
Whether it's a cold-packed lunch, some delicious Tzatziki to dip your stuffed vines in, restaurant take-out, or a cold Mythos beer, you'll want to keep your beach-time food items cool on those hot summer days.
Bring along a foldable, lightweight, insulated bag in your suitcase.
This does not have to be an expensive purchase; a simple insulated bag from your local Wal-Mart or even Dollar Tree can do the trick.
4. Insulated Cup
If you love cold and iced coffee, then Greece is the place for you.
Everywhere you go, you will see locals ordering and walking around with the ever-popular Freddo Expresso or Nescafé Frappé.
Now, if you are not big on disposable plastic cups, then I highly suggest bringing along your favorite insulated cup to have them pour your drink in instead.
I personally love the Bubba brand, but they are always out of stock, so I found a highly-rated substitute.
The Buzio Stainless Steel Bottle is great for both hot and cold drinks.
You can keep your drinks hot for up to 24 hours and cold for up to 48 hours, and that definitely comes in handy when you're at the beach.
5. Travel Safe
Whether you are staying in an Airbnb, a motel, or even a hotel, some just don't come equipped with a room safe.
Does this mean you have to pass up on that great deal you found or risk your personal goods in exchange?
Not at all; grab yourself a lightweight, personal safe that can be used as needed.
The last time we were in Greece, one of our hotels in Santorini did not have a safe, but it met all of our other criteria.
So we made sure to bring along our own safe and attach it to the bedside table; problem solved!
Ours was a simple model, almost identical to this AmazonBasics portable security case
6. Mini Super Glues
So imagine splurging on some fancy hard shell suitcases, only for them to crack less than a week into your month-long island-hopping vacation.
Well, it happened to both our sets, and it's apparently an all-too-common issue.
Luckily for us, we were able to find and snag the last bottle of superglue in a small grocery store, but that's not always possible on small islands.
Grab a multi-pack of Gorilla Clear Glue minis and pop them into your luggage.
They take up almost zero room or weight, given their tiny size.
7. Luggage Trap
If Island hopping is on your list of things to do in Greece, then you'll likely be taking a ferry here and there.
Depending on the islands you are visiting and the ferry you select, some ferries require you to leave your suitcases in the luggage hold area at the bottom of the ferry.
Smaller ferries have more limited space, and you may even find your luggage being stored outside.
Now if you are traveling internationally, then you'll likely have a large suitcase and carry-on, not to mention your purse or backpack.
One item we found to be of immense value was our Luggage strap, which we used to link both our carry-on and large international suitcases together.
Using the suitcase belt attachment allowed us to quickly locate and grab both items and not worry about them being mistakenly separated in the rush of people exiting the ferries during stops.


More Travel Essentials: 17+ Amazon Travel Must Haves
8. Suction Cup Toothbrush
So, if you've done any hotel searches, you've likely seen pictures of tiny bathrooms that have been posted by previous guests.
Greece is quite notorious for the size of the bathrooms and even more so for their showers.
While exceptions do exist, you'll likely encounter more than one bathroom with limited counter space.
Packing a suction cup toothbrush liberates some of that much-needed counter space for other items that can't be placed elsewhere.
9. Clothes Drying Wheel
When traveling for periods over a week, running out of clothes tends to happen.
And like most people, you ARE probably planning on packing a lot of cute white outfits for your trip to Greece.
While staying at a variety of boutique hotels, hotels, and motels in Greece, we were unable to find a laundry service that could get the task done before our next move or offered by the establishment at all.
Packing a drying wheel is super practical; you have soap provided by the hotel, or you've packed your own laundry soap bar (those are great).
Just hang the wheel outside on your balcony or shower pole, and you're good to go.
If you're lucky, you'll snag one at your local Dollar Tree.
Plus, if you only pay a dollar twenty-five, then you have zero guilt about leaving it behind for some extra space for souvenirs on your way back home.
A couple of different models exist depending on your packing style preference.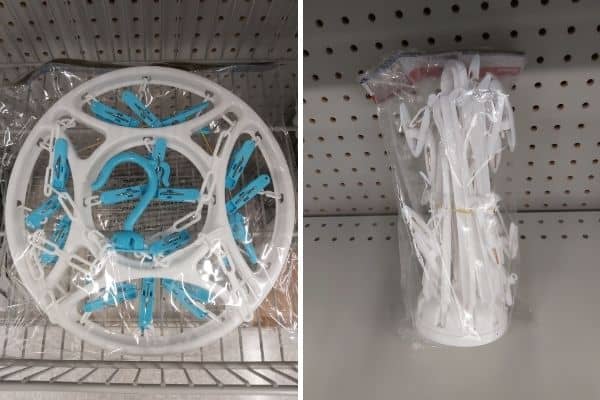 So are you now ready for Greece?
Give these items a go, and you'll be ready to relax and enjoy all this amazing country has to offer.

Tips: 7 Santorini Trip Planning Mistakes To Avoid!

But before you head off packing, here are some of my basic essentials for travel to any country!
#1. Tweezers
I always bring a pair with me.
On day two of our trip, David got pieces of seashell in his foot, and my handy tweezers came to the rescue.
For some reason, tweezers seem to always be in need during our trips.
#2. Large Ziplock bags
The most versatile item on my list. I use them for almost everything;
Small Carry-on liquids for the security check.
Packing shoes so that your clothes stay clean.
Organizing all your meds into one bag.
Phone chargers, travel power converters, etc.
They can also be used as economical packing cubes (minus additional weight) for underwear, socks, tank tops, basically whatever you want.
Pack daily outfits into each bag if you find that helpful.
#3. Razors
And while I stick to my old-school Venus razor, hubby loves an upgrade.
He will always pack a couple of his favorite electric razors for travel, including his head and face razors.
#4. Cardigan/Jacket
Regardless of where I am traveling or the predicted forecast, I always pack something warm to wear.
People often think that Greece is an extremely hot place, but it's often very windy and quite cool in the evenings, especially on the islands.
You can literally be sweating from a steep climb yet chilled at the same time from the brisk wind.
Other Greece Travel Articles
Greece – 9 Must-Have Items To Pack