7 Santorini Trip Planning Mistakes To Avoid!
Steer clear of these simple mistakes when planning your trip to Santorini to maximize your dream vacation.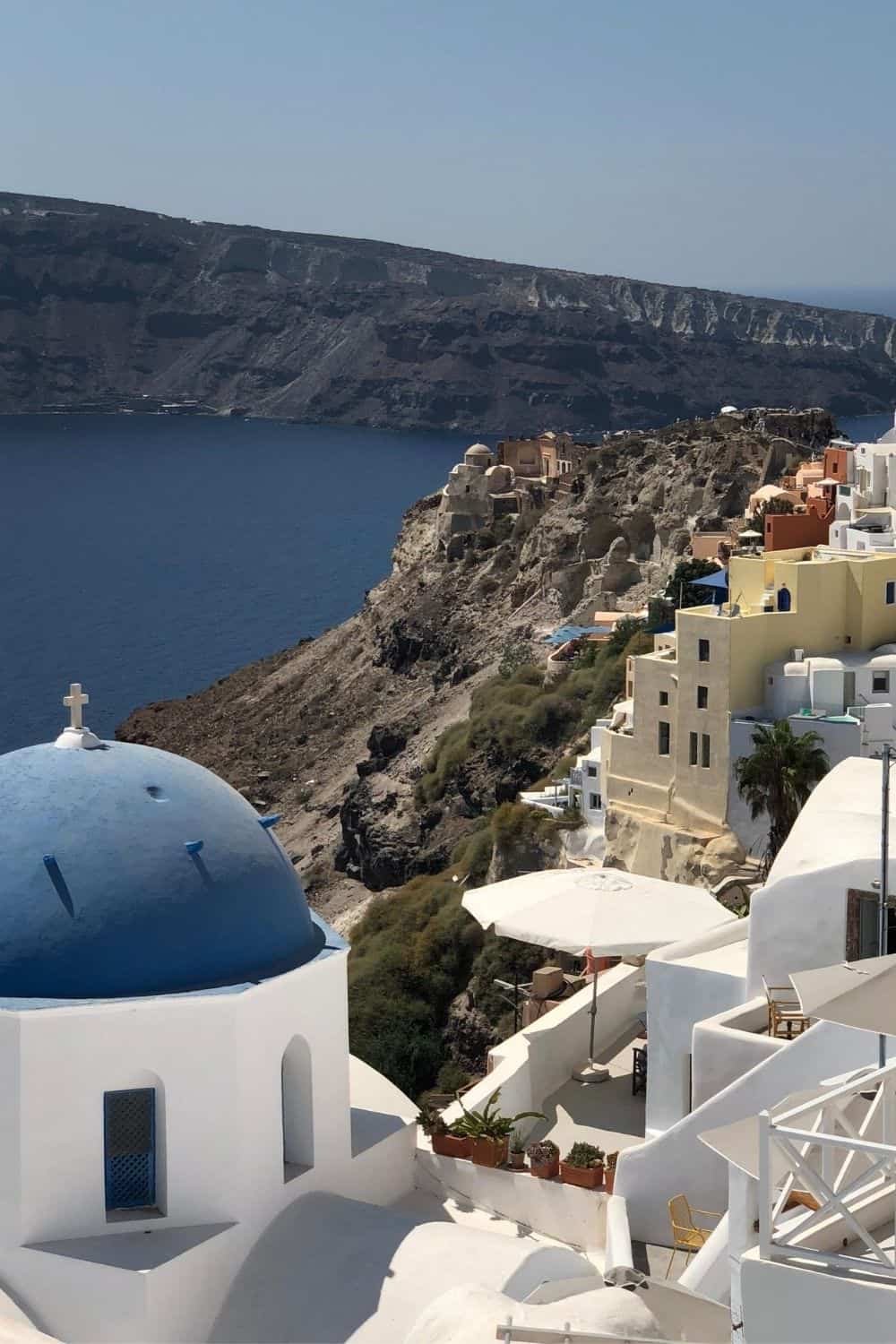 Are you finally planning your dream trip to Santorini?
If so, I am so excited for you. 
Santorini is, in my opinion, the most magical place on earth. 
As much as you dream of it, nothing can truly prepare you for the spectacular views and feelings of enchantment this beautiful island evokes.
1. Booking the correct hotel view
When selecting your accommodations, if amazing cliffside views are top of your list, then make sure you read the booking details very carefully.
The picturesque views you have seen on every postcard or movie scene set on the island are not referred to as Ocean views in hotel listings but Caldera views.
When going through lists and lists of hotels or Air B&B listings, make sure you do not solely rely on pictures the business has posted and read every detail.
We often found hotels showing rooms with Caldera views when all their rooms were listed as "Ocean views".
When looking into the exact location of the accommodation, they were nowhere close to the Caldera.
If the offer seems too good to be true, it most likely is.
Make TripAdvisor your new best friend. I cannot tell you how many hotels we turned away from after doing research;
Check previous guest pictures for any accommodation you are planning to book.
Use keyword research in the hotel reviews. This will pull up all the reviews which contain your selected word, and you can read up on what previous guests had to say.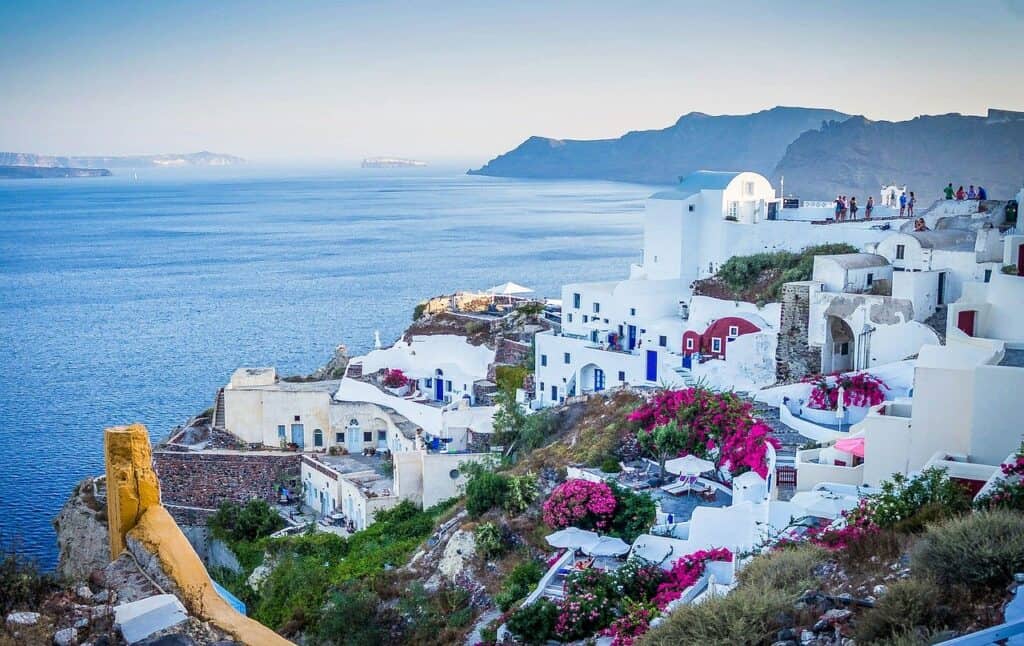 2. Double check your reservation
While this tip should apply to any trip, I think it's especially important when a difference in rooms or amenities can make all the difference to your dream vacation.
On our last trip to Santorini, we booked a cave room with an outdoor jacuzzi (yes, sometimes they are inside the room) using a popular online booking agency. 
When we received a welcome email from the hotel, the room name was different and had no jacuzzi, along with other missing amenities.
It turns out our preferred room was already booked by someone else, and the reservation could not be corrected. 
We had the choice to either accept the available room (with a discount) or cancel the hotel reservation. 
This issue was at no fault of the hotel but could have impacted our trip had we not caught the discrepancy beforehand.
So after making your reservation, always make sure that the room description indicated in the hotel reservation matches your selection.
If you are staying in a hotel that names its rooms, double-check your confirmation email for it and any specific amenities you paid for.
3. Not organizing your transfers in advance
While Santorini may be a beautiful location, with that beauty comes a massive influx of daily visitors.
Nothing can bring on stress like being surrounded by hordes of people and not knowing where to go and what to do.
If you're heading to the island then make sure you account for transfers into your travel budget.
Santorini is not the cheapest island, to be sure, but transfers are not the area where you should be making budget cuts (that's what amazing Gyro's dinners are for 😉 ).
Factor in a tiring ferry or flight delay (very common), and you'll be so glad to see your driver holding up your name on a cardboard sign. 
Most hotels or Air B&B hosts will offer to book a transfer for you in advance of your arrival.
If they do not mention it, make sure to ask them about it.
 Available options are private, semi-private, and sometimes a van full of people.
Of course, you will pay more for a private transfer, and also, depending on the number of people you are;
Expect around the following rates:
Semi-private/Shared transfer: 30 Euro for up to 4 people
Or
Private transfer: 50 Euro for up to 4 people
If you are planning on switching between a couple of hotels during your stay on the island, expect to once again pay about 20-30 euros for each transfer, depending on the distance. 
Taxis rates are also high (we paid 18 euros for just over a one-mile ride).
Alternatively, once you are more familiar with the island, you can opt to take the public bus for just 2 euros between hotels. 
*This, however, is not recommended for any return trips to the port or airport where timing matters.
Note: In cases of ferry or flight delays, I always recommend contacting your hotel and letting them know of the situation.
This is especially important if they have organized a transfer for you.
Many drivers do keep up to date with the delays at the port. But it's always best to let your hotel know they should still be expecting you.
This way, they can pass that info along to the driver.
*I recommend bringing an unlocked phone and getting a very affordable Wifi/phone package while in Greece (check out Vodaphone).
If you paid for a private/semi-private transfer but experience travel delays, do not be surprised to find yourself sharing a ride with extra people.
The driver has stayed to ensure you get to your hotel but now has to fit you into the new schedule (you will not get a discount).
4. Where's the party!
While some islands never sleep (Mykonos, hint hint), Santorini does not get its reputation for being the life of the party.
So know what to expect before arriving!
Oia tends to shut down around midnight; most of the shops are closing up their doors around 11h30 pm to 12 am.
While it's bustling during the day, things settle down quite a bit after sunset.  
Most tourists return to their cruise ships, and dinner is the main event in this area.
Fira, on the other hand, is the main town of Santorini.
It has the most vibrant and exciting nightlife on the island.
If you looking forward to a more upbeat evening in a club or some fancy drinking spots, then this is the place to be.
5. Visit the island
Depending on how long you are visiting the island, try to explore areas outside of the main tourist spots.
I'm not saying skip the magical town of Oia if your cruise ship is stopping by for a few hours.
But if you are going to be on the island for more than a day, carve out some time to visit and enjoy some other beautiful areas.
1) Stop by in Imerovigli and enjoy the view from the highest point of the Caldera's edge.
Once there, take a hike over to Skaros Rock; it is truly impressive.
2) If you are a history buff, then take a couple of hours and visit the excavations in Ancient Akrotiri.
3) Love the water? Then take the time to climb down to Amoudi Bay.
You will not be disappointed once you dive into the amazingly refreshing water while looking up at the Caldera.
Santorini has so much to offer; these are just a few options on the island that keeps on giving.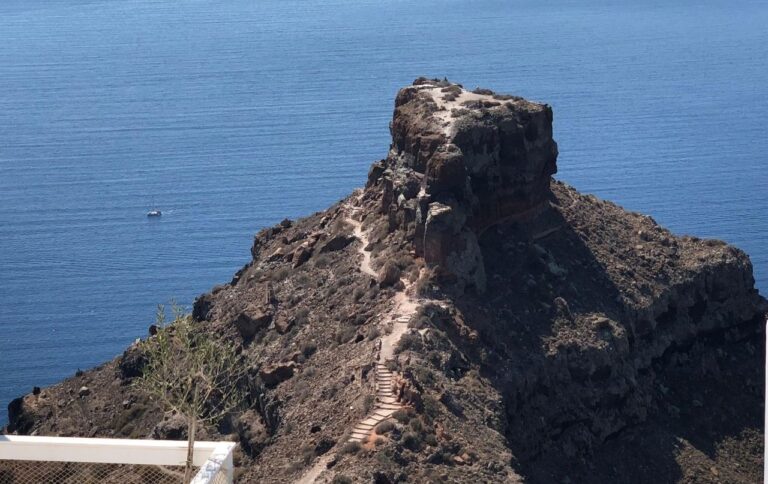 6. Do not flush toilet paper
Let's keep this one simple; please follow the written instructions indicated in your hotel.
Nobody and I mean nobody, wants poopy water overflowing in their room.
Don't think you will outsmart the system with smaller pieces of paper or convince yourself that nothing bad will happen.
JUST DON'T DO IT.
If the thought of putting your waste paper in the garbage grosses you out, then check out my easy solution for this issue.
7. Arriving in a closed ferry
Ok, so this planning mistake is not the end of the world.
But if you always dreamed of arriving on an open ferry to see Santorini from its base, then make sure you book the right ferry.
Keep in mind that depending on your route or the ferry you select, it may not always be possible to have that open deck experience (keep an eye out for Blue Star Ferries).