Athens Food Tour ~ 8 Delicious Food Stops!
Enjoy everything these amazing food joints have to offer on your Athens food tour.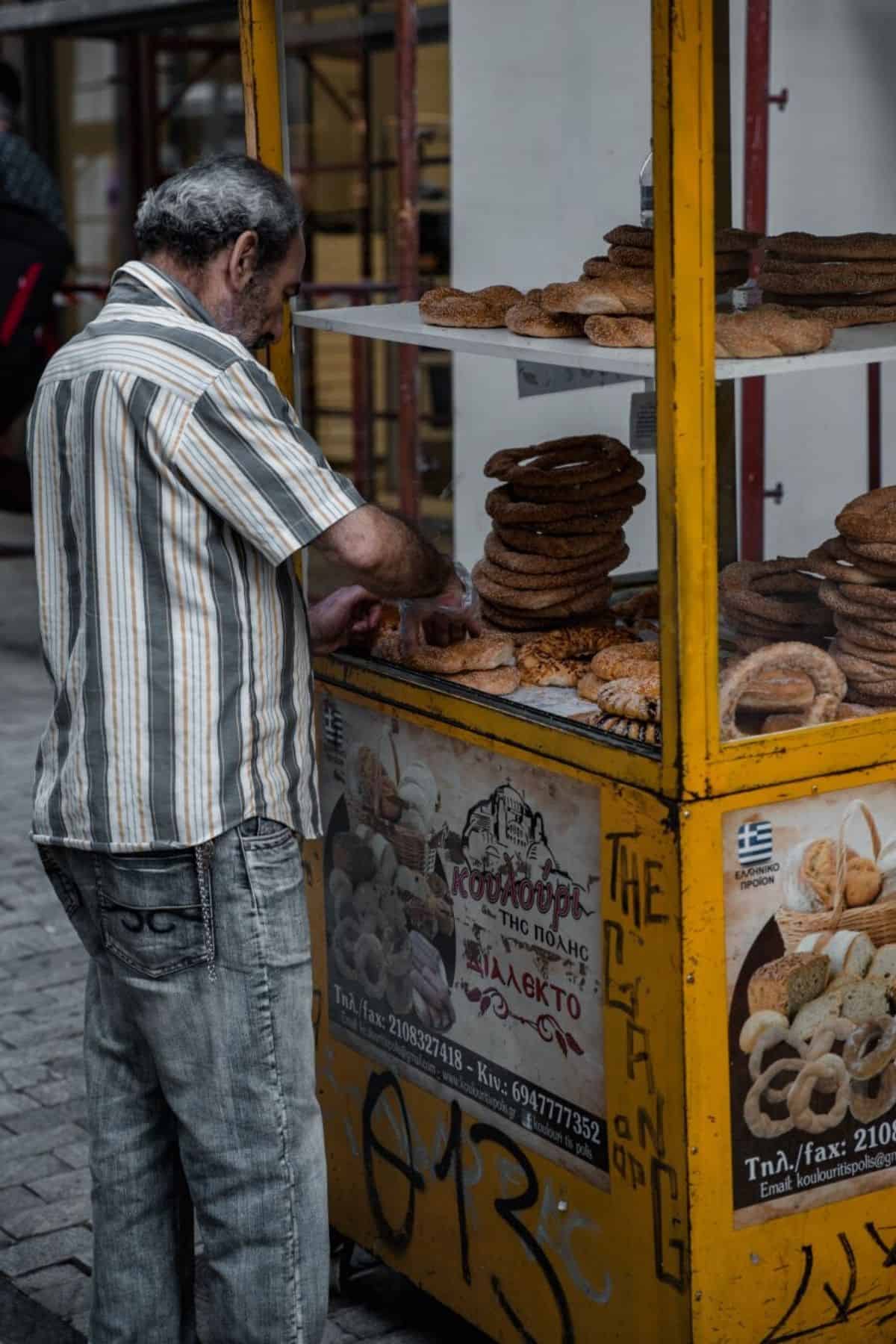 If you're a lover of Greek/Mediterranean food, then going on this Athens food tour is right up your alley!
Filled with countless delicious hotspots, every meal can be an adventure of the culinary senses.
Here are some tasty, affordable bites to try when visiting this vibrant city.
1. Greek Breakfast
So breakfast in Greece is not a huge affair.
To be honest, many Greeks dedicate their first meal of the day entirely to coffee (and why not with coffee like theirs).
There is however one classic staple found on every busy corner or bakery that you should give a try, the simple but tasty Koulouri.
A crunchy ring of bread, covered in delicious sesame seeds.
Grab one and give it a try. You can also try dunking your Koulouri into your Freddo Expresso (an extremely popular iced expresso drink), that's my kind of morning.
Where: Local bakeries or street vendors each morning
2. Souvlaki (Grilled meats)
While Gyros smothered in Tzatziki sauce are definitely among my favorite foods, especially when I'm in Greece, it's nice to take a break and try something a little different.
If you also love yourself some Souvlaki/Gyros, then give this authentic Athens food spot a go.
Lefteris O Politis is a local gem, offering the most mouth-watering, spicy meat kabobs.
Your delicious kabob will be served inside the standard Greek pita (which has also been grilling) topped with fresh tomato, onion, and the star player which is their sprinkling of red hot pepper on top.
*If spice is your thing, then try the "extra spices" version for a few extra cents.
And don't be surprised by the lack of seating. It's a local's eating spot with a few stand-up tables outside and a stand-up bar inside.
Nothing fancy here, just amazing food for the taking at a couple of euros a wrap.
Where: Satovriandou 20, Athina 104 32, Greece
3. Moussaka Please
If you are craving a warm and comforting traditional Greek meal, then Moussaka is the option for you.
I like to sometimes describe Moussaka as a cross between Egg Parmesan and Cottage Pie with the addition of Béchamel sauce (a sauce made from flour, butter, and milk).
If you are looking forward to a hearty meal, then head over to Athinas 51 and order yourself a slice of baked heaven.
Make sure you get a mouthful of all the amazing layers and flavors together.
From the aubergines (eggplant), and potatoes, to the rich ground beef.
And the final touch of yumminess, a thick layer of béchamel sauce with the perfect touch of crispiness on top.
And yes, that spice your tasting is a pinch of cinnamon.
Where: Athinas 51, Athina 105 52, Greece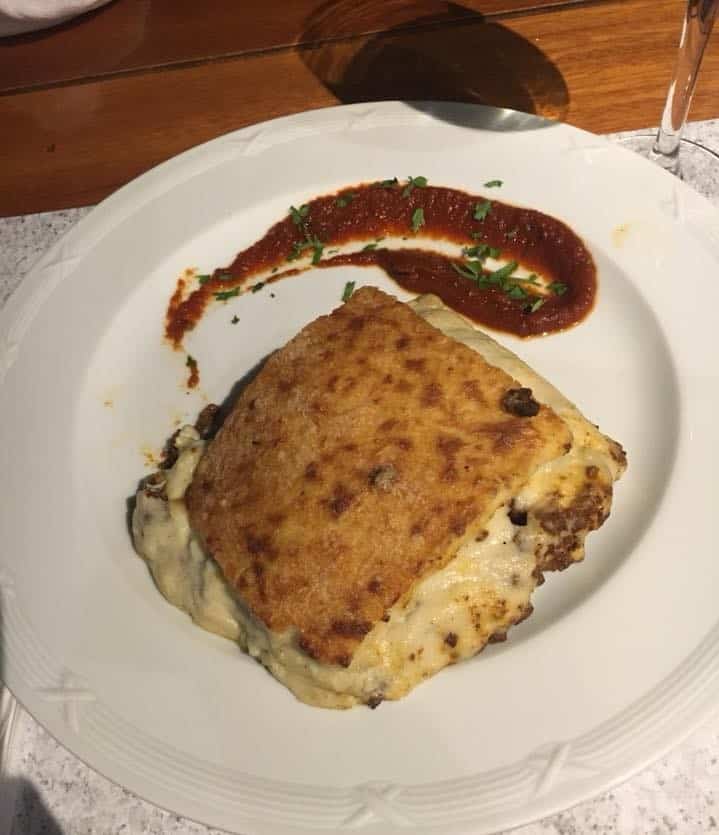 4. Fried Seafood
Sometimes you're just craving a smaller meal or need something on the go for a busy day of sightseeing.
Zisis is a wonderful option for a quick appetizer-size meal that you can enjoy there or take away.
They offer a variety of fried seafood, served on a bed of shredded cabbage and carrot coleslaw, topped with the perfect sauce to match your selected protein.
And hey, who doesn't love food served in a paper cone?
Looking to try a new type of seafood for just under 5 euros?
From small shrimp, sand smelt, sardines, anchovies, shrimp pane (battered), and cod strips, they've got you covered.
Where: Athinaidos 3, Athina 105 63, Greece
Read: 9 MUST-HAVE ITEMS TO PACK FOR GREECE
5. Family Style
Are you staying in Pireaus port ready to head off on an island adventure in the morning?
Then why not spend your last evening in Athens enjoying a family-style meal.
Grab a ride using the BEAT app (for great drivers and service) and head over to Deniz Meze near Alimos port.
From their seafood platter, salads, grilled meats, pasta, and sardines wrapped in vine leaves, they have it all at very reasonable prices.
Select a few plates to share and enjoy.
Meze plates are supposed to be smaller portions (like a snack platter) in Greece.
However, that is often not the case in many restaurants. So enjoy the generous portions of food this establishment has to offer.
Where: Leof. Agias Varvaras 11, Paleo Faliro 175 63, Greece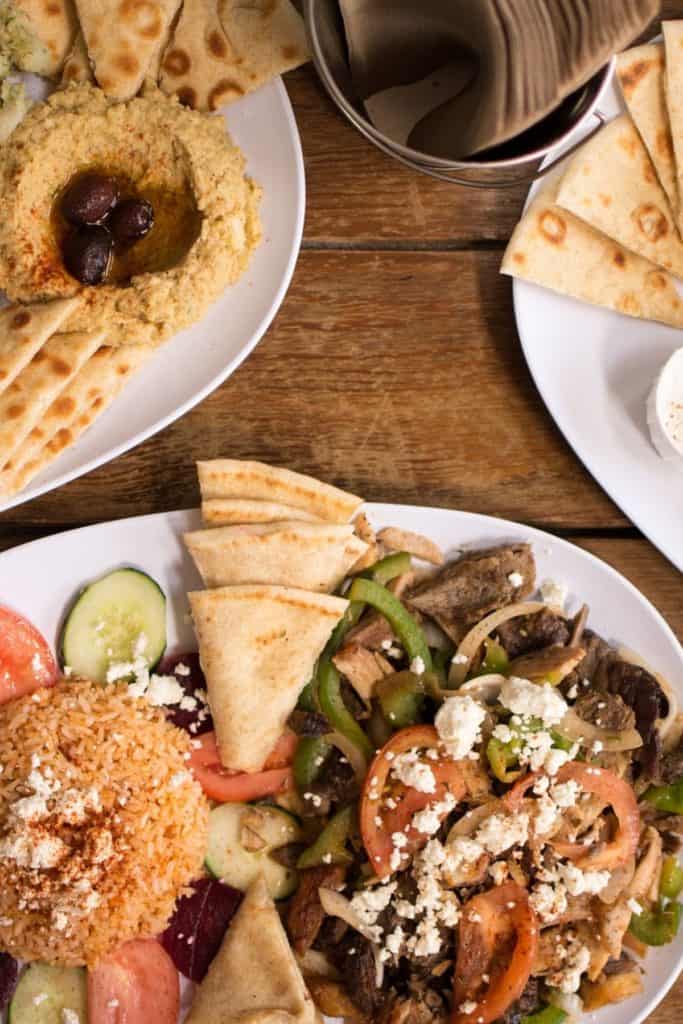 6. Savory pastries
If you are visiting Athens for the first time, you may be amazed by the number of local bakeries within the city.
You can find pastries of all kinds in Athens from the classic savory Spanakopita to Tsouknidopita.
So make sure you stop by for the best traditional cheese pies ("tiropita") from Mam, while you're in town. A small local shop with a reputation for having the best cheesy pies in town.
Where: Pesmazoglou 3, Athina 105 59, Greece
7. Donuts
Well, you can't leave Athens without trying some delicious Greek donuts (Loukoumades).
Unlike the traditional donuts we encounter in America, Greek donuts are the fluffy puff balls type, dipped in honey after being deep-fried to perfection.
Take a bite and they deflate right inside your mouth. Not sugary by nature, the sweet glazes and toppings bring this dessert alive.
LUKUMAΔΕΣ is a wonderful modern spot for anyone looking to try these delectable donuts.
Not a fan of honey, no problemo, they have a wide range of fillings, glazes, toppings.
Try their lemon or chocolate praline-filled donuts. Strawberry chocolate or caramel toffee glazes to name just a couple. Why not add some pistachios or caramelized almonds on top?
There are so many other combinations on the menu including a side of gelato.
Not a huge fan of sweets, then try their cheese filling donuts instead, available with feta or Mizythra cheese.
If you're vegan, not to worry, they have some vegan-friendly donut, sorbet, and coffee options.
Where: Eolou 21, & Aghias Irinis Str, Athina 105 51, Greece