2021 BUDGET GOALS: 52-WEEK MONEY CHALLENGE TO $10,000 (FREE PRINTABLES)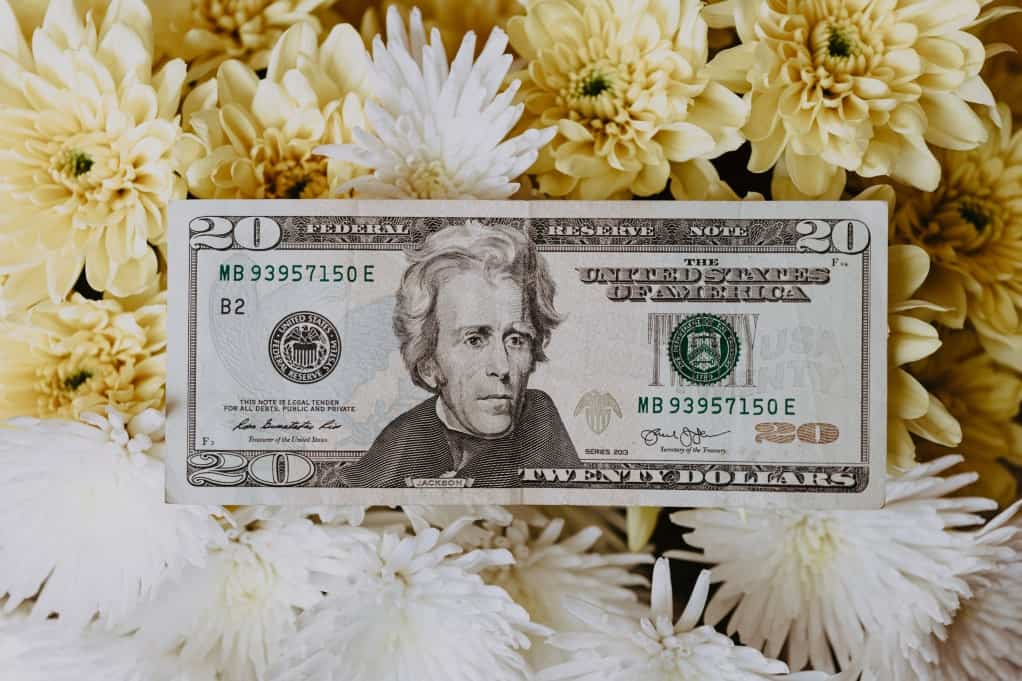 Are you excited to start a 52-week money challenge to $10,000 to put towards your financial dreams?
While the 52-week money challenge to $10,000 can seem daunting at first, just remember that each completed week is one step closer to that sizable nest egg.
So try to enjoy the challenge for exactly what it represents, an amazing opportunity to save towards your financial goals or dreams.
Will it be towards a down payment on a home, a dream honeymoon, or a step closer towards early retirement?
Deciding what your savings will go towards is just part of the fun!
Now unless $10,000 suddenly falls into your lap (unlikely right) then you'll need to stick to a plan, trim the fat from your expenses and perhaps earn a few extra bucks along the way.
And if you need some easy savings ideas, here is a great article on some frugal living tips.
Over time, even the best savers can sometimes overlook some easy savings strategies. Why not maximize every opportunity to better reach your goal.
And another great way to get started is by going over your budget and finding those easy savings that have been slipping through the cracks.
If you need a nice detailed monthly budget template, just sign up to our newsletter below and grab your free copy!
This post contains affiliate links. We may earn a commission, at no additional cost to you, if you make a purchase through a link. Please review our disclosure for more information.
STARTING THE 52-WEEK MONEY CHALLENGE TO $10,000
Let's face it, each January thousands of people make New Year resolutions to either eat healthily, save money, or both.
But January is also a month where many families are also paying off bills from the expensive holiday season.
The beauty of the 52-week challenge to $10,000 is that you can literally start it at any moment.
It does not necessarily have to be from January to December, just 52-weeks from your starting point.
Like with most things, the key is to simply start, and what better way than by setting up your Savings Builder account here with CIT bank!
I truly believe in the saying by John Heywood "Out of sight, out of mind". Each week, take your contribution and put it away in a dedicated savings account, and forget about it.
The challenge can be done in many different ways, I personally prefer to start strong and end on a lighter note. Especially when starting on January 1st because I want my December payments to be smaller since it's a hectic and costly month for our household.
52-Week Money Challenge Printable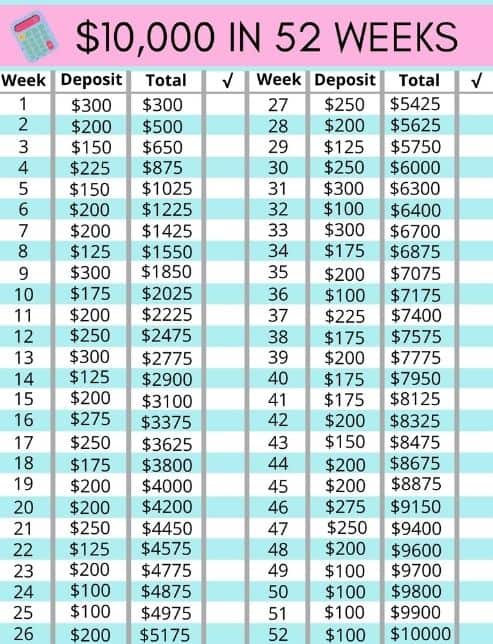 Grab your free copy of the 52-Week Money Challenge pdf, a great way to visually keep track of your weekly goals. I keep my copy easily accessible on the fridge!
Now if you prefer to customize the weekly contributions to your family's preferences, I also have a semi-blank copy of the 52 Week Money Challenge template available here.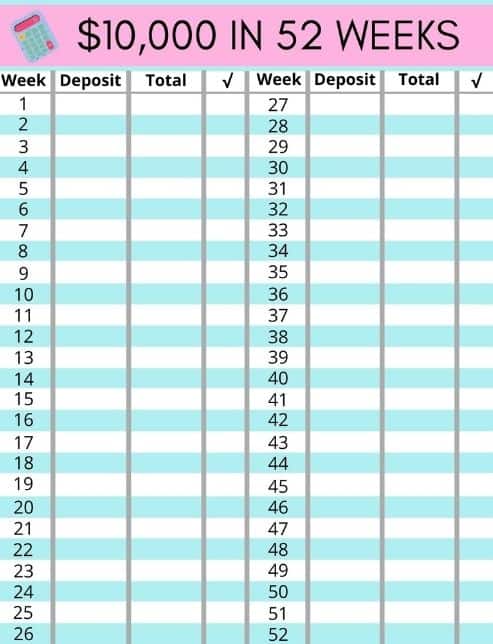 Now if you are a person who prefers handling their money and using cash envelopes, that's fine as well.
I personally prefer keeping smaller amounts of money at home but many others thrive by using the cash envelopes wallet system. The key is finding the savings tricks that work best for you.
MONEY MAKING IDEAS TO HELP YOU SAVE MORE
If you anticipate needing some additional funds to make this money-saving challenge attainable for you, then get a jump start by reviewing some side hustles ideas.
This article on 12 Realistic Side Hustles is a great way to get inspired. I've used several of these side hustles myself to cover some extra costs over the years and even towards my own money-saving challenge in the past.
SELLING CHEAP EBAY FINDS LOCALLY
One of my all-time favorite easy side jobs is selling affordable goods year-round on Facebook Marketplace, Varagesale, and Kijiji.
This can be anything from convenient kitchen gadgets, phone accessories to my personal favorite; wedding accessories.
The key is finding something extremely affordable to order overseas from places like eBay, Aliexpress, DHgate which have a nice profit margin when sold locally.
This way you will be able to sell the items at a good profit while providing a service to your local community who are looking for a more affordable option.
You can always order a few just to test the market in your area. I started with a $5 investment which seems ridiculous but it got me five different weddings veils at the time.
So take a few hours and search through these sites looking for products. Always sort by Price + Shipping: Lowest first.
Once you find an item of interest, try different keywords looking for better pricing deals that may be advertised differently.
CASH BACK CREDITS CARDS
Credit cards can be a useful tool provided you pay off the entire balance each month (do not carry anything over) and only spend what you can afford.
We only use credit cards for purchases we were already going to make such as groceries, gas, or when a credit card is required like an online order.
Tip: We immediately pay off the balance when we get home or after placing our order so that there are no surprises at the end of the month.
You can of course pay off the balance once your bill arrives by the due date. However by paying off each item as you make the purchase, you gain points and avoid seeing a large bill arrive at the end of the monthly which can sometimes be overwhelming.
If you know you can make all your payments on time, then you can capitalize on some great bonuses and enjoy cashback perks.
Capital One has a couple of interesting credit cards available, neither have any annual fees. Currently, you can get a $150 bonus when you spend $500 within 3 months of opening the account.
And depending on if you select the Quicksilver from Capital One or the SavorOne Rewards from Capital One, the cashback can range from 1.5% (everyday purchases) to 3% (dining and entertainment).
INSTACART SHOPPER
If Instacart wasn't already a popular service, 2020 saw their growth skyrocket to unforeseen levels.
What's great is the flexibility, have a couple of free hours over the weekend, hop on board and fill a time slot.
Sometimes we simply can't take on another regular part-time job. Being able to merge multiple schedules with different employers isn't always possible.
That's one of the reasons why jobs like Instacart, Post Mates, Uber Eats have really taken off in recent years.
They all provide a flexible way of earning some extra money without having to commit to a work schedule days in advance.
POTENTIAL SETBACKS
We all know life happens. You can have the best laid out plan and boom faith steps in with some interesting curveballs.
In event that this happens, just try and remember why you started this saving money challenge, to better your financial situation.
What does that mean? Well if you end the year with $9800 instead of $10,000 because of an emergency, you are still a success.
Too many people drop and run at the first obstacle in their path but you can be flexible with the plan and make it work. If you need to skip this week's payment, here are some easy ways to catch up;
Double up the following week
Divide the missed week's dollar value equally among the remaining weeks left in the challenge (this reduces the burden when you have a lot of weeks left to split it between)
If you are close to the end of the challenge and can't double up, well just add a 53 week, it's fine (Give Yourself Grace).
STAYING MOTIVATED
When participating in a long-term challenge, staying motivated is key. It's especially hard to stay on track when trimming out all of our favorite vices.
It's still important to reward ourselves on occasion, whether that be a monthly specialty drink from Starbucks or a slice of cake from the Cheesecake factory (can you tell I love food ;).
Just remember to keep it occasional and reasonable. Heck, some friends of mine like ringing a bell every time they transfer money to their savings account, it's a simple symbolic gesture of their ongoing success that keeps them going.
52-WEEK MONEY CHALLENGE RECAP CHECKLIST
Whenever you need a reminder during the next 52 weeks, just remember the following key points to your success;
Use your Monthly Budget Template to track your expenses
Stay on top of your weekly monetary contributions by referring to your printed guide
Tuck your savings away into your CIT Savings Builder account or cash envelopes.
Pick a side hustle if you need an extra source of income.
Handling potential setbacks
Keeping yourself motivated
Other Articles of Interest:
Want to participate in a money challenge but still find that $10,000 won't fit into your budget. Then check out my other money saving challenges where there is a fit for everyone;
Money Saving Challenges – Save $1378 to $5000 or Try the Freestyle Version
12 Tips to Building Your Personal Wealth
By the way, if the savings from your 52 week money challenge to $10000 are towards your upcoming wedding, you may enjoy giving the following article a read;
How Much Does The Average Wedding Costs?
Don't forget to pin this post and share it with a friend you'd like to do the 52-week money challenge to $10,000 with!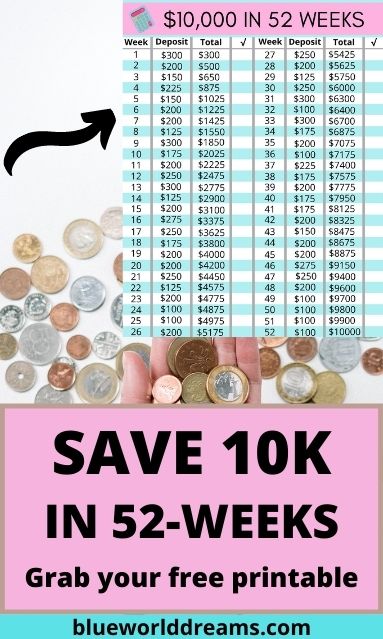 BUDGET GOALS 52-WEEK MONEY CHALLENGE TO $10,000 (FREE PRINTABLE)