17+ Amazon Travel Must Haves for Your Next Trip
Looking for the latest travel finds?
I've compiled a great list of Amazon travel must haves for your upcoming weekend away or overseas trip.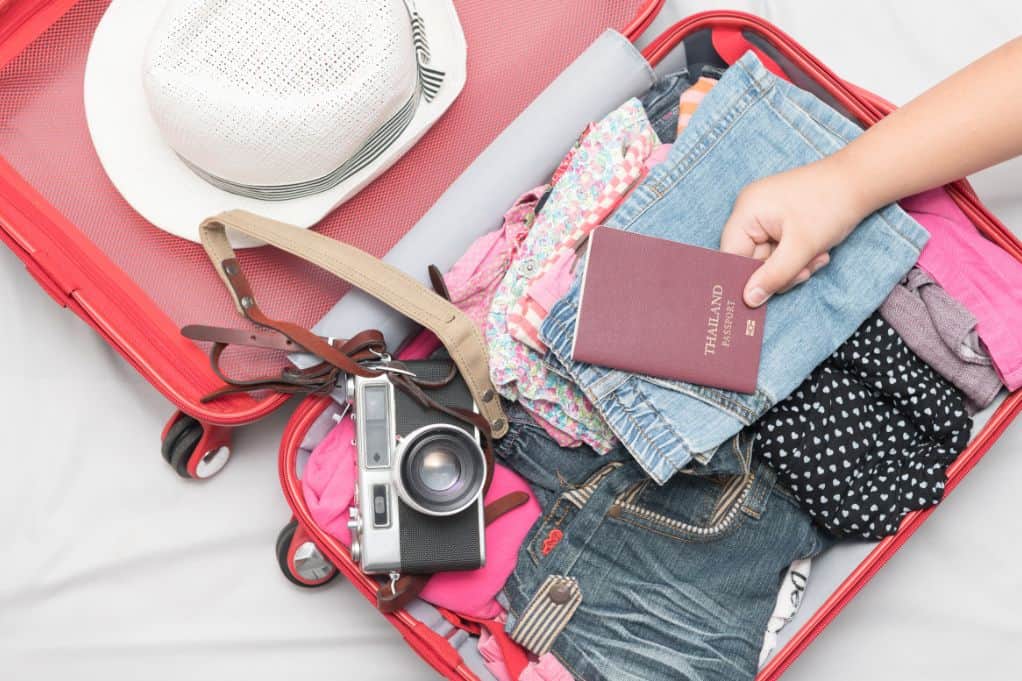 This post contains affiliate links. We may earn a commission, at no additional cost to you, if you make a purchase through a link. Please review our disclosure for more information
When it comes to travel gear, let's face it; new and trending pieces are always coming onto the market to try out.
Since I'm always looking for ways to maximize space and organize my travel essentials, I like to keep track of the newest trends.
You'll want to remember everything from weekender bags to hydration electrolytes the next time you pack.
And in case you need some quick 2-day deliveries for your travel items, you can try a Free 30-day Amazon Prime Trial.
Now let's look at some of 2023 newest Amazon Travel Must Haves.
Best Amazon Travel Must Haves
Below you will find some of the latest travel essentials trending all over social media, which are highly rated on Amazon.
1. Hanging Toiletry Travel Bag
This hanging toiletry bag is an excellent option for anyone traveling with many toiletries.
This water-resistant cosmetic bag comes in 2 sizes (medium and large) and can accommodate a large variety of bottles to meet all your needs.
And with a 4.8-star rating and over 43k reviews, this toiletry bag is most definitely an Amazon best-seller.
2. Compression Packing Cubes
Compression packing cubes have become an Amazon travel must have this year, sweeping standard cubes to the side.
The trick to compression packing cubes is to resist overstuffing them, which can be tempting.
The set comes with 4 sizes of cubes and, with over 14k reviews and 4.6 stars, is a clear Amazon winner.
Plus, there is a nice variety of color options too!
3. Travel Essentials Backpacks
This backpack has become a viral Tik Tok Amazon travel must have for this vacation season.
This travel backpack comes in 2 sizes, but check your airline's baggage sizing and restrictions to pick the correct size from the two options.
Some of the backpack's main features include;
Full open design
USB charging port
Chest fixed buckle
Laptop compartment
Isolated shoe compartment
I especially love the conveniently hidden pocket on the back, which is perfect for holding your passport.
4. Collapsible Travel Water Bottle
One of the best ways to minimize your travel gear is to opt for items that can be reduced in size when not in use.
While I love my large tumbler, sometimes bulky items are off my packing list, especially when working with a carry-on-only bag.
With this 20oz collapsible water bottle, you can quickly turn your bottle into a neat little square that takes up almost no space.
5. Liquid I.V. Hydration Multiplier Power Sachets
So Liquid I.V. has recently become all the rage, and I can totally vouch for its popularity.
This tasty electrolyte drink is currently keeping me hydrated during my Florida vacation and saved me during a scorching day at Universal Studios.
Just empty the sachet into your collapsible water bottle and fill it with water, and you're ready to go.
Stay hydrated and refreshed during hot or long travel days.
There are a variety of flavors, including the lemon/lime below, and I also really enjoy the Passion Fruit flavor.
6. Portable Rechargeable Neck Fans
Speaking of things that saved me in the humid Florida weather is this amazing portable fan.
I highly recommend a neck fan to anyone who doesn't tolerate the heat well or always feels hot.
This model comes with 3 speeds, the highest being perfect when it's extremely hot outdoors, and the charge lasts hours.
While the neck fans can be a little loud for some, it didn't bother me, especially since I used it outside during activities.
7. Mini Portable Charger for iPhone
I've seen this portable charger all over social media because of its convenient wire-free charging capabilities.
Just plug it into your iPhone, and you are ready to go.
And because of its small size, it's the ideal portable charger to toss inside your handbag.
For those you living the Android life, this wireless option is for you.
8. Wireless 3 in 1 Charger for iPhone
For some extra variety, this 3 in 1 charger model for your iPhone, AirPods, and iWatch is high on the Amazon travel must haves list.
You can quickly charge all your devices in one go, plus this charger folds ups taking up almost no room.
9. Hanging Suitcase Duffle Bag
This garment duffle bag is perfect for a weekend or business trip, especially if you have clothing pieces you want to avoid rolling up.
I gifted this bag to my dad for his birthday, and it turned out great.
Lay your business clothing in the hanging garment portion and put everything else in the interior duffle portion once it's closed all up.
Click To Shop!

10. Travel Cable Organizer Pouch
This cable organizer pouch is perfect for all those odds and ends you need for your travels.
This compact carrying case has a place for it, from earphones, memory cards, chargers, and USB keys.
11. Reusable Silicone Cable Ties
For even more organization, you can pair the pouch above with reusable silicon cable ties to keep all your wires neatly tied up.
These ties are practicable for trips and around the house to organize all your loose wires.
12. Airplane Handsfree Phone Holder
Watch your favorite movie hands-free on your next flight with the help of this universal phone mount.
Attach the mount to the tray table or seat backs and enjoy your in-flight entertainment.
You can also use this phone holder on your suitcase at the airport or as a desktop cellphone holder in your hotel room.
13. Universal Travel Adapter
If you are heading overseas, you'll want to grab a universal travel adapter for all your charging needs.
This AC plug adapter has 4 USB-A ports, 1 USB-C port (3A), and 1 AC socket.
Charge your devices in over 150 countries.
14. Selfie Stick Phone Tripod
Capture all those amazing travel moments on camera with this portable selfie stick tripod.
This model is compatible with different models of iPhones and Android phones.
Plus, it comes with a must-have remote for shutter control.
15. Kobo eReader
If you're an avid reader, you can't go on your next trip without a Kobo eReader.
As much as I love reading paperback books, they aren't convenient for travel, especially when you're a fast reader and need a few.
A Kobo eReader allows you to load a ton of books for easy access, whether you're lounging at the beach or camping in the woods.
Kobo's are one my favorite travel gifts for women and men because they are so convenient.
16. Bluetooth Wireless Audio Transmitter
I'll admit that I've busted a couple of headphones getting up to go to the bathroom on a plane.
You forget your wearing any while focused on a movie, but that all changes when you suddenly get up and leave your seat.
This handy wireless audio transmitter lets you enjoy in-flight entertainment using your favorite AirPods or wireless headphones.
17. Portable Travel Luggage Scale
Nothing is more annoying than paying overweight luggage fees, and that's why I never travel without my travel luggage scale.
There is always room in my travel bag for this small yet nifty gadget, especially when you constantly worry about your bags being overweight.
Just hook the scale to the handle on your bag and get a quick reading before heading to the airport.
18. Amazon Travel Safe
My travel safe often makes its way inside my suitcase, depending on the hotels I select.
Not all accommodations have an in-room safe or one that I trust.
Plus, the safe is sometimes only found at the hotel reception, and I prefer to keep my items with me.
This travel safe is convenient and easy to use, and it comes in 3 different sizes.
If it comes down to bringing my safe versus missing out on a great deal, I always opt for the safe!
19. Portable Door Lock & Door Stop Alarm
Whether you are traveling alone or prefer extra security, this two-piece set is an Amazon travel must have.
This travel safety set includes a door lock for different types of doors and a door stop alarm.
If you need extra pieces, they also have larger sets available.
Time To Pack
With so many travel accessories on the market, this list could go on forever, but we hope you've found some new great finds.
There are many approaches to packing and traveling, so select the items that work best with your lifestyle and upcoming travel plans.
And remember to enjoy your trip. Safe travels.
More Travel Posts

17+ Amazon Travel Must Haves for Your Next Trip