Mykonos vs Santorini: Complete Guide (2023)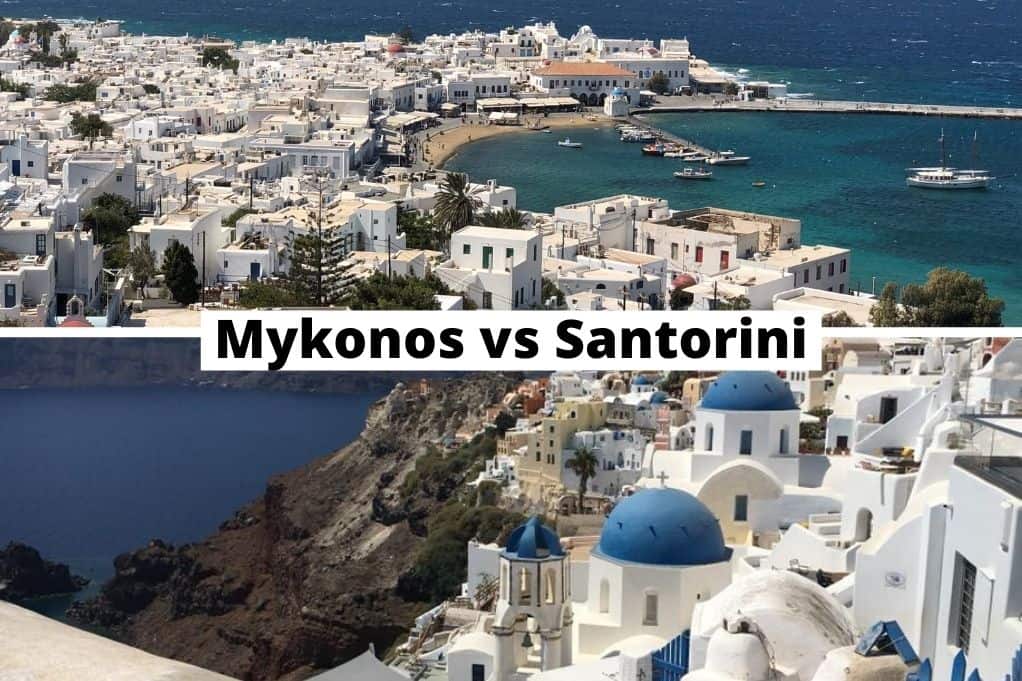 Are you heading to Greece and trying to decide which Greek island to visit?
There is often a debate between Mykonos vs Santorini and which of these popular islands is the best to see.
In a perfect world, you'd see both locations and enjoy what each island uniquely offers.
But if you are on a tight schedule or budget and need to pick just one Greek island to check off your bucket list, which should it be?
Our thorough travel guide will break down the highlights of each island so that you can select the Greek isle of your dreams.
Should you visit Mykonos or Santorini?
If you are visiting Greece for the first time, you really can't go wrong with either Santorini or Mykonos.
Mykonos is a picturesque yet vibrant island filled with white-washed buildings, blue trimming, and cobblestone alleyways.
While the views from atop Santorini are simply amazing, pictures honestly cannot do them justice.
But if you only have 4 days or less to visit the islands, I suggest going with Santorini.
However, if you have 5+ days and don't mind moving again, try squeezing in Mykonos for two days to enjoy the beaches, Old town (Chora) and Little Venice.
Now, of course, this is just one Greece lover's opinion.
It would be best to base your decision on the activities you enjoy and your other interests when traveling.
Mykonos has lovely clear-water beaches, great shopping, and charming streets.
Plus, we can't forget their nightclubs and endless partying.
On the other hand, Santorini is a city of romance, breathtaking views, delicious food, wineries, and unique beaches.
Mykonos vs Santorini Summary
Criteria
Mykonos
Santorini
Cost of goods
Equally expensive
Equally expensive
Prettiest Beaches
✔
Best Hotels
✔
Most Romantic
✔
Best views
✔
Foodies choice
✔
Wineries
✔
Beachclubs
✔
Nightlife
✔
Activities
✔
Important Archaeological
sites
✔ (close by)
✔
Accessibility
✔
International airports
✔
✔
Mykonos vs Santorini comparison table
Mykonos and Santorini Weather
Before deciding between Santorini vs Mykonos, one of the first considerations should be the time of year you plan to schedule your vacation.
While the weather in Mykonos and Santorini during the peak months is almost identical, the time of year you visit could tip the scales towards one island versus the other.
Visitors tend to flock to Santorini as early as April and continue into November.
The weather is quite scalding in the peak summer months, especially in the higher altitude areas.
While in Mykonos, the season is shorter, with most tourism occurring between late May to the beginning of October.
Mykonos is also quite hot, yet they also experience very windy periods.
Since sightseeing is the main appeal in Santorini, you can still enjoy the island during the off-season (while many places will be closed).
However, since Mykonos's main attraction is often tied to their beaches and summer partying, the cooler weather in the off-season makes it the less desirable choice.
You can expect the beach towns in Mykonos to be fully shut down, not to mention many establishments close up in the main towns as well.
Mykonos vs Santorini Beaches
When it comes to beach time, Mykonos takes the lead with its beautiful sandy beaches.
Mykonos beaches have the soft sand and crystal clear waters we all envision when thinking of Greece.
And we can't forget their famous beach clubs, which attract thousands of people each year to their shores.
If you decide on Mykonos, definitely spend some time at Elia Beach enjoying the beautiful blue water and perhaps some windsurfing or snorkeling.
And don't forget to have a nice lunch at the Elia Beach Restaurant.
Their watermelon and sesame-crusted feta salad was so delicious it inspired me to recreate it at home.
If you are in Mykonos to party, the top beaches to visit for an endless night of partying are Super Paradise Beach, Paradise, and Paraga.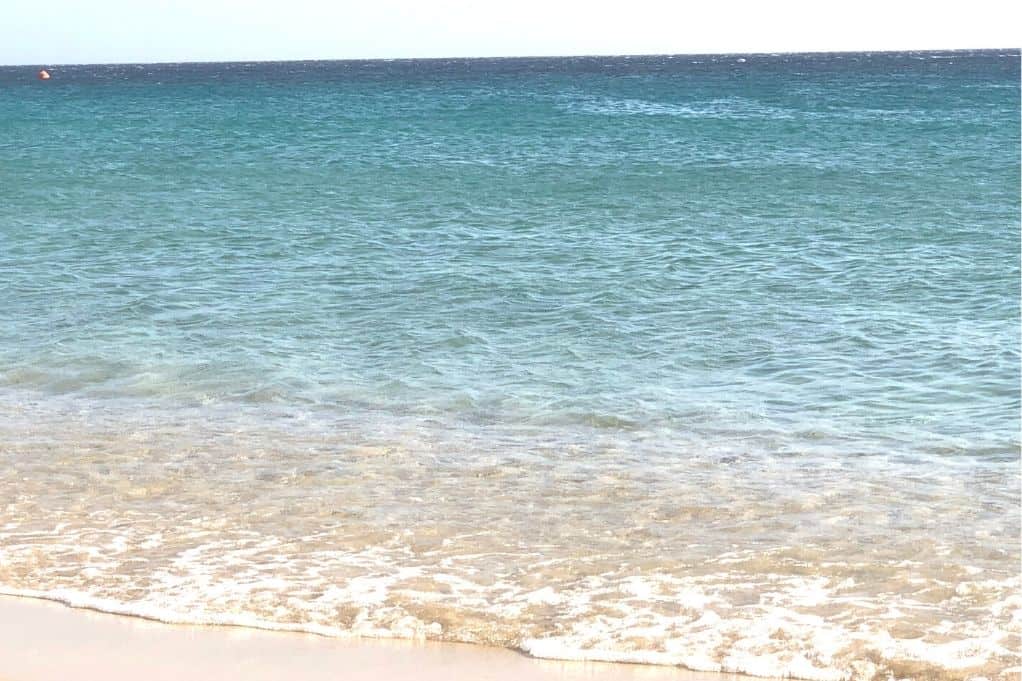 The beaches at Santorini are entirely different from those of Mykonos.
Due to the volcanic pebbles, you will see a variety of colored stones or sand in black or grey.
Now don't get me wrong, between Santorini and Mykonos, Santorini has the most unique beaches, such as the Red Beach and Black Beach.
While a few beaches have black sand, such as Perissa, Kamari is a popular choice with decent waves, beach chairs, and umbrellas.
And if you order a cocktail at the beach, you can use the beach beds and WiFi for free.
And there is also a large variety of restaurants in the area.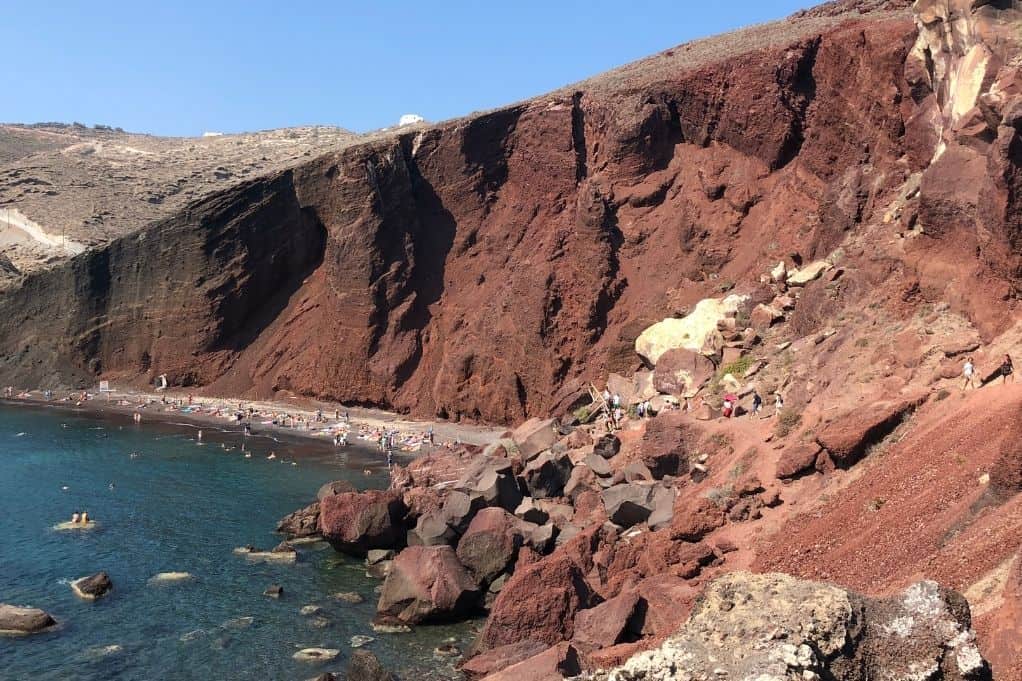 And a special mention has to go to the swimming hole in Almoudi Bay, which gets a ten on ten in my book.
Since everyone heading down those 300 steps is looking for a good time, the atmosphere is fun and lively.
The water is cool and refreshing, and it's the perfect spot for those who enjoy cliff diving or experience the views of Oia from the bottom up right from the water.
This hangout is a must if swimming is high on your list of favorite travel activities.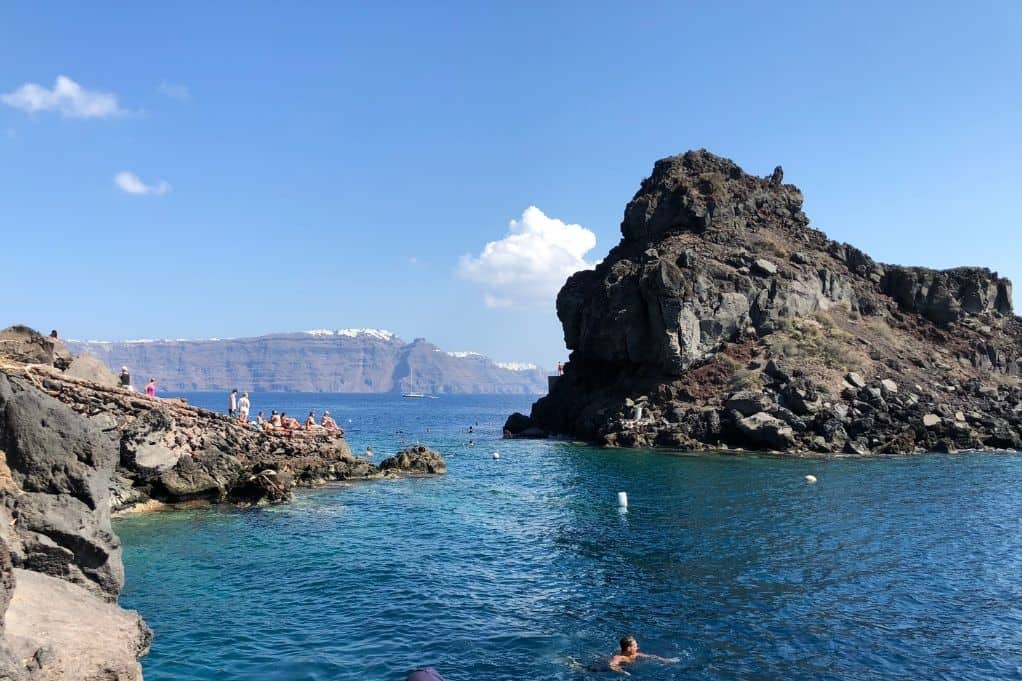 Santorini vs Mykonos Island Attractions
Besides its beautiful beaches and excellent shopping, Mykonos has a couple of spots for wine tasting, such as the Mykonos Vioma organic vineyard.
Its proximity to the archeological site of Delos is also appealing to those history buffs.
And the chance to meet Petros the Pelican is always a highlight.
While the true Petros is long gone, three resident pelicans still roam freely, and you can hopefully find one lurking around Niko's Taverna in Mykonos town during midday.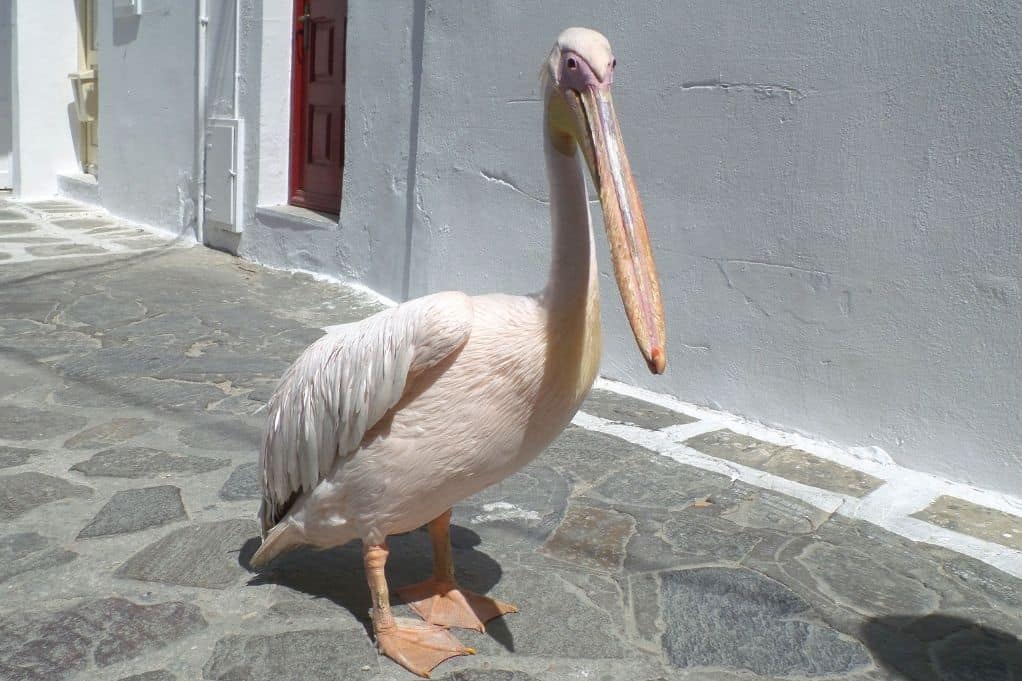 However, Santorini again takes the lead in terms of island attractions.
Santorini is known for its unique wine, given the dry climate, and wine-tasting tours are big attractions on the island.
Popular spots include Santo Wines, and Venetsanos Winery, which offer a view of the Caldera and cliffs, and Domaine Sigalas, which has views of the sunset but to the Westside.
You can also enjoy a wide array of activities;
Take a Santorini Volcano and Hot Springs Boat Tour
Enjoy a luxury Caldera cruise or catamaran cruise
Spend the day swimming and eating in Amoudi Bay
Visit the famous donkeys while heading to Amoudi Bay
Hike the trail between Fira and Oia
Hike to the top of Skaros Rock
Visit the museum of Prehistoric Thira
Enjoy the sights and famous sunset views
But I believe one of the best attractions Santorini has to offer, besides its stunning views of the Caldera, is the archeological site of Akrotiri.
The ruins of Akrotiri take you into the past of Minoan history, the city farming and fishing village, which was unfortunately destroyed and buried after a massive volcanic eruption around 1650 B.C.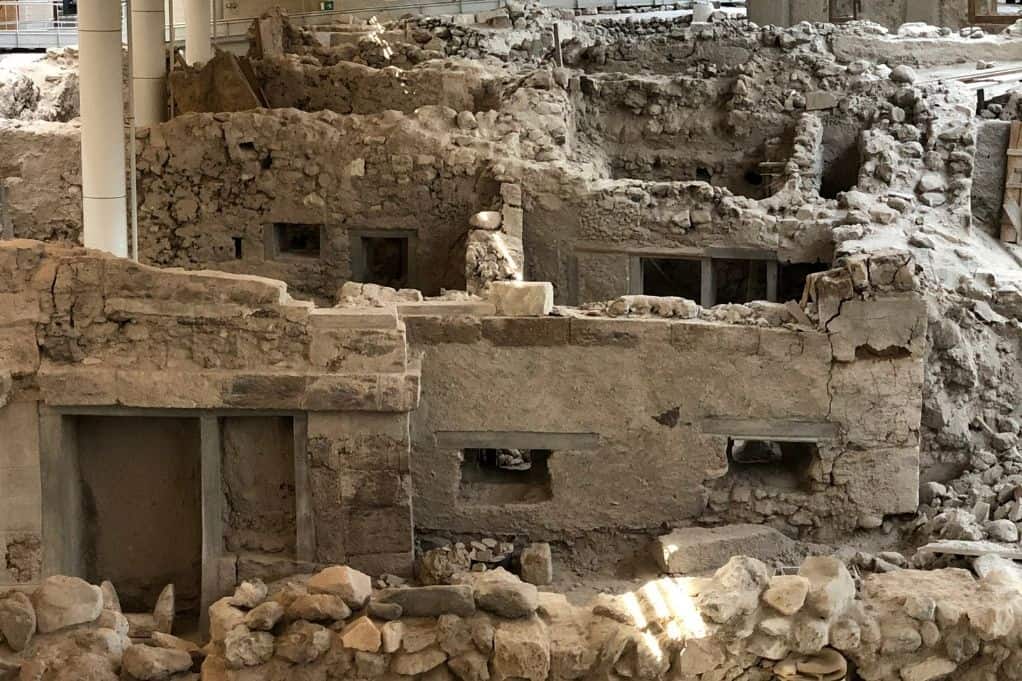 Most Romantic Greek Island
As someone who spent part of her honeymoon in both Mykonos and Santorini, I have to say that both islands appeal to me.
But if we base the decision solely on romance, Santorini wins due to its stunning views.
There is nothing quite like enjoying a delicious meal with your loved one while facing the stunning Caldera or watching the beautiful orange-pink-red sky each sunset with a glass of wine in hand.
And we can't forget how Santorini becomes a gorgeous world of colorful lights in the evening.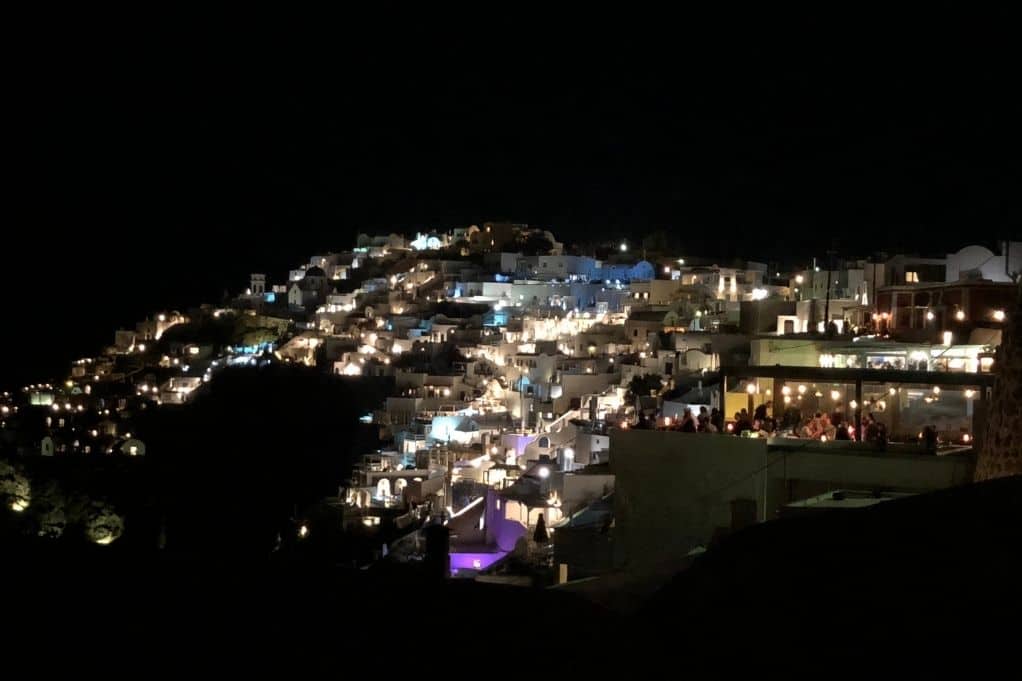 Santorini vs Mykonos Travelling Costs
The cost of visiting the Greek islands of Mykonos and Santorini can be expensive, but it is definitely worth it to experience their stunning beauty.
Since both islands are popular tourist destinations and known for their luxury hotels and amenities, so be prepared to pay a premium for everything from food to lodging.
And to be fair, both islands are equally expensive.
But if you plan your trip early, you can definitely snag some deals when it comes to lodging.
Search for smaller hotels or even great motels in areas with less or no view.
The same goes for food; there are many options if you are on a budget.
Remember, souvlaki wraps cost around €3, and many restaurants cater to the locals, where you can get a delicious meal at a reasonable price.
Best Greek Island for Parties and Nightlife
When comparing Mykonos vs Santorini for bars, beach clubs, and parties, Mykonos is the clear winner.
People flock to Mykonos all summer to party and drink their days away at the beach clubs and party at night in their clubs with world-famous DJs.
Mykonos is quite literally the island that never sleeps.
While Santorini has a few bars in Fira, they cannot compare to the nightlife Mykonos offers.
How To Get From Santorini to Mykonos
The Greek islands have been divided into clusters; these groups span the Aegean and Ionian seas.
Santorini and Mykonos are part of the famous Cyclades in Southern Greece.
Although Mykonos is closer to the mainland, reaching either Mykonos or Santorini from Athens requires the same approach (by ferry or plane).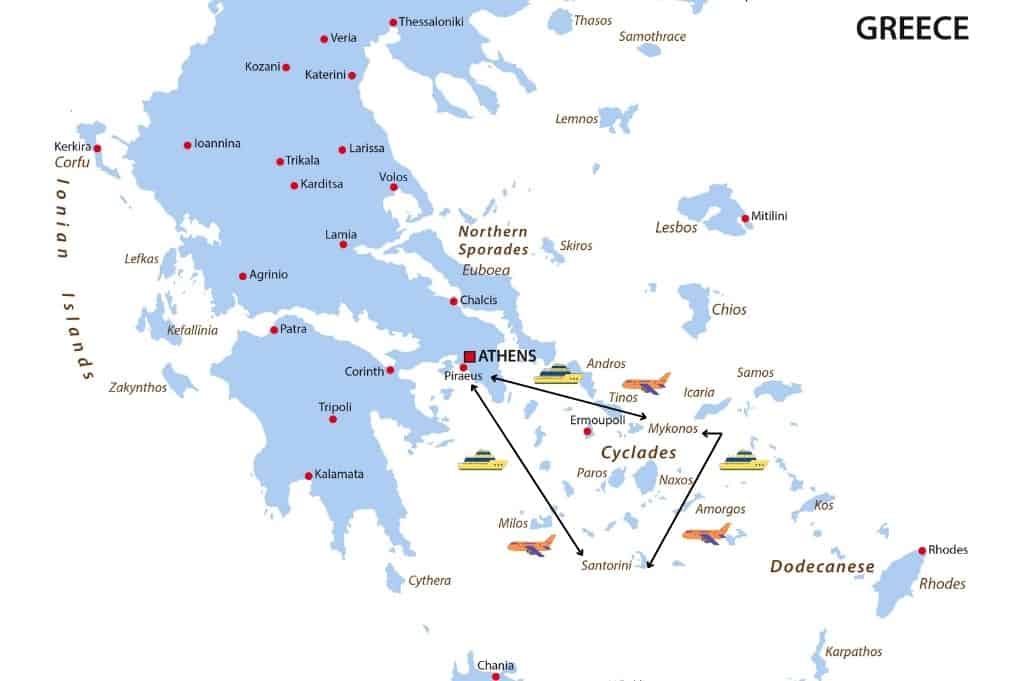 While both islands have international airports, airline schedules between the islands can be pretty unpredictable depending on the year, and when available, seats quickly get snatched up.
You can see what is available directly from Athens but be prepared to pay more.
The most popular form of transport between the Greek islands remains by ferry.
The Greek ferry system is like a well-oiled machine.
Sure, there can be delays and strikes, but overall it's a great form of transport.
Some popular companies are Blue Star Ferries, Sea Jets, Golden Star Ferries, and Hellenic Seaways.
If you want to travel between Mykonos and Santorini, you can expect prices to range between roughly €59 to €80 each way in economy.
The route can take anywhere between 2 to 3 and half hours, depending on your choice of ferry.
If traveling directly from Athens, you can expect the route to take between 2.5 to 4.5 hours, depending on the port (Piraeus or Rafina) and the ferry option you select.
The prices range anywhere between €31 to €80 each way. You can view the different prices on Ferryhopper.
Given the time it takes to reach each island, we don't recommend planning a day trip between islands as you would spend most of your time in transit.
Final Thoughts on Mykonos vs Santorini
I don't believe you can ever go wrong when visiting the Greek islands.
However, hopefully, our breakdown has helped provide some clarity between Mykonos vs Santorini.
Just remember why you've decided to visit Greece and pick the island that best suits the image you have in mind and the activities you'd enjoy.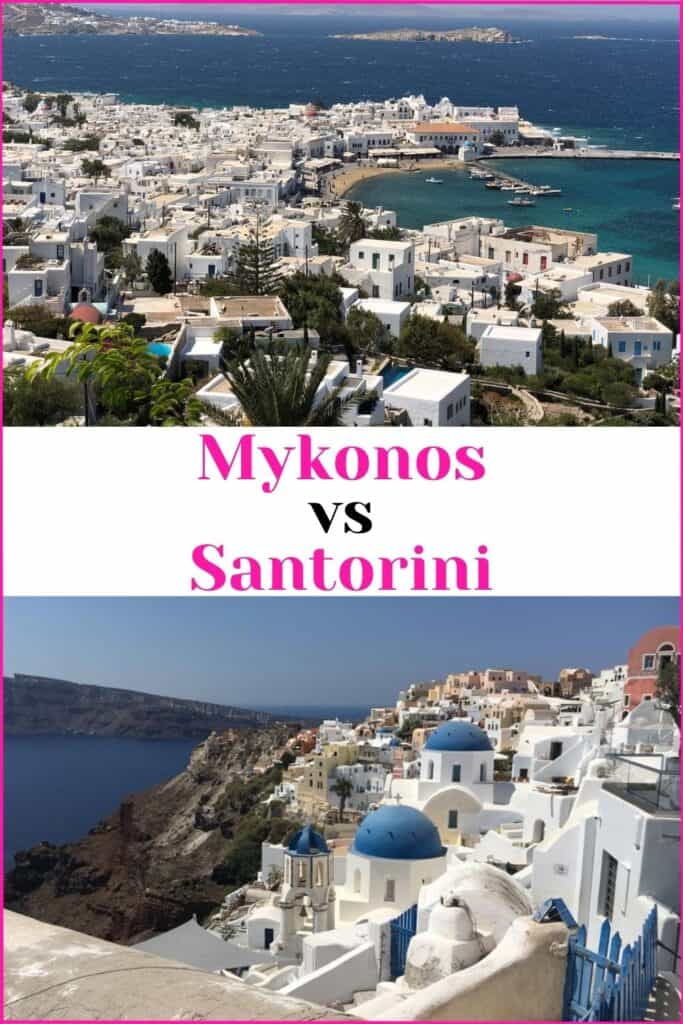 Greek Travel Articles
Mykonos vs Santorini: Complete Guide (2023)