A Guide to Klima Milos (2023)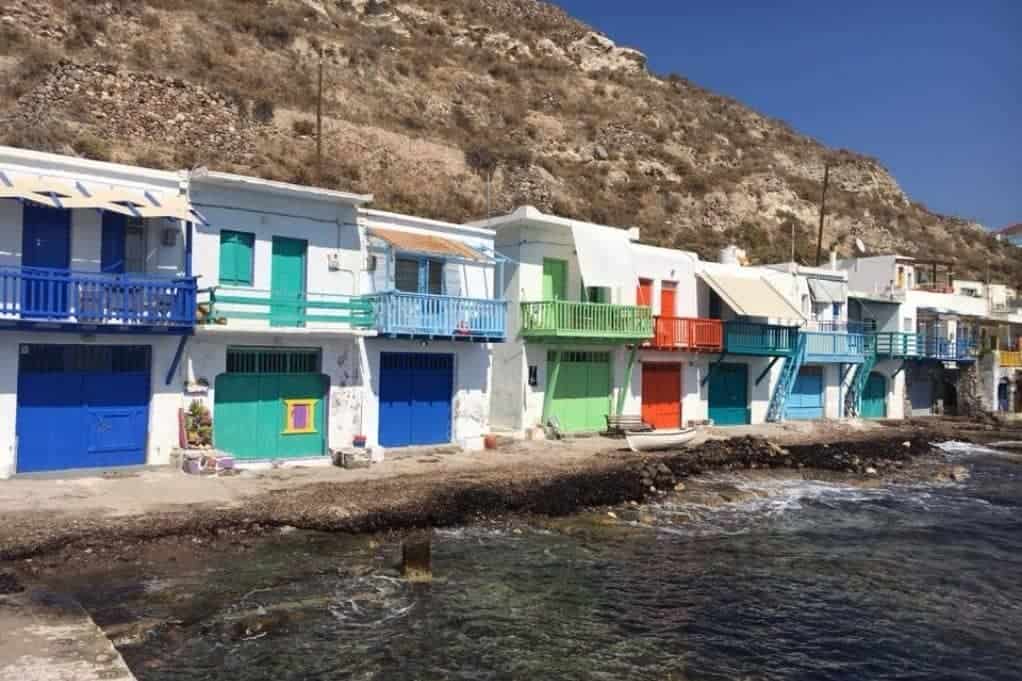 One of the most scenic fishing villages among the Greek islands is Klima, Milos, located below the small town of Trypiyi.
With so many beautiful spots on Milos island, Klima beach is another site worth seeing, particularly when viewing it close to the shore.
Klima is easily recognizable for its traditional bright-colored fishers' encampments (syrmata) carved into the cliffside rocks.
But you can also find other syrmata that have been converted into accommodations for tourists offering a unique travel experience.
Let's see what else Klima has to offer.
How to reach Klima Milos
The island of Milos is easy to navigate, especially by car or ATV. For the main town of Plaka, it's roughly a 5 minute drive.
If you are staying in the town of Adamas, you can reach Klima within a 15-minute drive. Parking is limited, but you can generally find a spot along the winding main road.
Although we highly recommend a rental for your trip to Milos, if it's simply not on the agenda, you can take a bus to the town of Trypiti and walk down from there.
Milos has a decent bus system; you can view their bus timetables to plan ahead.
Just keep in mind, the road from Trypiti to Klima is downhill.
If you decide to reach Klima by foot versus using a car, scooter, or ATV, you can expect a decent workout on your way back up.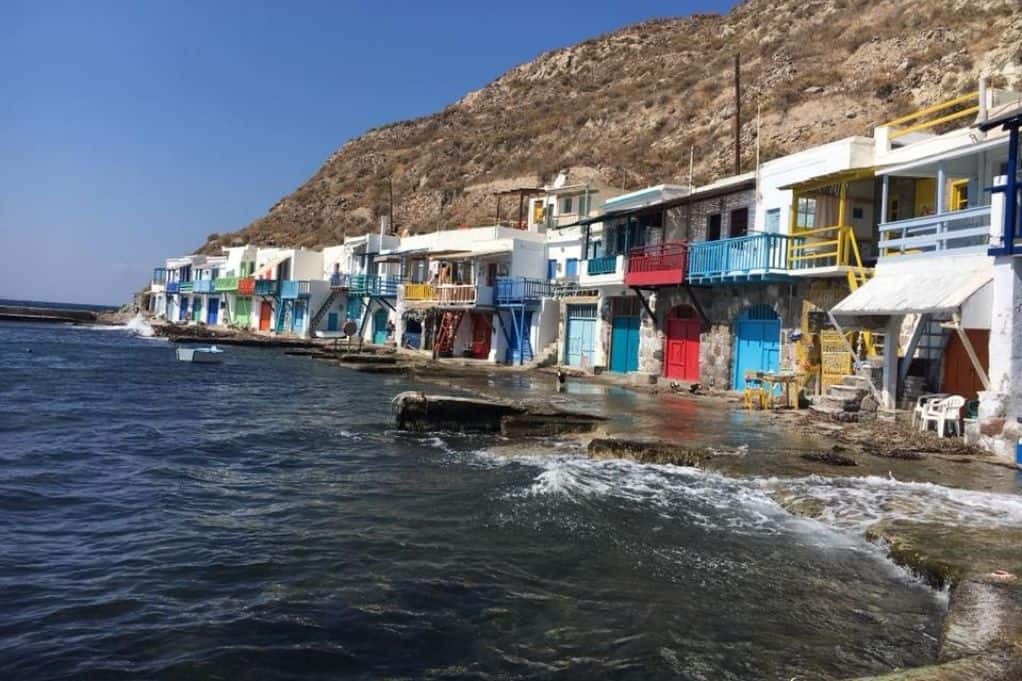 This post contains affiliate links. We may earn a commission, at no additional cost to you, if you make a purchase through a link. Please review our disclosure for more information
Things to do in Klima Village Milos
Consider any visit to Klima to be more leisurely.
We always enjoy scheduling some days to recharge in our travel itinerary, especially after all the cliff diving at Sarakiniko beach.
While there are no action-packed activities, you can spend a few hours enjoying the colorful sights and learning more about the culture surrounding the syrmata.
A couple of garages have been converted into local shops. Pop inside to browse and select some souvenirs and handmade wares.
You can also finish off the day by enjoying a delicious Greek meal at Astakas Restaurant while watching the stunning sunset from your table.
We enjoyed one of my favorite simple Greek dishes, strapatsada, served with anise rye bread and some delicious seafood.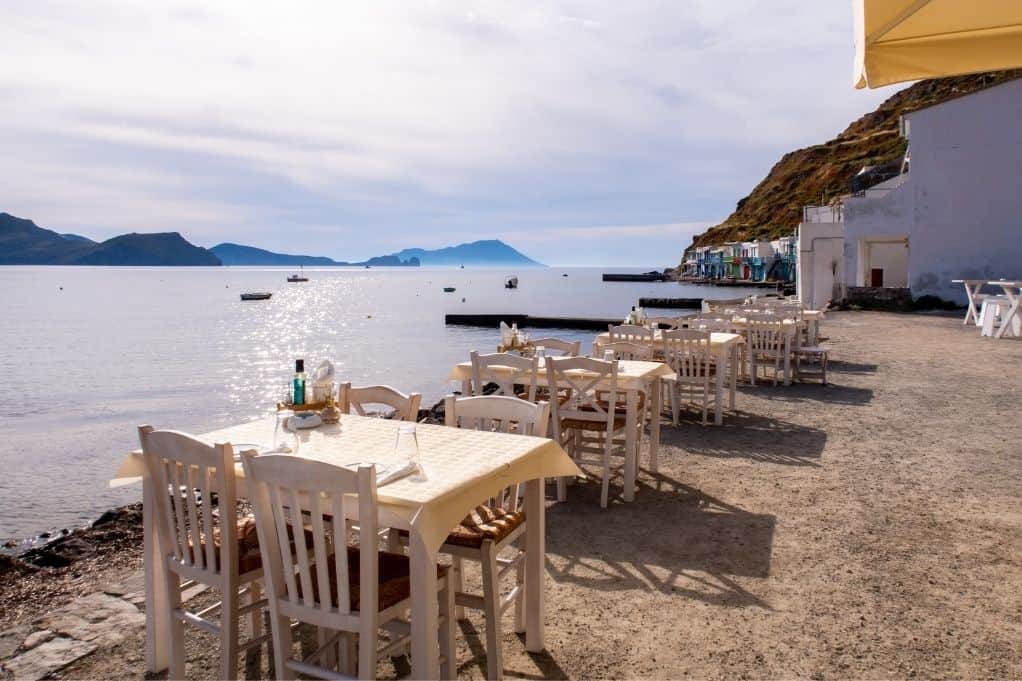 Where to stay in Klima Milos
Given the small size of Klima, the village's accommodations are limited to a couple of options.
You can either choose to stay in one of the charming converted fisherman houses or at Panorama Hotel.
Why not fully immerse yourself into the culture by renting the Captain's Boathouse during your stay.
And the Vasealis & Seafis Sirma Klima boathouse is absolutely beautiful.
While the village's proximity to the main towns is close, staying in Klima for a night or two would be a fun adventure to add to your list of activities for Milos.
Where to stay in Milos Greece
If you prefer to find accommodations outside the village of Klima, you will have more options, including motels, hotels, and boutique hotels.
The town of Adamas is the perfect location; it's central to everything, close to the airport, and is the ferry port.
A budget-friendly option is Hotel Eleni. It's a cozy hotel, clean, well maintained, and you can order delicious breakfast trays in advance from the lovely owner, Eleni.
It's a short walk to the town center, shops, restaurants, and port.
Her son also owns the sailing boat Eleni which offers daily tours of Milos island (a must-do activity).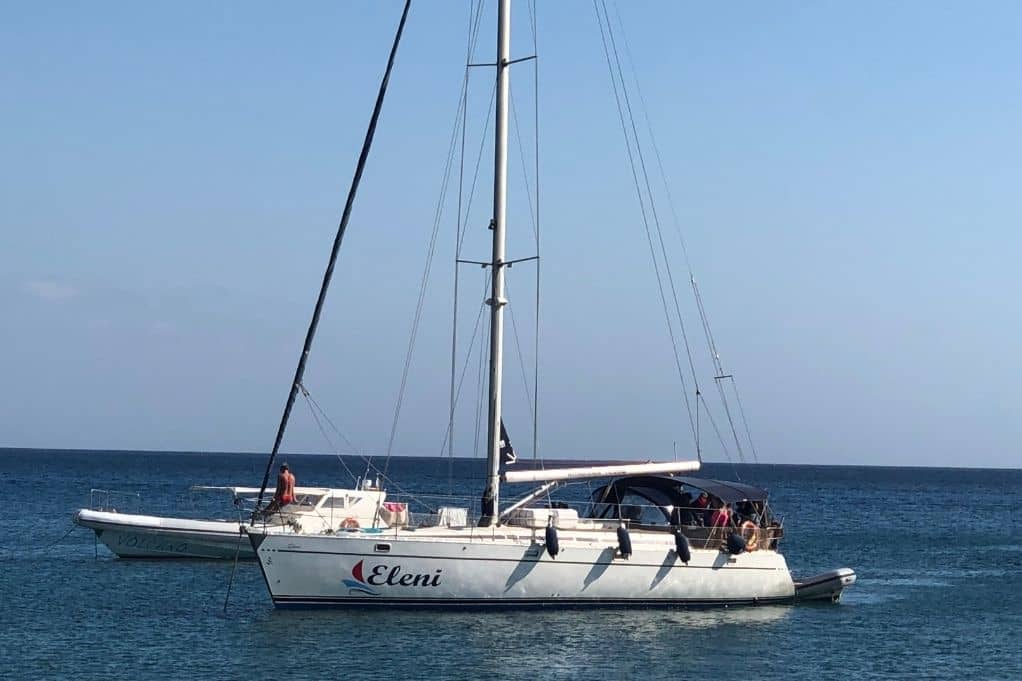 For a higher-budget hotel, Miland Suites is a popular option. They offer senior and superior rooms.
The hotel is equipped with an outdoor pool/jacuzzi and water activities for the kids.
Rooms come with a complimentary breakfast; however, the location is further out from the town.
Activities to enjoy near Klima
Since visiting Klima is more of a relaxing day, it's the perfect time to enjoy other slow-paced activities nearby.
Milos Catacombs
The catacombs of Milos have an interesting history.
Although we often read about the catacombs being used during the 1st century, the information provided by the island of Milos offers a different view.
The mymilos website and Best of Milos tourism booklet indicate that the catacombs were built during the 2nd century and served as a place of worship and a necropolis (cemetery) to early Christians until the 5th century AD.
You can find the catacombs on the hill of Trypiti and enjoy a guided tour for a mere €4 per person.
You can take the path to and from the catacombs and theater on foot. Free parking is also available without issue.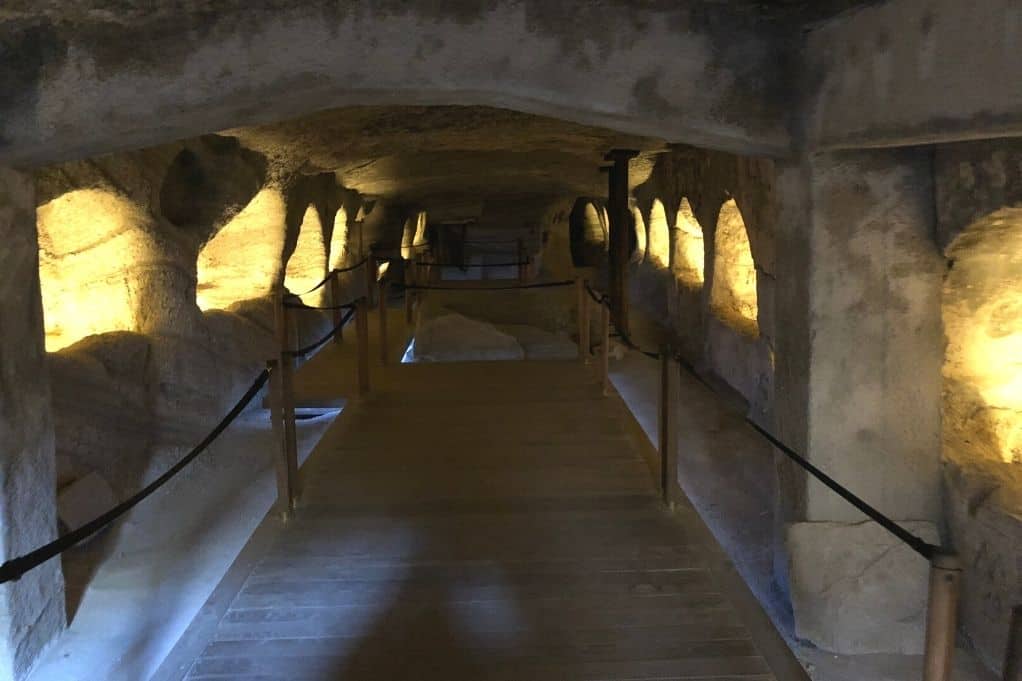 Ancient Theatre of Milos
The ancient theater of Milos is quite an attraction.
While many ancient ruins in Greece are not to be touched, it's quite the privilege to freely roam the ruins, which used to entertain up to 7000 spectators.
Take a moment to sit down and take in the grandeur of ancient theater.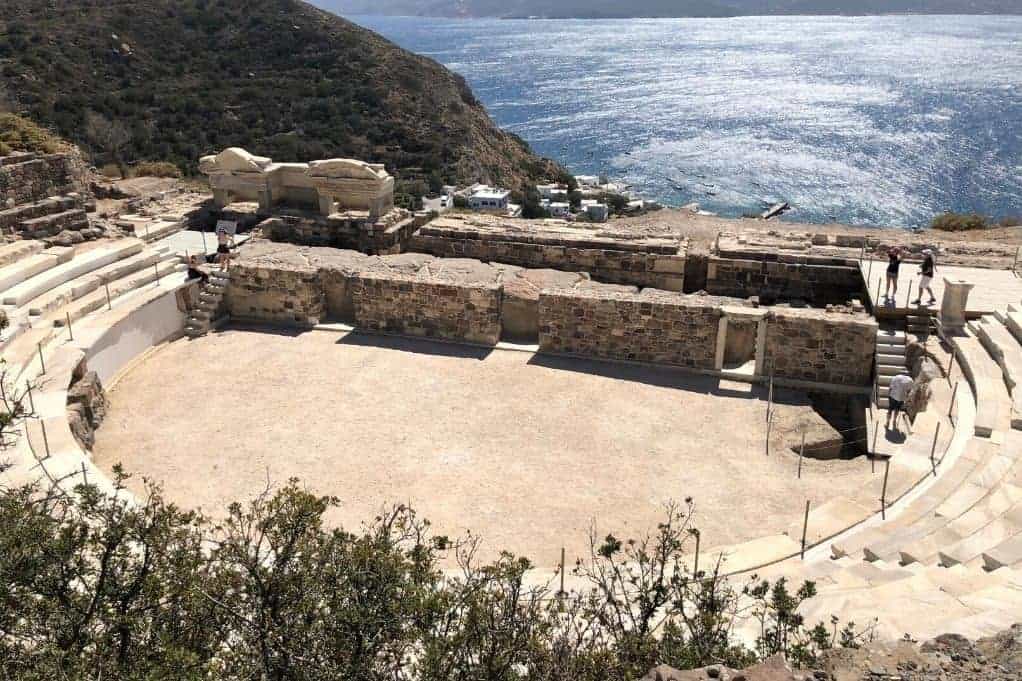 Final thoughts on Klima Milos
The village of Klima has a long and rich history and is best known for its colorful fishing houses along the shore.
While not the most action-packed spot on the island, Klima offers the opportunity to wind down for a few hours.
Enjoy everything Greece has to offer from the village of Klima; a long history, stunning views, seaside dinner, and a beautiful sunset.
More Travel Greek Tips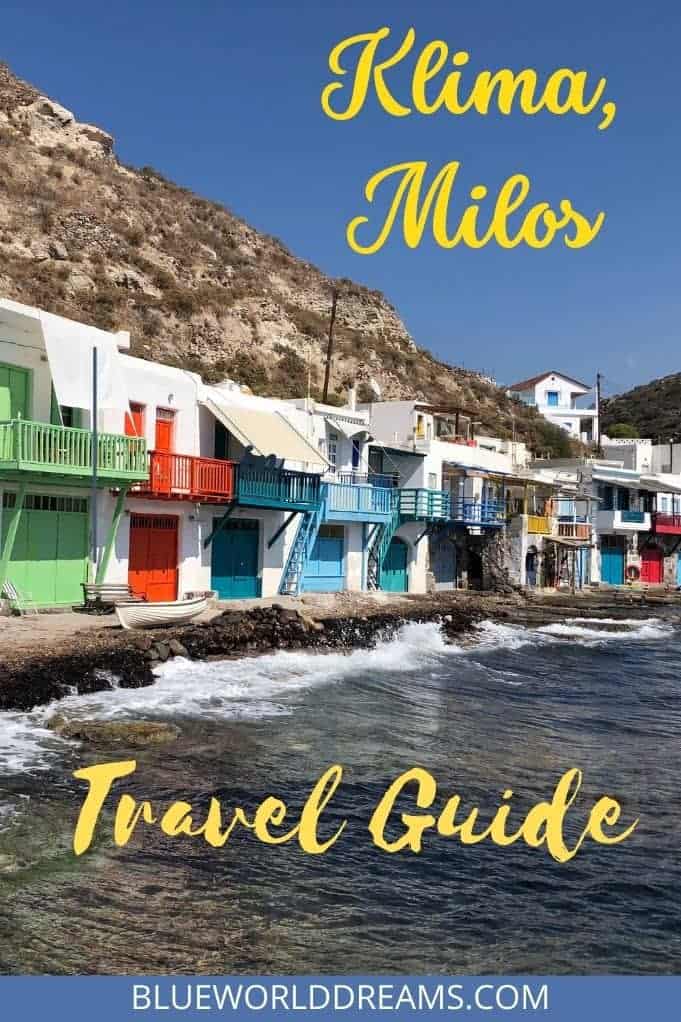 A Guide to Klima Milos (2023)