2021 Lightweight Summer Dresses for Greece
Traveling on a budget? These Target summer dresses are a perfect choice and all $34.99!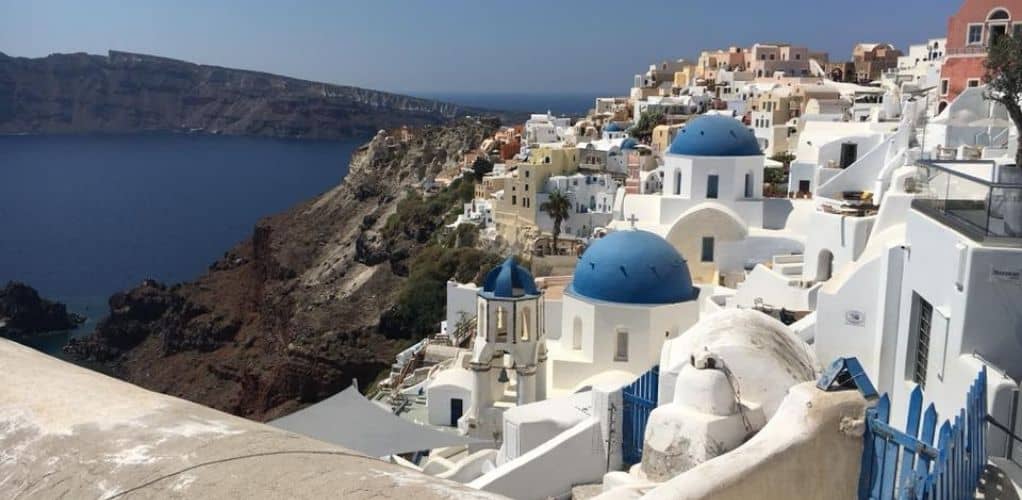 This post contains affiliate links. We may earn a commission, at no additional cost to you,  if you make a purchase through a link. Please review our disclosure for more information. 
Planning a trip to Greece? Lucky you, I cannot wait to get back to the beautiful land of white and blue.
If you are still in the planning process then you most likely have lightweight summer dresses for Greece on your packing list and rightfully so.
While I generally don't tend to coordinate my outfits based on the architecture of where I am, Greece is my one exception.
Who doesn't want a collection of beautiful pictures of blue domes, whitewashed buildings, and matching color-coordinated dresses?
Since traveling overseas can be quite expensive, it's nice to find some beautiful dress options at a very reasonable price.
Sure it's great to splurge on a couple of special pieces but I prefer to keep the bulk of my travel wardrobe cost-efficient so that I can allocate more of my travel budget towards activities and accommodations.
Target 2021 Lightweight Summer Dresses for Greece
(Click images to shop)

The summer months in Greece tend to be extremely hot, often hitting around 85°F in the month of July.
While many other countries experience hotter weather, it can often feel like you are melting when visiting Greece, especially Santorini, perhaps it's the altitude.
Packing flowy, lightweight clothing is highly recommended (just don't forget to pack a light jacket and cardigan for those breezy summer evenings).
Target Summer Sandals and Accessories

Wide-brimmed summer hats, comfortable sandals, and beautiful accessories make up the rest of your dress collection.
While it's hard to leave all those beautiful high heels at home; flats, short wedges, or platforms heels are more travel-friendly, especially for all those cobblestone streets and stairs.
Shop the post


Similar Posts
9 Items You Need To Pack for Greece
7 Mistakes To Avoid In Santorini