How Many Days In Santorini Do You Need?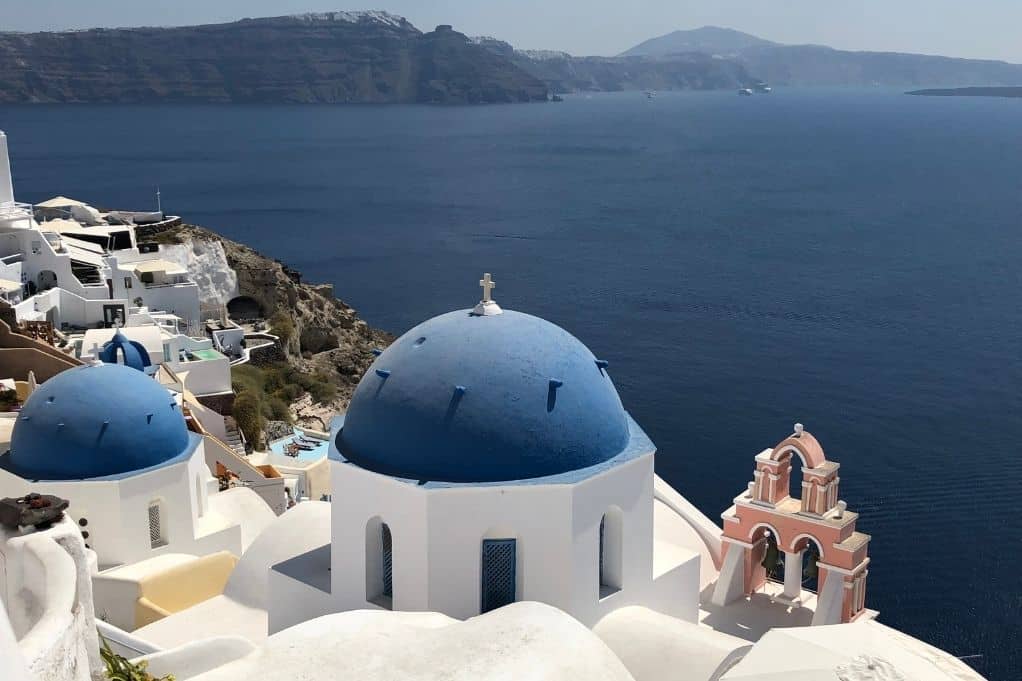 Santorini is the most picturesque Greek island situated in the beautiful Aegean Sea.
But how many days in Santorini is enough?
The island is one of the most popular tourist destinations in the world, thanks to its dramatic cliffs, whitewashed villages, and stunning sunsets.
It's especially popular for those seeking a romantic getaway.
So how do you pick the perfect Santorini itinerary for your trip?
Let's find out in our Greece Santorini travel guide!
How many days in Santorini do you need?
When people visit Santorini, they often want to know how many days they need to explore the island.
The answer really depends on what you want to do.
For people interested in just viewing some of the main attractions, you can visit the island's highlights within 24-hours.
Although we highly recommend a minimum of 3 days (2 nights) on the island.
However, if you're interested in sightseeing and enjoying the unique beaches, 4 to 5 days should be enough.
For those wanting to explore, delve deeper into the history and culture of Santorini but also relax, then I would recommend up to seven days.
There's a lot to see and do on this fascinating island without getting bored.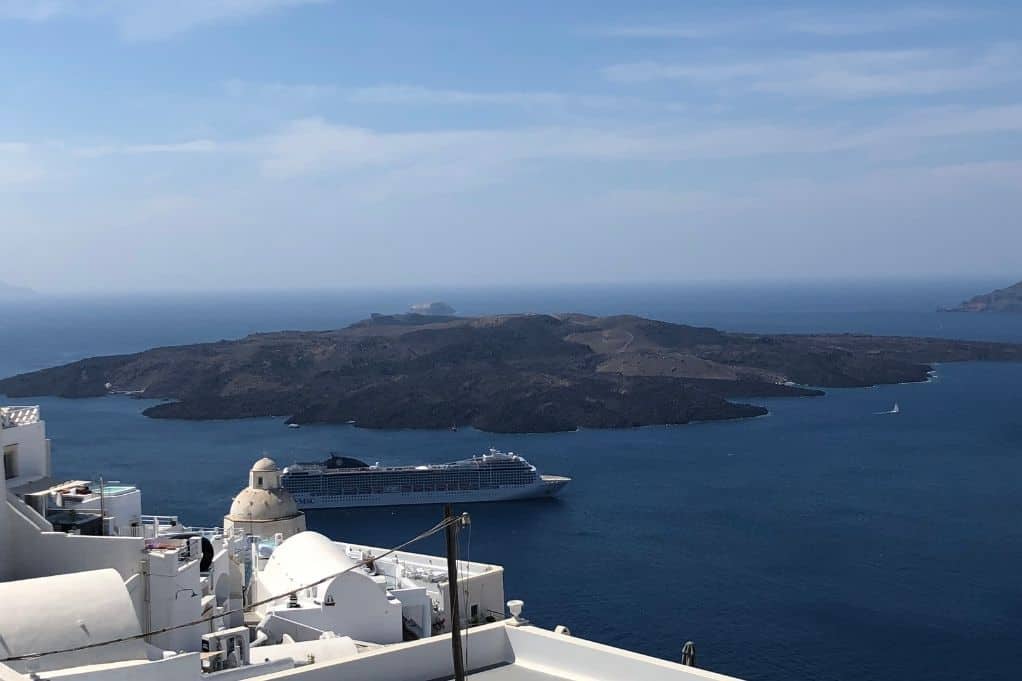 This post contains affiliate links. We may earn a commission, at no additional cost to you, if you make a purchase through a link. Please review our disclosure for more information
24 hours in Santorini
If you only have one full day in Santorini, we suggest arriving early morning on the earliest flight or ferry possible.
The hike from Fira to Oia is a fantastic way to enjoy Santorini's exceptional views.
However, unless you love hiking, I'd skip this more time-consuming activity for a one-day itinerary to see more of what the island offers.
1 day itinerary ideas
Start your day at the archeological site of Akrotiri. An hour is plenty of time to view the ruins without feeling too rushed.
Then take a walk over to the Red Beach to visit at least one unique beach in Santorini.
Depending on when you arrive at Santo Wines, enjoy a late breakfast or some entrees with your wine tasting.
Head over to Fira for some shopping and some sightseeing.
Take a bus from Fira to Oia but stop in Imerovigli to take in the fantastic sight of Skaros Rock.
Walk the streets of Oia, enjoying the stunning views of the Caldera.
Head down to Amoudi Bay for a swim (during high season) and enjoy a delicious early dinner before the sunset.
Watch the sunset and head back to the port or airport. If you have extra time to return to Fira, the airport is only 3.2 miles away by taxi.
Since one day in a Santorini is a brief visit, you can also opt for a private half-day sightseeing tour of the island, which you can customize.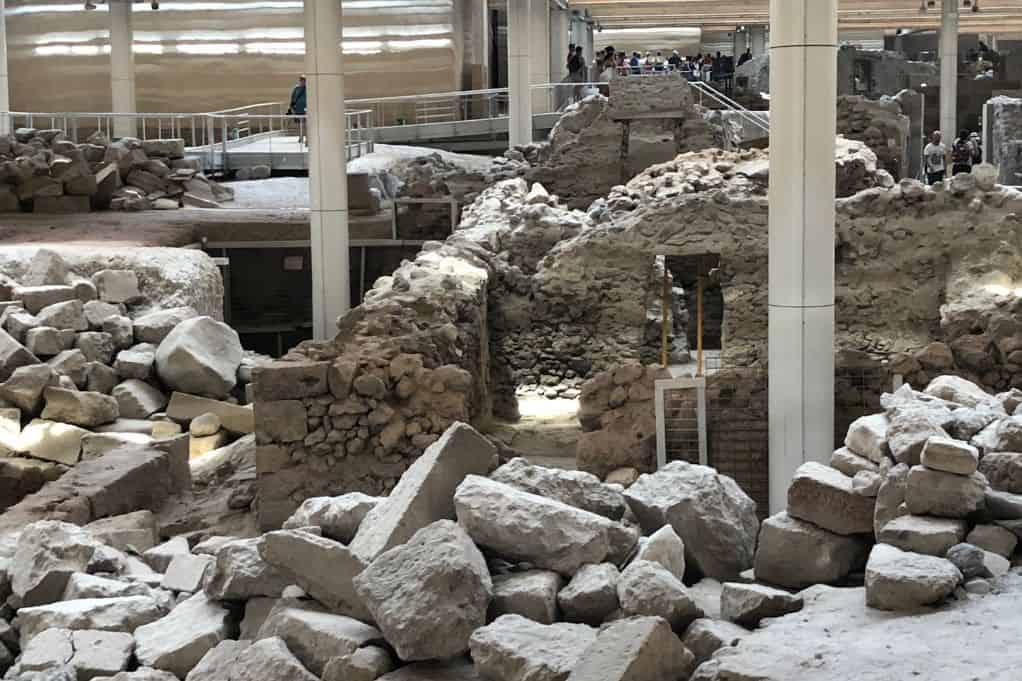 2 day Santorini itinerary
If you want to spend two days in Santorini, there are many things to do without as many restrictions as a day trip represents.
Some Santorini highlights we recommend:
Visit Fira for some food and shopping
Hike the Fira to Oia trail
Stroll through Oia, cliff dive in Amoudi Bay, and take a catamaran cruise to end the day
There are so many things to do in this amazing place that everyone should fill their time wisely.
3 day Santorini itinerary
With 36 hours in Santorini, we are adding in even more flexibility where you can take some time to relax on the beach.
While most of the itinerary remains the same as two days, we can add a couple of extras.
Hike the Fira to Oia trail
Visit Fira for some food and shopping
Stroll through Oia, cliff dive in Amoudi Bay, and take a sunset boat tour to end the day
Visit Akrotiri and the Red Beach
Enjoy dinner at The Athenian House in Imerovigli and take in the sight of Skaros Rock
Spend a half-day at the beach; Perissa or Kamari are great options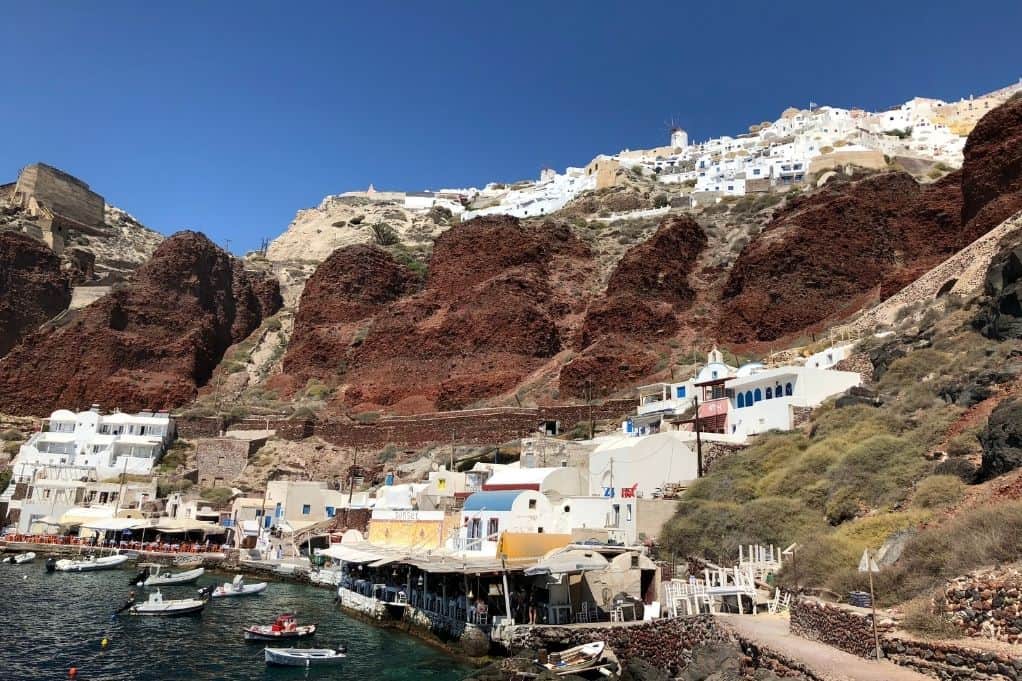 Santorini itinerary 7 days
Is one week in Santorini too long?
This answer depends wholly on the traveler, however; in general, a week in Santorini can be the perfect getaway.
While there are many Greek islands to visit, not everyone enjoys packing up and island hopping.
Here, you get the chance to visit the island at a comfortable pace. Plus, you also have free time to relax.
If you are spending top dollar on a hotel with a stunning view of the Caldera, remember to save some time to actually enjoy it.
We carved out a day to relax, read, and lounge in the pool while enjoying the view, and that was a great day.
Some top activities to fill your 7-day itinerary:
Visit Fira for some food and shopping
Walk the Fira to Oia trail
Visit the Museum of Prehistoric Thera and Archeological Museum
Stroll through Oia, cliff dive in Amoudi Bay, enjoy the sunset views
Spend half a day relaxing and enjoying the Caldera
Visit Akrotiri and the Red Beach
Enjoy some delicious meals with views of the Caldera
Spend a day at the beach; Perissa or Kamari are great options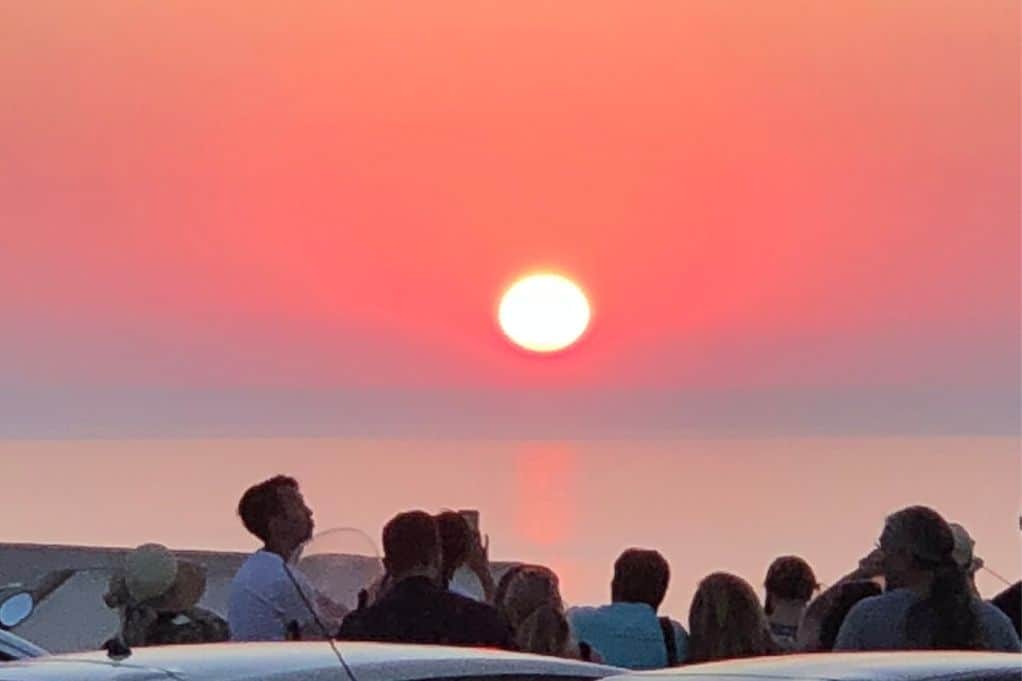 If seven days feels too long, go with a middle ground approach, cut the trip down, and stay for 4 -5 days.
Just adjust the activities accordingly to build a 5-day itinerary.
How many days in Santorini: Final Thoughts
While we recommend staying at least a good 3-to 4 days on the island, you can still enjoy Santorini's highlights when on a tight schedule.
Be sure to visit the beautiful town of Oia and take in the view of the Caldera while enjoying a cold drink or meal; you won't be disappointed.
Build your Santorini itinerary around the activities that interest you, and enjoy as many days in Santorini as your schedule permits.
More Santorini Travel Articles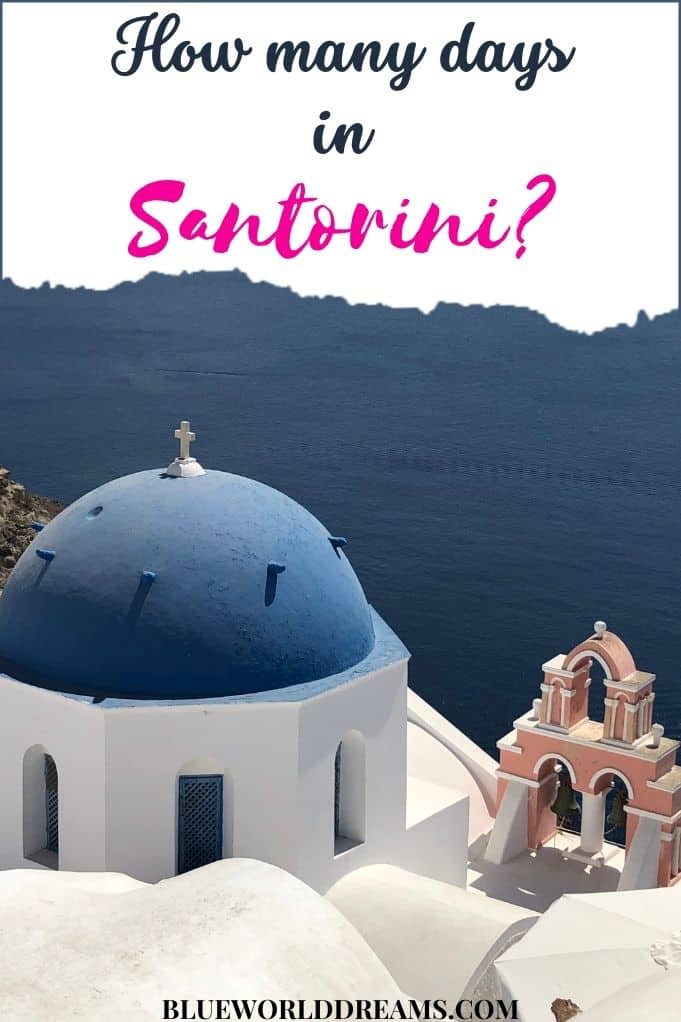 How Many Days In Santorini Do You Need?