How To Take Feet Pics [Complete Guide]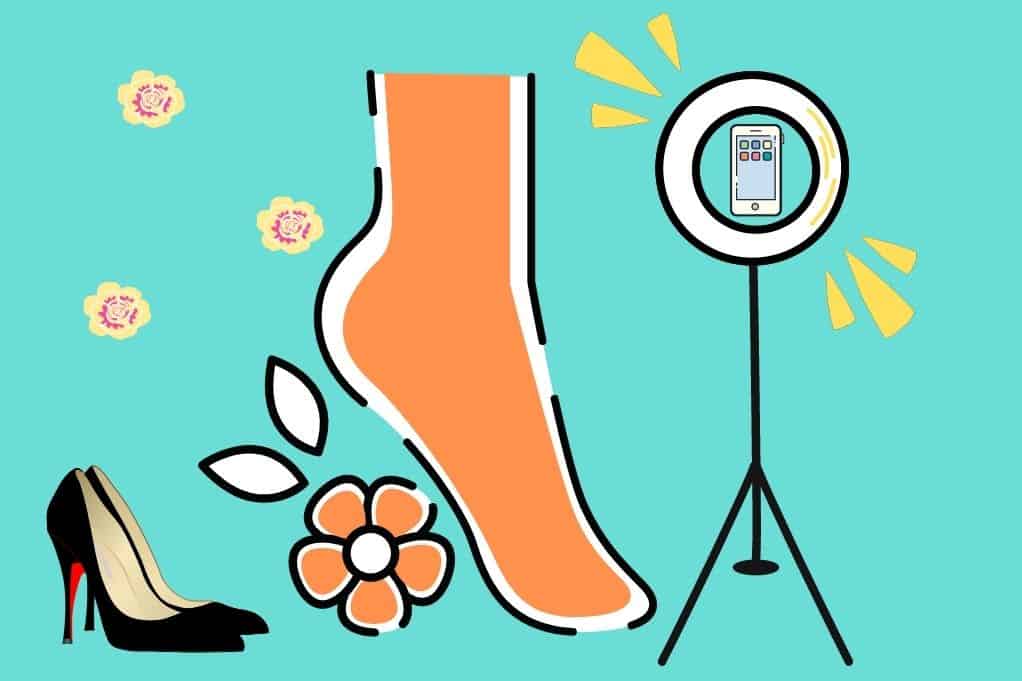 Do you love photography and want to get into feet pictures? Or maybe you are interested in becoming a foot model.
Feet pics are a great way to show off your style and personality.
But if you are interested in having high-quality images, you need to learn how to take feet pics like a pro!
Once you know how to get started, your pics can be used on social media, dating websites, making extra cash, or just for fun.
How to take feet pictures
Anyone can pick up a phone and snap some candid shots of their feet, especially if it's just for fun.
But if you want to sell your feet pics online or build a great photography portfolio, you need a few more tips and tricks to compete in the market effectively.
1. Care for your feet
Foot care can often get overlooked, especially if you live in a place like me that has snow for many months of the year.
Your tootsies can get very dry and rough with your feet hidden away for months.
If you want to take feet pics, you will need to establish a basic routine to make your feet camera ready.
There are plenty of budget-friendly and at-home care options.
And if you are stressed about not having the prettiest feet, not to worry, there is a market for almost everything, including calloused feet.
Soak your feet
With most foot care, you will need to start by soaking your feet to help soften the skin.
Soaking your feet is also the perfect time to include epsom salts or oils that can help improve hydration, soften callouses, and brighten dull skin.
Stay hydrated
When dealing with skincare, you will always see advice to stay hydrated.
So we want to moisturize our feet daily and yes, drink plenty of water.
You want to apply a fragrance-free cream or thick lotion to dry feet at night. Then cover your feet with comfortable socks to sleep.
You can also try the Korean beauty trick of slugging by adding a top layer of Vaseline or Aquafor healing ointment, which helps lock in the cream for better absorption.
Foot file
If your feet are calloused and have a lot of dead skin, a foot file can be a great tool to start the exfoliation process.
Apply your foot file in circular motions to the calloused areas on a damp foot.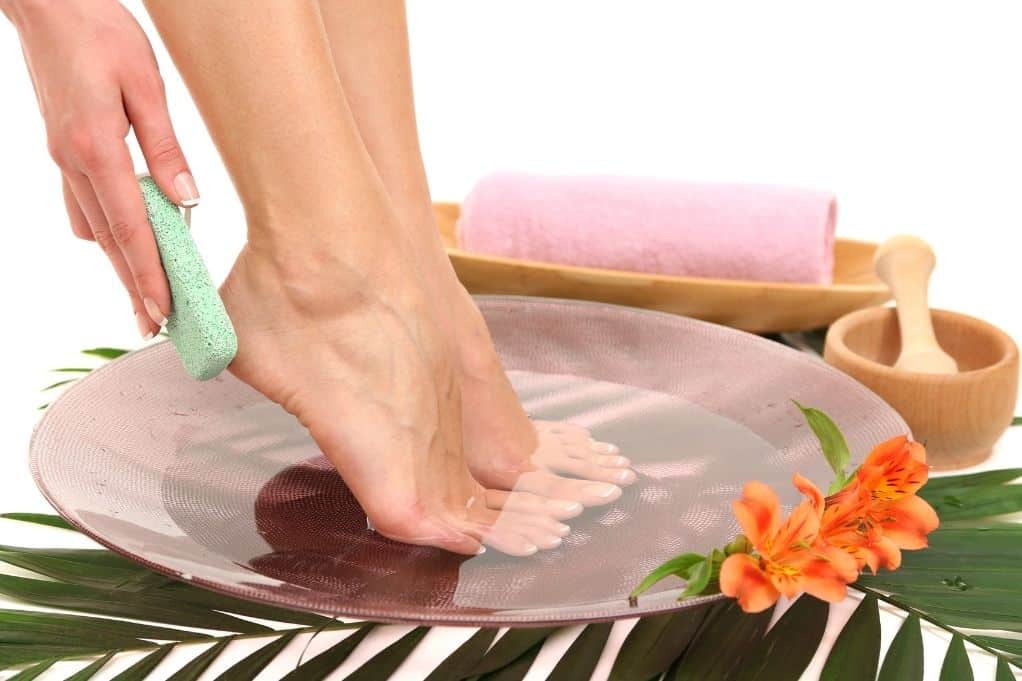 Exfoliation
You can't achieve beautiful skin on your feet without first removing all the dead skin particles on your feet.
You will need an exfoliating glove, pumice stone, or foot scrub to finish off the work your foot file got started.
Even if you don't have any thick, calloused areas, a gentle weekly exfoliation is recommended to help keep your feet in their best condition.
Maintain your toenails
It's not just the foot that needs care but your toes too.
Some simple toenail maintenance is required to avoid possible issues like ingrown toenails that could put you out of work for a while.
Keep your toenails a regular length. You should trim your toenails straight across, and then you can round the corners with a file.
2. Picture styling
While many customers will be interested in simple, high-quality feet pictures, others will want more stylized images.
The setting for your feet pics could be as simple as squishing your toes in the sand or laying your freshly manicured feet on a clean white linen towel with some flowers scattered around.
Are you relaxing drink outside with your feet on the porch railing? Snap some candid feet pics for your portfolio!
You can also elevate your images by using various photography backgrounds like marble and wooden floors.
The longer you will be in the business, the more experience you will gain and learn what types of settings are most in demand.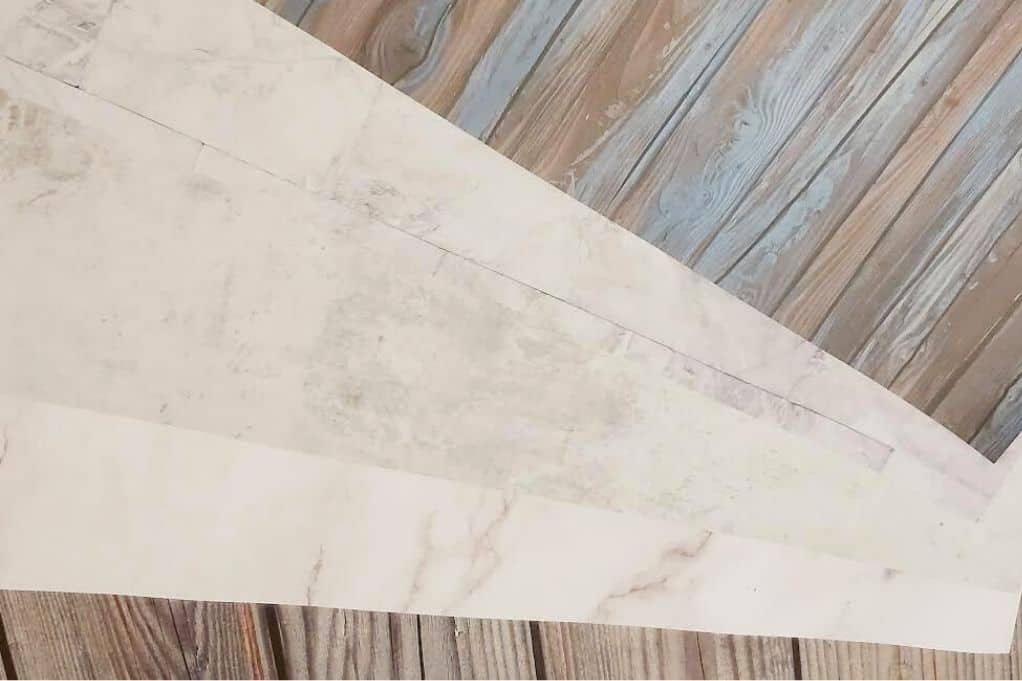 3. Photography props
Photo props go hand in hand when deciding on the style of an image.
If you are building a portfolio of feet pictures, go ahead and have some fun using various props. You can try some of these popular items:
Candles
Clean linens
Foot jewelry
Flowers or petals
Fishnet stocking
High heels
Leaves
Regular stocking
Rocks
Temporary tattoos
Water
And even dirt or mud can be used as a prop
Now it's also essential to consider your target customer.
If your customer is a spa looking to buy pictures of calloused feet, you could include props that the spa will use in their treatment, such as a foot file.
4. Photography equipment
There is always some form of equipment you will need in any business, even if it's something small and inexpensive.
If you are on a strict budget, you can stick to your smartphone to get started with taking feet pics.
Learn how to perfect your photography skills with your phone with free online tutorials on youtube.
Find the best filters on your smartphone to give your pictures the lighting and boost they need.
If you have an available budget to invest right away, we recommend opting for one of the following upgrades:
Portable photography lights
While natural light is ideal, it can also be inconvenient to time your photoshoots around the peak hours the sunlight hits your home.
And depending on your location, using natural may not be an option. Portable, dimmable lights provide great flexibility when you need to shoot at any time of day.
Ring light
If you want to make short videos too, a ring light can be a more convenient option.
You can select a model with a cellphone mount, tripod, and wireless remote to make picture-taking a breeze.
Snag a model with color options and take your feet pictures to a new level.
Tripod
As I mentioned earlier, a tripod with a wireless remote can be quite beneficial.
They will come in handy when trying to take specific feet pics, like with your feet in the air or when you lay on your stomach.
A tripod is also a great built-in way to keep your camera steady and improve your image focus and quality.
Editing software
Whether you use a phone or an excellent camera, you will still need to make some edits to your feet pictures.
You may need to resize your images or crop something out of the background.
Other edits include saturation, exposure, contrast, and perspective as needed, or you can opt for photography presets.
Some free photo editing software options include:
Canva
Adobe Photoshop Express (great for mobile editing)
Fotor
PhotoScape X
BeFunky
Some of these software sites have paid versions as well for more editing options.
For more photo editing options, read here.
Need extra cash? Check out our Complete Guide: How to Sell Feet Pics Online.
Selecting the best feet picture poses
When it comes time to start photographing your feet, you probably wonder which shot will be best.
Many different feet picture ideas are floating around online, but some remain classics in the foot niche.
While it's a great idea to have a varied portfolio, it's always important to find which poses and angles work best for your foot structure and size.
You may get customers looking for one of the classic poses, or maybe they want something a little less styled or even more elaborate.
Let's take a look at some favorite poses for feet pictures.
Cover shot (top)
An aerial shot of sorts, we want to focus on the top of your feet, getting the entirety of your tootsies in the frame.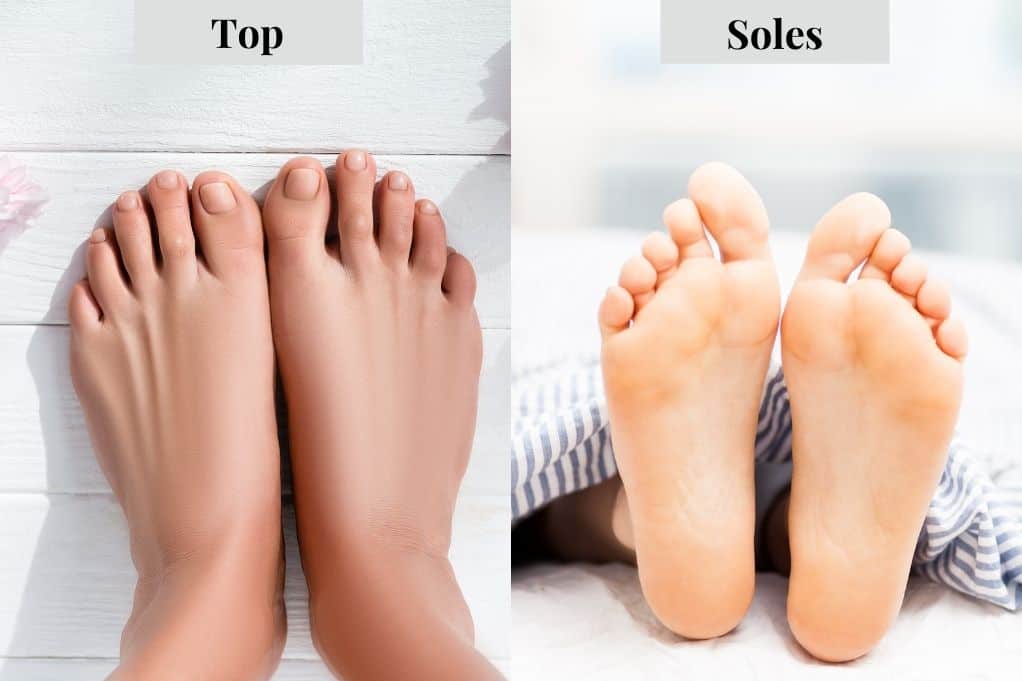 Underneath of feet (soles)
A simple pose that focuses on the feet' soles. Take a few pictures at different levels of proximity.
Foot Arch
A foot pose that concentrates on the foot's delicate arch. This pose usually includes both sweet in the picture.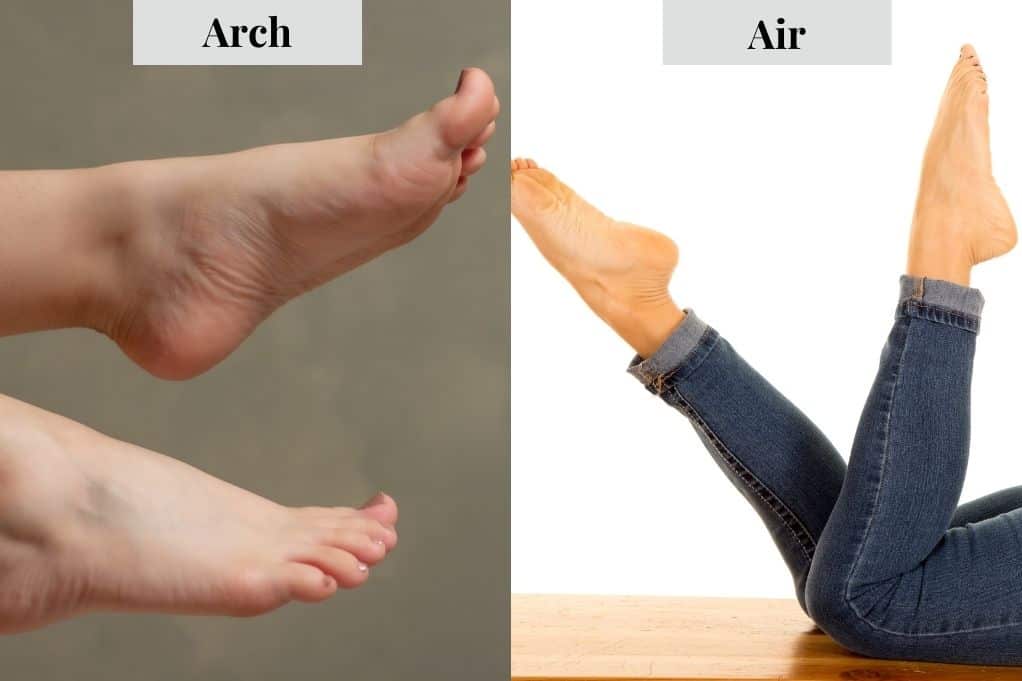 Feet in the air
Another classic pose focused on the model's feet being in the air. You can take them while you lay on your stomach on the floor. Another option is having your feet dangle as you sit on a high chair.
Candid shot
Get creative here; take pictures of your feet in natural poses (relaxing on a railing, resting in the grass, peaking through sand).
While these should technically be candid shots, we still want to maintain their quality with proper lighting.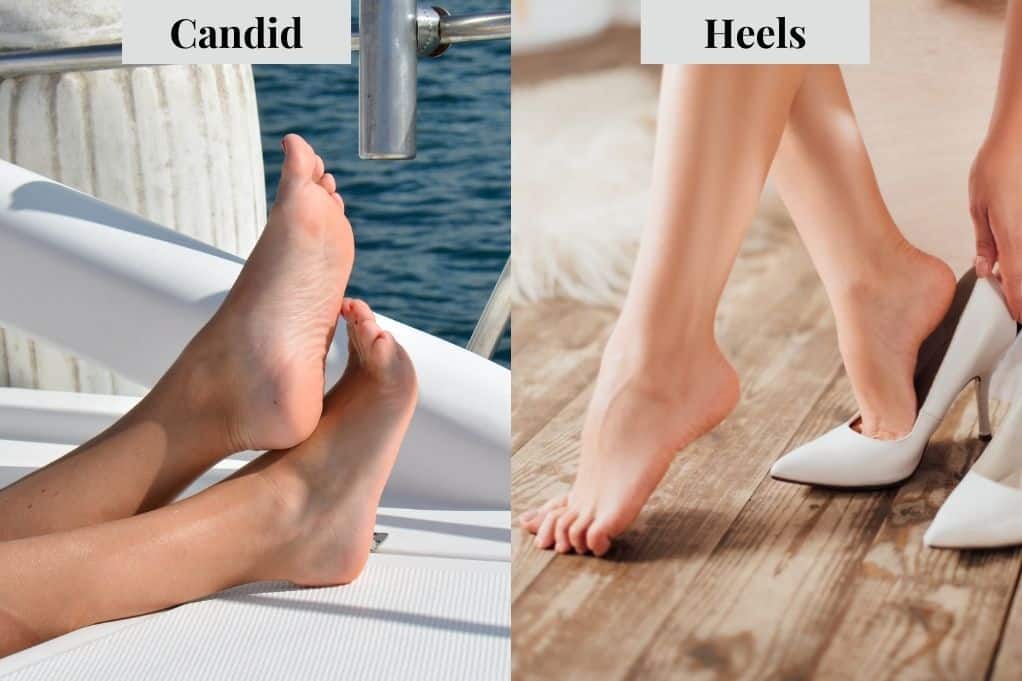 Style with high heels
High heels are a market favorite. These pictures can include your feet inside the shoes, partially or dangling from the toes.
Stay up to date on photography trends
While part of your business will eventually be focused on custom orders and hopefully repeat customers, the other half will rely on marketing your fresh content.
One of the best ways to provide high-quality content is to ensure it's relevant and on-trend with the market and your competition.
Speaking of competition, checking out your competitor's content is a great way to catch new trends starting to circulate.
It's also a great idea to do your own research and see what is trending or being discussed in forums and feet communities.
This way, you can stay ahead of the curve and try and be the first to put out the next best poses.


Similar post: What is the cost of salon nails?
Where to list your feet pictures online
Once you are ready to start posting your best feet pictures online, you will find many available options on the market.
Here are some of my top suggestions where you can sell your feet pictures online.
Feet Finder
Feet Finder is a platform focused exclusively on feet, as the name suggests.
With close to three dozen style categories to list under, you can find the perfect client searching for your type of content.
Feetpics
You can post your feet pictures on Feetpics for sale, they are feet-focused as well.
You can use the site for free; you just need to pay a one-time sign-up fee of $5.
If you have some extra money for marketing purposes, you can choose to boost your listings within the platform by signing up for paid promotions.
Craigslist
If you prefer to stick to the classifieds, Craiglist would be our choice.
Spend some time in the forum section, it can help you find clients searching for custom requests.
Instagram
Social media plays a significant role in many of our daily interactions.
If you want to sell feet pics through a social media network, Instagram is where the feet lovers are found. The platform sees a lot of activities in the foot niche.
And our comprehensive guide on selling feet pics includes all the popular Instagram hashtags to help you get started.
FAQ for how to take feet pics
Final thoughts on how to take feet pics
The art of taking feet pictures has become quite popular in recent years. Thousands of people search for tips and tricks each month on getting started.
Whether you decide to try out for foot modeling or give selling feet pics a go, you will need to build a photography portfolio.
Experiment with different poses, lighting, backgrounds, and props to build a collection of high-quality feet pictures.
If you decide to turn your foot photography into a side hustle, use our helpful selling guide below to find the best websites, apps, and social media platforms to advertise your feet pictures.
More money articles
How to sell feet pics online for money
How to sell hand pics for cash?
Learn to make money pallet flipping
Convert Visa gift cards to cash (12 tips)
How to get cashback with Apple Pay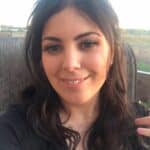 About the author
Clara is the founder of Blue World Dreams, an entrepreneur & budget-savvy personal finance expert. She's invested in helping others attain financial freedom using her knowledge from running a successful seven-figure corporation and building an extensive and diverse investment portfolio. Find out more.
How To Take Feet Pics [Complete Guide]