How To Make Money Pallet Flipping: Easy Guide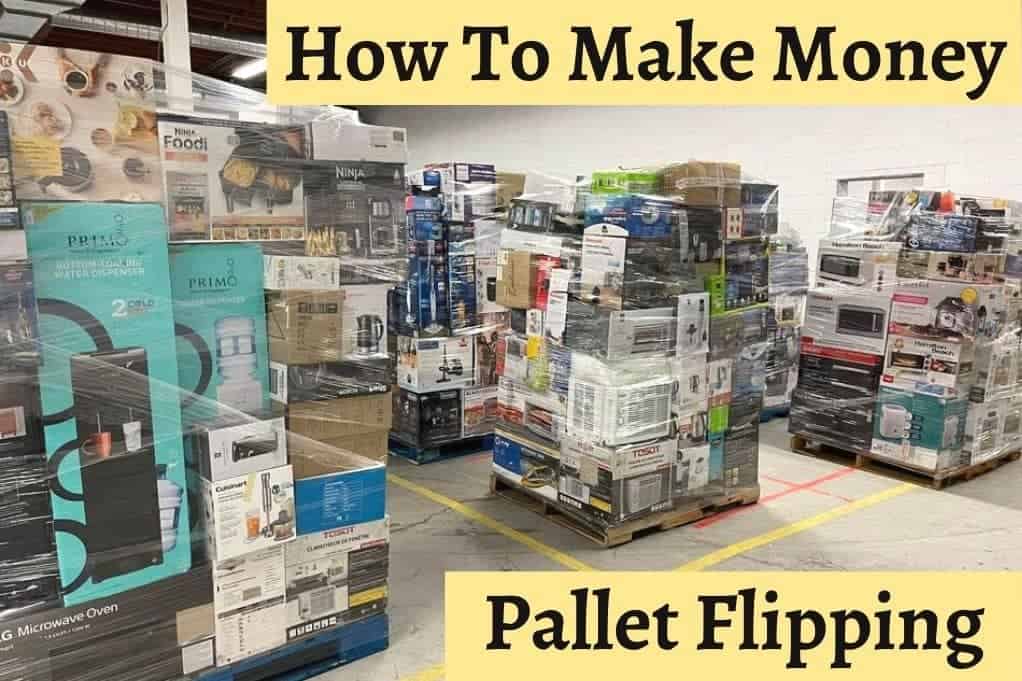 Have you heard about pallet flipping and wondered what it's all about?
Pallet flipping refers to buyers purchasing pallets from distributors or liquidation centers and then flipping the individual components for cash.
But can you make money with a pallet flipping business?
Yes, you can! It's not uncommon to find a pallet with hundreds of dollars worth of products for a fraction of the retail cost.
While flipping pallets can be a side hustle, many have turned this gig into a full-time income.
So, how can we go about flipping pallets in the most cost-efficient and practical way?
Let's find out!
What is a Pallet?
Liquidation pallets come in all shapes and sizes.
Retailers often have an abundance of returns, overstock items, or extremely marked-down products that need to be cleared from the store.
Selling these items allows them to recoup some of their losses while clearing out necessary space from their shelves and warehouses.
What is Pallet Flipping?
There are a couple of different side gigs for flipping pallets.
While some people flip empty wooden pallets for cash or repurpose them into household goods for sale, we won't be focusing on that type of flip.
But today, we are discussing the task of buying a pallet (skid) full of products and then selling the individual items for cash.
These items can be a pallet of returned items from places like Amazon, overstock goods, or liquidated products.
When purchasing or bidding on a liquidation pallet, you may only be able to view pictures of the packaged pallet or some of the items around the packaging.
Some warehouses do offer buyers the chance to view the pallets in person.
However, while you won't be able to see every item but can often get a general idea of what to expect within the skid.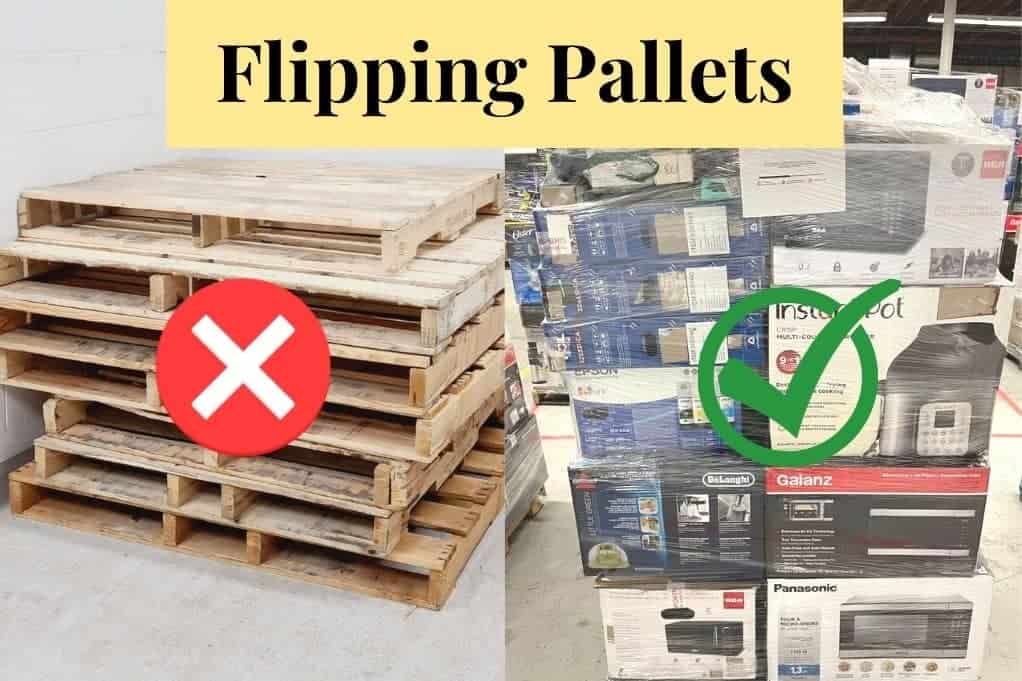 How to Locate a Pallet
Locating pallets for sale simply requires looking in the right place.
Many liquidation warehouses now sell pallets on their websites and advertise their goods on platforms like Facebook Marketplace.
Finding a local liquidation warehouse can save you money on transportation costs, as some will ship for free or at a reduced price due to proximity.
It also allows you to pop in more often to snag a good pallet and get a peek at your pallet before making a purchase.
You can click on the buttons below to do a quick Google search for your area.
1. Liquidation Sites (US)
If you have no local warehouses or the inventory is not what you want, you can turn to online liquidation websites.
There are plenty of websites to do around, so review them all and find the ones that cater best to the product categories you would like to start flipping.
2. Liquidation Sites (Canada)
Pallet flipping is also available in Canada and is just as popular.
3. Facebook Marketplace
FB Marketplace is another hot spot to find liquidation pallets for flipping.
Many warehousing websites post ads on the platform and other sellers who don't have websites advertise their goods.
You can find many in the Facebook Marketplace section, but there are also a few Facebook dedicated groups for liquidation pallets.
For any Marketplace purchases, be safe, do your research, check the seller's reviews, and don't provide any personal banking information.
Here is an example of a private Facebook liquidation group, The Liquidation Group – TLG, which you can request to join.
Flipping Products on Multiple Platforms
When it comes to pallet flipping, the old saying of not putting all your eggs into the same basket rings true.
Not every category of goods will have the same market on each platform; branching out increases your chances of finding that perfect buyer.
Luckily we have so many places to advertise our products.
Let's review some popular platforms you can choose to sell on.
1. Facebook Marketplace
FB Marketplace remains one of the most popular selling platforms online.
The right item can sell at a quick speed when priced right.
While most sales are made on a regional basis, some sellers manage to drive sales across US states or Canadian provinces.
The downfall we have found with Facebook Marketplace is the sheer volume of responses that can come from a single listing.
While this may seem like a good problem, it can become time-consuming to answer many inquiries, especially when the majority don't respond afterward.
2. eBay
eBay is one of our favorite recommended platforms for selling pallets (if not the best).
Many benefits come with using eBay:
Affordable fees
No limit on location
Listing options (Buy it Now, Auction, Auction with a reserve, Make an offer)
Shipping fees (at your discretion)
A full array of categories
Website visitors are huge
You also have an excellent resource for quick market research, allowing you to view the final sale price of identical items.
Related post: 11 Best Places To Dumpster Dive
3. VarageSale
VarageSale is a free selling platform that allows users to buy and sell items locally.
The locality makes Varagesale an excellent platform for selling liquidation pallet items.
Buyers can easily find what they're looking for, and sellers can avoid shipping costs.
Varasale aims at trying to build a community with in-person transactions.
They also have an app and built-in messaging system, making communication between buyers and sellers easy.
We have found this site great for flipping clothing and household goods.
4. Kijiji and Craigslist
Kijiji and Craigslist are two popular options for online classifieds.
They are both selling platforms that allow users to sell items to others in their local area.
These platforms differ from Varagesale because transactions can be completed online and mailed to the buyer.
In our experience, we have also found more scammers on Kijijiji versus the other platforms.
However, this issue could be limited to listings in our local area.
5. Mercari
Mercari is a free app offering a similar selling experience as eBay.
Available on Google Play and the App Store, users can list items within moments, and the shipping labels are issued through the platform.
Although there is a 10% flat rate selling fee for listings, Mercari offers discount shipping fees and assigns a flat fee throughout all 50 states.
Sellers can also opt to pay or forward the shipping fees to the buyer.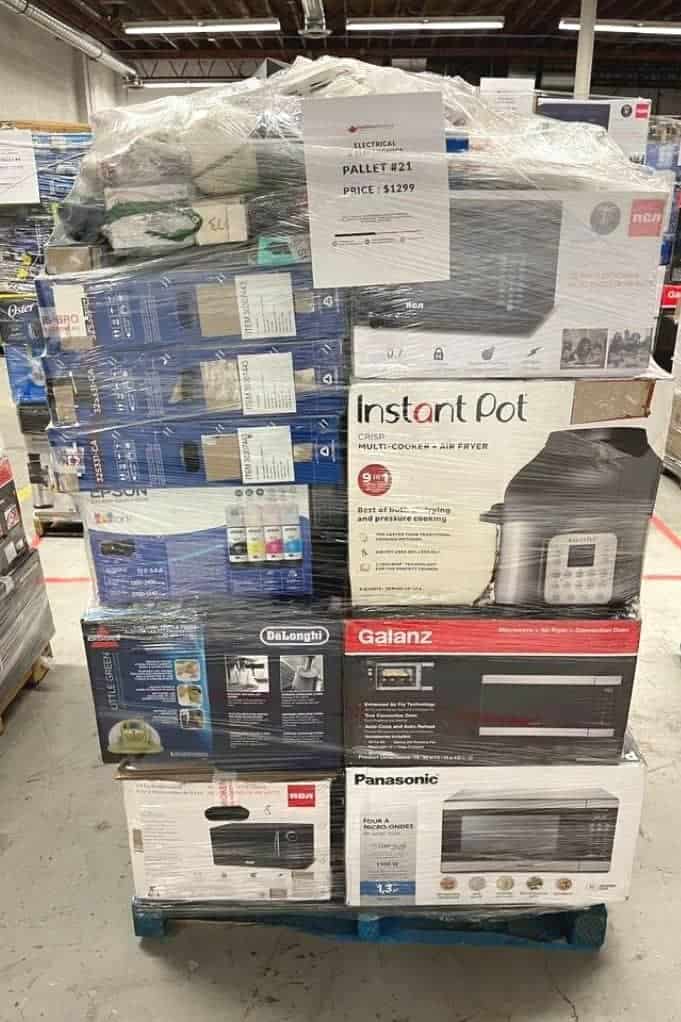 6. Poshmark
Poshmark is an excellent option for those interested in purchasing pallets of clothing.
Although they take a commission fee on sales, the platform is free to use.
You can expect to pay $2.95 for deals under $15 and 20% on sales above that price.
Poshmark provides the shipping label, and the buyer is responsible for the shipping fees, which, in our experience, doesn't deter buyers on this platform.

Similar Post: Scrap yard near me – make cash selling metal
How to Make Money Flipping Pallets
Flipping pallets is not always an overnight success.
We can often get carried away by seeing TikTok and YouTube videos of people discussing their Amazon FBA success.
But behind many of these accounts are dozens of people stuck with unsold overstock because they did not do their homework.
Before starting your pallet flipping side hustle, here are some key steps to follow.
1. Prior research
Market research is key before any business venture.
Before purchasing a pallet, request an itemized list of the pallets in question.
If this information is unavailable, write down all the products you can see and go home and research.
Remember to be swift and efficient so your pallet does not get sold, and the work is not done in vain.
This task will get faster and easier with time, especially if you repurchase similar pallets over time.
Review prices online and previous sale prices on platforms such as eBay.
Gauge the value of the pallet before you; if your pallet is going to cost $750, but you see a large volume of $15 toasters covering half the pallet, that is not the deal for you.
2. Pallet Selection
So, while research is a key aspect of a wise pallet selection, there are a few other factors to consider.
While you can learn almost anything over time, try to start with your best foot forward.
Sticking with familiar items will make your research and selling process easier.
Consider shipping costs; while you may be able to charge the buyer the shipping fees, they may hesitate if the price is too high.
Shipping fees are significant for Canadian sellers, where the cost is much higher than in the US.
Seasonality is important. If you hope to sell your products as soon as possible to rotate your money into the next pallet, avoid items that are not in season.
Take into consideration the selling platforms you want to use. If you plan on selling locally, then avoid items that aren't as needed.
For example, a pallet of lawnmowers may not sell quickly in Arizona.
3. Organization
Being organized is extremely important for any business, especially with a company that revolves around inventory.
A simple spreadsheet can do the job of managing the inventory.
It would be best if you also organized the inventory in an easy way so that you can quickly retrieve any item you need at the time of sale.
Key points to include in your spreadsheet:
Name and brand of the item
Item SKU
Item condition (New, Like-New, Used, Damaged, Missing pieces)
Retail price
Listing price
Quantity of each item
Listing description
Platforms the item is listed on
Profits
4. Platform selection
As we covered earlier, diversifying the platforms you choose to list your products on is crucial.
Seeing where similar items are getting the most traction and sales can help identify where you should post your listings.
5. Flexibility and Hustle
Sometimes, even with the best planning, you still get the short end of the stick.
If you end up with a pallet hiding some pretty useless things, do your best to recoup your money, even if you won't make a profit.
You may end up having to;
Put out more listings than usual
Being more flexible with meeting up in person with local buyers
Driving to a neighboring town (factor in gas prices)
Accepting lower offers
FAQ on pallet flipping
Final Thoughts on Pallet Flipping
Pallet flipping is a great way to make a profit on individual products.
Finding an affordable pallet with high-value items can significantly return your investment.
But don't forget to test the waters first by starting small and working your way up.
With proper research and effort, you can start flipping pallets!
Other Money-Related Articles
How To Make Money Pallet Flipping: Easy Guide