Coinstar Gift Card Exchange: Quick Cash Today!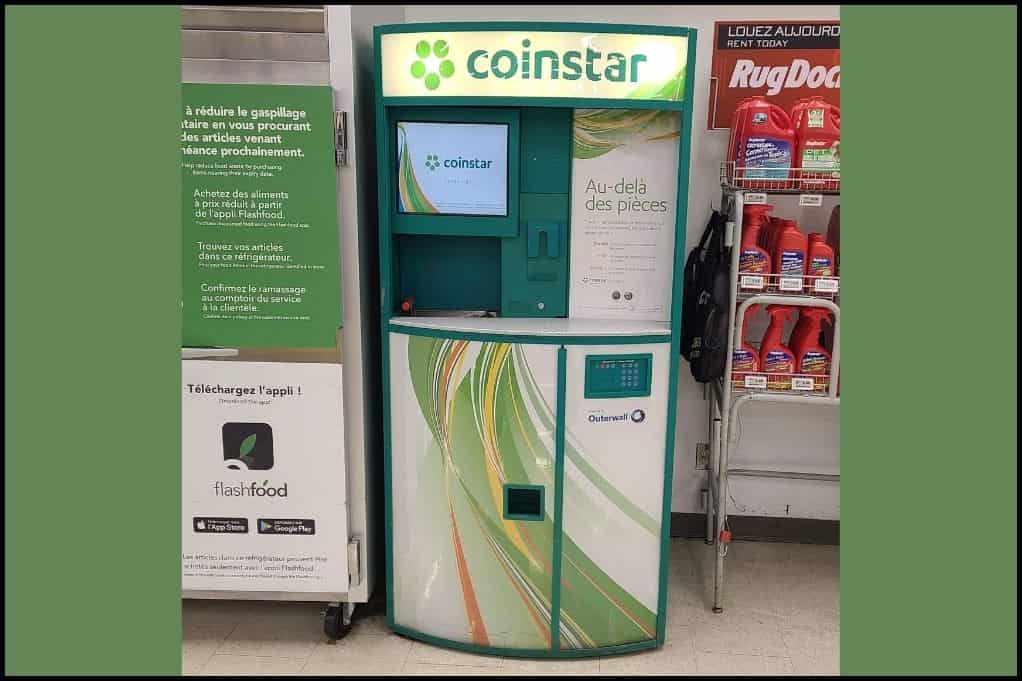 If you are curious about finding new and different ways to make money then Coinstar kiosks should be the interest to you.
You will no longer be able to locate the yellow Coinstar gift card exchange kiosks.
Those gift card kiosks specifically accepted unwanted gift cards in exchange for cash-back.
But you can still find the classic green Coinstar kiosks in local stores near you.
These little gems have been around since 1992 and they allow you to exchange your loose coins in exchange for cash or eGift cards.
Plus they offer some other interesting services.
What is Coinstar?
Coinstar offers a series of kiosks across the US which act as;
Coin counting machine (with no need to separate your coins by the different denominations)
Cash in your coins for paper money voucher
Select an eGift card from among a list of different retailers.
Donate your coins to a charity of your choice from among Coinstar's nonprofit charity partners.
Coinstar Gift Card Exchange & Charity Options
Ecommerce
& Retail
Food-Drink & Travel
Other services include purchasing Bitcoin in exchange for cash or adding cash to your online Amazon balance.
Adding to your Amazon balance in this manner is a great option for those who don't have credit cards or who prefer to simply not link their debit or credit cards online.
Can you exchange gift cards for cash at Coinstar?
While exchanging gift cards for cash used to be an available option with the Coinstar Gift Card Exchange kiosks, that is no longer possible.
You can now do the reverse and cash in all that spare change in return for an eGift card using the original green Coinstar kiosks.
But since we are always looking for ways to make and save money, we found some other great options for those unwanted or soon to be expiring gift cards that we will list in this article.
How does Coinstar work?
So while Coinstar gift card exchange kiosks used to only have one focus, the standard kiosks offer a few services and each feature has some simple steps and requirements to follow.
Let's go over them all;
1. Cash for coins: Simply add your loose coins to the tray, lift the handle and help guide your coins to the slot.
You will receive a paper voucher to bring to the store's cashier.
Just remember to clean and dry your coins at home before taking them to the store.
You also want to remove any debris or random objects from your coins jar. You'd be surprised what objects are thrown into the tray (acorns just to list an example).
2. eGift Cards: Prior to inserting your coins, select the eGift card option from the screen. Pick your preferred retailer and insert your coins.
You will be provided with a paper eGift card with comes with a unique code at the top.
You can use your voucher to shop in-store, online, or even at the restaurant depending on which retailer you select.
3. Charitable donation: Coins in any amount are accepted for donations. Simply choose from the list of charities available (selection will vary per kiosk).
Donations remain tax-deductible (so keep the provided receipt for your taxes).
4. Bitcoin purchase: Join the world of cryptocurrency within a few moments;
Select Buy Bitcoin from the screen.
After reviewing the terms of the transaction, if you decide to proceed, you will need to accept the terms.
Enter your telephone number.
Insert the necessary cash into the receptor.
Using the issued voucher (containing your redemption code), sign up at coinme.com/redeem to claim your Bitcoin.
5. Amazon Cash Balance: If you are interested in topping off your online Amazon balance, start by selecting;
Cash Services on the screen.
Input the phone number connected to your Amazon account
Insert at a minimum, a $5 bill into the cash receptor. You can add up to $500.
READ: How To Order Quarters Online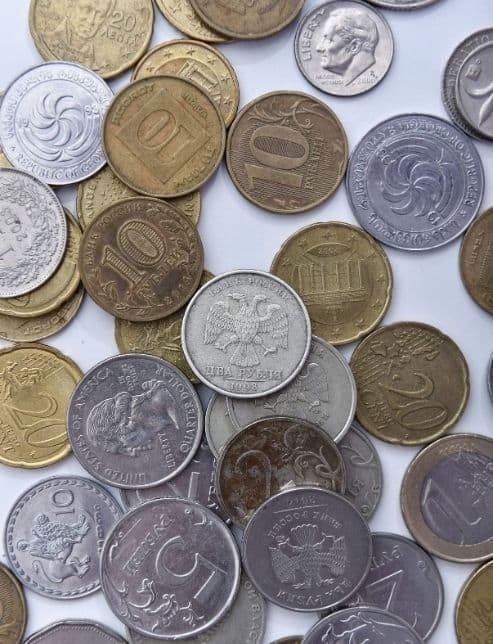 What is the fee for Coinstar?
If you decide to use the Coinstar kiosk for exchanging your coins into a cash voucher, you can expect the pay a fee of 11.9%.
While the fees may vary per location, the average rate is still just shy of 12%.
So yes, that is quite a steep fee, so if your local bank still accepts rolled coins, it may be worth using them instead especially if you have a large amount of money to exchange.
Keep in mind that for each $100 you exchange, you will lose $11.90 so it really comes down to a personal choice.
How much do you want to avoid rolling your coins?
How can I find a Coinstar kiosk near me?
Simply visit this page on the Coinstar website and input your address to find a kiosk near you.
If you are in the US, you can click on the different Coinstar kiosks in your local area that will pop up on the map to see which services are offered at each kiosk.
If you are in Canada, Ireland, Germany, Italy, France, Japan, or Spain, services are unfortunately limited to cash counting.
Exceptionally, the UK offers both cash counting and the "Donate to charity" option.
Can you exchange a gift card for cash at Walmart?
While Walmart used to be partnered with CardCash and you could previously exchange a gift card for cash at Walmart from over 200 different retailers, this is unfortunately no longer the case.
Unless you are from a state which requires some form of a cash refund, Walmart's current policy does not allow for exchanges nor refunds on gift cards in exchange for cash.
There are other options for exchanging your Walmart gift cards for cash elsewhere.
While Coinstar Gift Card Exchange kiosks are no longer available, we will cover some other alternatives further on.
How to skip Coinstar fees when depositing your coins?
If you want to save on the 11.9% Coinstar fee charged for those cash vouchers, simply select the eGift card options before inserting your change into the machine.
This option makes the Coinstar gift card exchange rate zero.
Both eGift cards and charitable donations are exempt from fees so why not grab a gift card to your favorite store and save a decent amount of money.
You can also use their change counting service for free in most locations.
This post contains affiliate links. We may earn a commission, at no additional cost to you, if you make a purchase through a link. Please review our disclosure for more information
Can you exchange gift cards for a different one?
Once your selection is made and your eGift card voucher is issued, there can be no exchanges or "refunds".
The transaction is considered final from Coinstar's side.
Best online Coinstar alternatives?
While other sites may recommend Gift Card Granny, the company has confirmed that they do not buy nor sell gift cards from individuals.
They have also stopped listing other businesses that do purchase cards.
But that's ok because there are still other Coinstar gift card exchange alternatives such as;
Raise offers you the option to buy and sell gift cards. You can get up to 85% of your card's values.
While this is not the greatest gift card exchange percentage, they do offer a 1 Year Money-Back Guarantee from the time of purchase.
CardCash is another great option. They offer a faster payout than most competitors (1-2 business days) and up to 92% of the card's value.
CardCash's offer for a $100 Walmart gift card.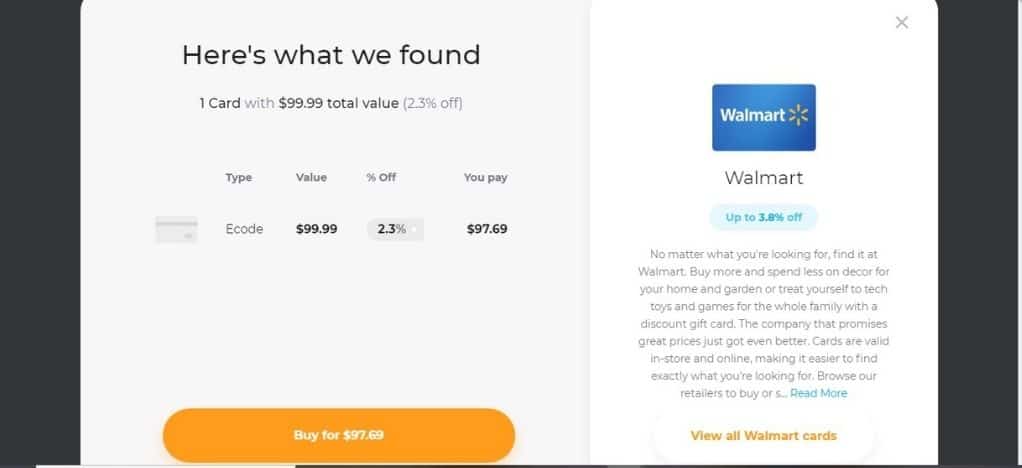 Both Raise and CardCash will purchase your gift cards from a variety of different retailers such as Walmart, Starbucks, Costco, Best Buy, and Target.
Exchange gift cards for United Miles
Enjoy traveling? Why not trade in your unwanted gift cards for some MileagePlus award miles!
They will convert the value of your gift cards for rewards miles.
Will pawn shops buy gift cards?
Yes, many local pawn shops will exchange gift cards for cash.
While the cash-out will be a quick process, the payout will likely be low, with some shops only paying out 50% of the card's value.
But in a pinch, it remains a quick option for fast cash.
Other ways to unload unwanted gift cards?
Sell your gift cards on eBay
List your gift cards on Craigslist, Varagesale, and Kijiji
Regift them to a friend or family member
Trade them with a friend
Donate them to a local charity
Purchase goods that you can then use, donate or sell in person or online.
Final Thoughts
While using a Coinstar Gift Card Exchange kiosk is no longer an option, the classic Coinstar kiosks are still a great resource.
Count your coins for free, turn in your change for a cash voucher, donate or select a fee-free eGift card from among the choices.
And if you still have some gift cards lying around that you need to unload, look into Raise and CardCash.
If you have traveling on your mind, consider cashing in your gift cards for United Miles.
Money Articles
Coinstar Gift Card Exchange: Quick Cash Today!