12 Tips to Convert Visa Gift Cards to Cash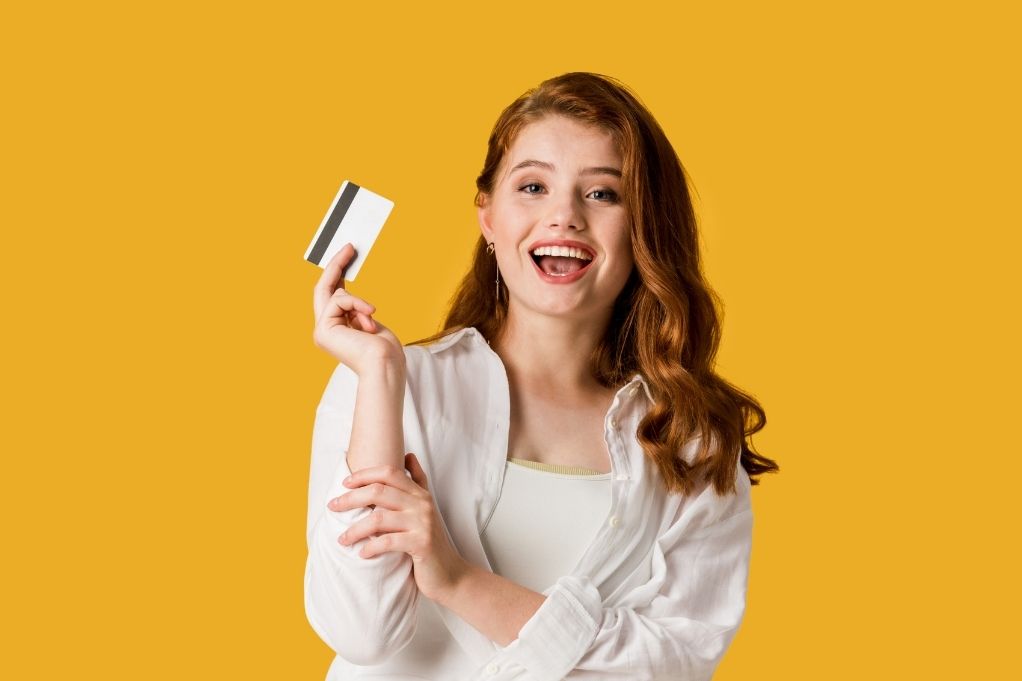 Have you received another bunch of Visa gift cards with the latest birthday or holiday?
While getting gift cards can be fun and exciting, receiving multiple cards can also be frustrating when you'd prefer to have some much-needed cash in hand.
Luckily, these days, there are many available options.
You can often find a way to convert Visa gift cards to cash or swap them for something else you'd appreciate.
Our complete guide covers many different options; you are bound to find one to fit your needs.
Converting Visa gift cards to cash
While you can convert Visa gift cards to cash in some cases, other options will provide a roundabout way to gain access to your gift card balance.
So, how can you get cash from a Visa gift card?
There are twelve different approaches to liquidating Visa gift cards; you can select the method that works best for your needs.
1. Add it to your PayPal Wallet
One of the most convenient ways is to convert Visa gift cards to cash through PayPal.
While many of us use PayPal to make secure online purchases, PayPal also allows users to add a prepaid card to their PayPal wallet; this includes Visa gift cards.
After adding your Visa gift to your PayPal wallet, you can use the balance to purchase items you actually want from any merchant that accepts PayPal payments.
Alternatively, you can simply choose to transfer the money to your linked debit account or even send money to a family member, or pay someone for services.
I have even used my PayPal balance to pay for an Air B&B through the Paying for goods or service option.
How to get money off a Visa gift card through PayPal?
To add your Visa gift card to your PayPal Wallet, follow these simple steps (on desktop);
Log into your PayPal account
Select the "Wallet" tab in the menu bar
Select the "Link a card" option
Enter your gift card information
Click "Link Card"
The same instructions apply for mobile; just select the Wallet tab from the dropdown hamburger menu.
While Visa gift cards can work with no problems at a physical location, it's important to register your card to avoid any potential issues when adding the card to your online wallet.
Registering your card is as easy as contacting the customer service number indicated on your Visa gift card.
2. Add it to your Venmo
With approximately 78 million users in 2022, Venmo is top on the list for Millennials.
With little to no fees (depending on the type of transaction), Venmo also allows users to convert their Visa gift cards to cash.
Just add your card to your Venmo account and transfer the funds to your bank account.
The money should hit your bank in one to three days, and there is no fee for this type of transaction.
To set up the transfer of your Visa gift card to your Venmo account, follow these simple steps:
Open up the Venmo app on your mobile device.
Open the menu bar and select "Settings."
Select "Payment Methods"
Tap on "Add a Bank or Card"
Enter your card's information and select "add card to your account"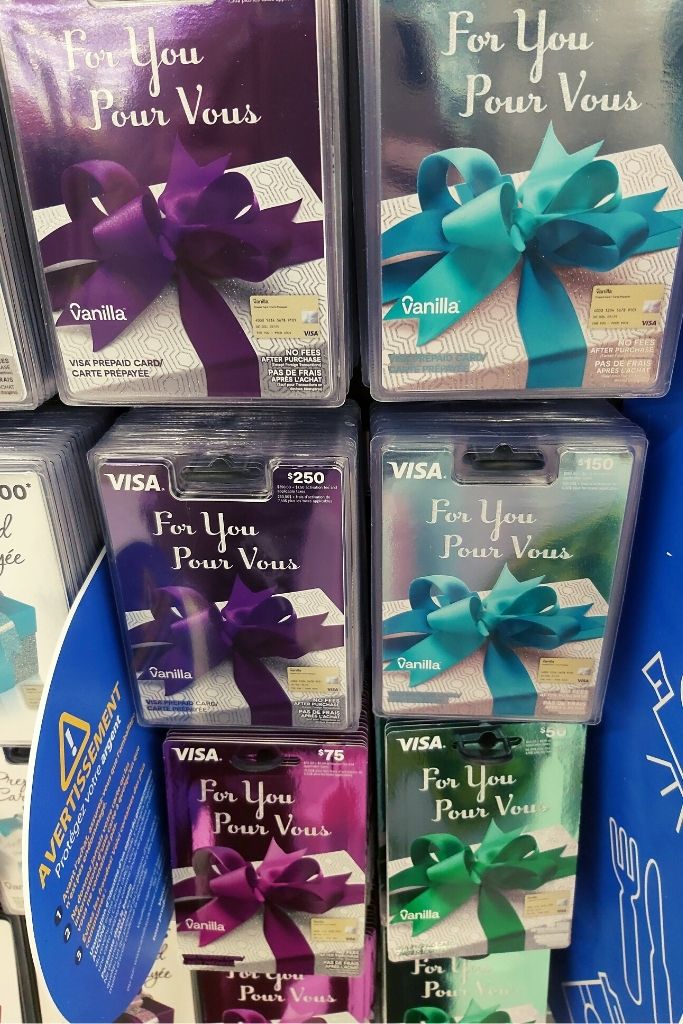 3. Pay bills with your Visa Gift Card
Paying for bills using a Visa gift card should technically work with service providers that accept Visa credit cards.
However, after reviewing multiple forums, some users experienced issues when attempting to pay via a gift card.
The most suitable approach would be to directly reach out to the customer service department and see if they can help put through the payment.
When a consumer reached out to AT&T in their community forum, the company confirmed that using a Visa gift card to pay their bill should not be an issue.
If you are interested in purchasing gas with your gift card, it's important to remember that gas stations place a pre-authorization hold on a credit card; the same would occur to your Visa gift card.
A pre-authorization will cause a problem if your gift card's balance is insufficient to cover its value plus that of the gas.
To avoid this issue, head inside and advise the cashier you want to use a Visa gift card and let them know how much gas you wish to purchase.
This post contains affiliate links. We may earn a commission at no additional cost to you if you make a purchase through a link. Please review our disclosure for more information
4. Purchase a money order with your Visa gift card
Certain places like Western Union and Walmart allow customers to purchase money orders with their Visa gift cards.
As money orders are treated the same way as checks, you can later deposit the check into your chequing or savings account.
You would need to endorse the back of the money order and show some ID if depositing with a teller.
Some banks and Credit Unions like Chase, Citibank, TD Bank, and Alliant Credit Union even allow mobile deposits for money orders through their apps.
5. Sell your Visa gift cards through an app
People often turn to online apps where they can unload their gift cards.
Raise remains a popular choice, buying gift cards for up to 85% of their value.
However, at the time of this article, for the sale of Visa gift cards, Raise has partnered with Prepaid2Cash.
But no worries, you can still liquidate Visa gift cards through the Prepaid2Cash app, which is available to both Android and iOS users.
You will potentially even earn more by going through Prepaid2Cash, as they pay out up to 92% of the card's balance compared to Raise's 85%.
6. Convert Visa gift card to cash on a website
You can convert Visa gift cards using the CardCash website or app.
While the Raise platform lists your gift cards for sale on their platform, CardCash will buy them directly from you.
The main difference is that you don't have to wait around for someone else to purchase your gift card, which means you can get cash faster.
Card Cash will pay up to 92% of the value of your card.
Other platforms
While many articles still recommend Gift Card Granny, they no longer provide the option to sell gift cards on their website.
Their site can be a little confusing as they still have a posted article describing how to sell gift cards on their platform.
But after reaching out to Gift Card Granny's back in March 2021, they confirmed (see image below) that selling gift cards on their website is no longer possible.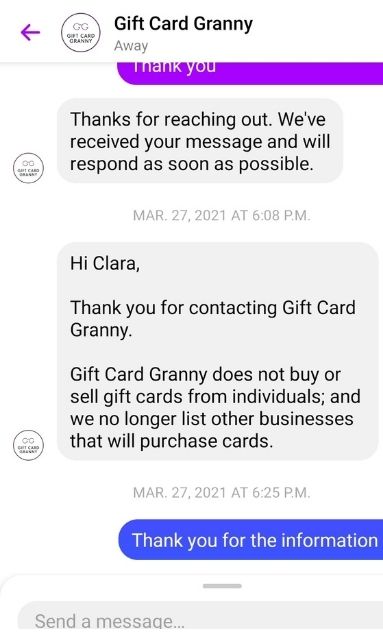 7. Sell your Visa gift cards to others
You can always attempt to sell your Visa gift cards to someone else.
I always start by asking my close friends or family members if they have any upcoming purchases.
They might be willing to buy off my card, and I usually get the entire card's value.
If you need to look elsewhere, some options are Facebook Marketplace, local Facebook groups for your hometown, Kijiji, Varagsale, and Craigslist.
When selling gift cards to strangers, you should go in expecting to receive less money than the card's value.
There essentially needs to be an incentive for them to risk purchasing a Visa gift card directly from you versus getting one from the store.
Plus, purchasing from a stranger is more hassle for them, and there are the additional risks of buying a blank Visa gift card from a seller.
But there is always a decent market for people looking to buy, sell, or even trade gift cards.
8. Give them out as gifts
Ahh, the art of regifting!
Whether they were gifted or you earned your Visa gift cards through an app like Swagbucks, you can still choose to offer your gift cards to others.
You can easily regift them to friends, coworkers, or family members who have an upcoming birthday or special event.
Why not redirect your gift card to someone who will enjoy it?
If I know I have an upcoming gift to purchase, I just reserve any Visa gift cards I have on hand for the occasion.
It also saves me a trip to the nearest local store. 
9. Sell your cards at a GiftCardBin partner location
GiftCardBin focuses on buying unwanted gift cards, and they have over 600 partner locations in the US.
Just hop onto their website and enter your city, state, or zip code to find the location closest to you.
Their payouts are between 60-70%, depending on card amount, merchant, and some other factors.
10. Buy and resell items using your Visa gift cards
A popular side hustle is reselling items for profit.
While you may not be in the market for a part-time side hustle, you can adopt this hack for a limited time.
In our household, my husband and I enjoy reselling items for profit; it's a nice way to make extra money.
While he focuses on gaming gear and video games, I stick to wedding veils and accessories.
If you are not interested in ordering items from overseas, you can keep things simple and look at the liquidation sections both online and in-store at Walmart, Target, or head to your local thrift store.
Before purchasing anything, do an eBay search to verify, on average, the selling price for the item.
Be sure to factor in the transaction costs while the shipping fees can be passed on to the buyer.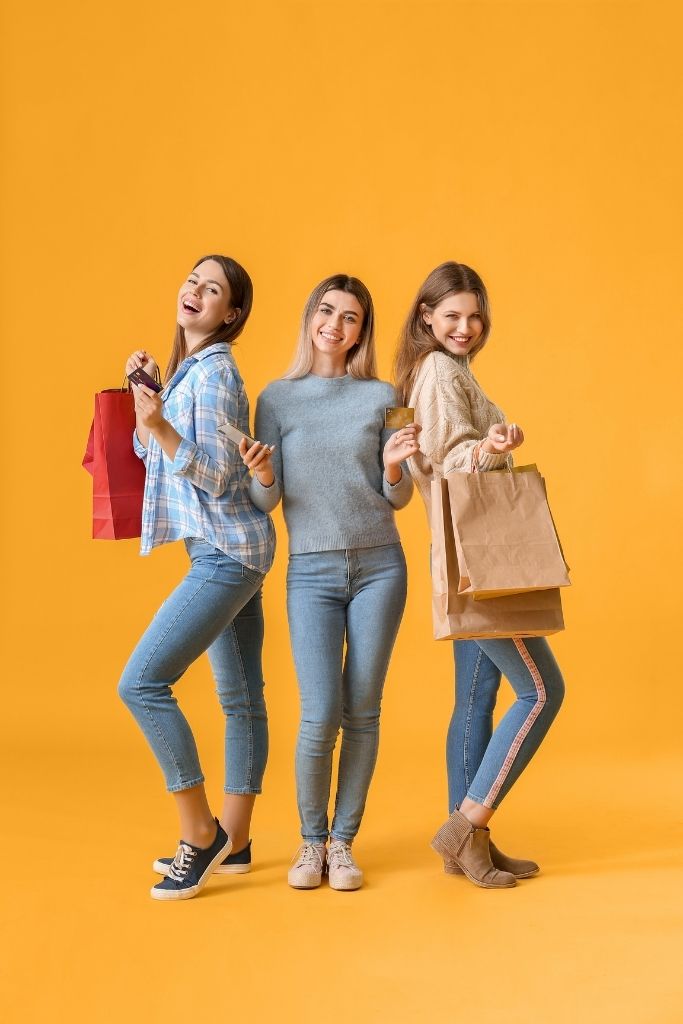 11. Sell your Visa gift cards to a pawn shop
While pawn shops are an option for quick cash, I put them last on my list since the payout can be pretty low (like 50% of the value).
So, I'd reserve this option for situations where you cannot wait to apply one of the more lucrative alternatives above.
12. Convert your Visa gift cards to miles
While not precisely cash in hand, if you are a frequent traveler or have an upcoming trip, you can turn your unwanted gift cards into United Mileage Plus miles.
While they don't accept gift cards with expiration dates (aka Visa gift cards), you could make it work with a few extra steps if you prefer working with miles.
As we mentioned earlier, you can purchase other types of gift cards with your Visa gift cards.
If you select a card that United Mileage Plus accepts, you could then trade it in for miles.
Plus, if you snag your gift card online for a cheaper price (usually the case), you will be ahead of the game.
Mileage Plus currently accepts gift cards from a long list of retailers, such as:
Target
Walmart
American Eagle
Best Buy
Starbucks
Pottery Barn
And many more
Get the following travel miles (minimum amount). Gift cards need to contain a minimum of $15 per card.
$25 card balance: 670 points
$50 card balance: 1330 points
$100 card balance: 2660 points
Can I still use a gift card exchange kiosk?
Unfortunately, those yellow gift card exchange kiosks that were so popular in their day are no longer available.
While you can still use the green Gift Card Exchange kiosks to trade in your coins for eGift cards, bitcoins, and more, the reverse is not possible.
How to transfer money from a Visa gift card to a debit card?
As you've probably noticed, most ways of converting Visa gift cards require a few different steps before obtaining the desired outcome.
So yes, you can get cash into your debit card in a few of the ways we confirmed.
You can add your Visa gift card to your Paypal Wallet or Venmo account and transfer the funds to your debit account afterward.
You can obtain a money order and then deposit the check into your chequing or savings account to use with your debit card.
Sell your Visa gift card (Raise, CardCash, Prepaid2Cash, GiftCardBin) and receive a direct deposit, cash, or a cheque as payment.
Can you withdraw cash from a prepaid Visa card?
Yes, you can use your prepaid Visa card to get cash back at the time of purchase or at an ATM by using your PIN.
Visa prepaid cards are different as they utilize a security pin code and are reloadable versus a regular Visa gift card.
How to get cash from a Vanilla Visa gift card?
If you need to get cash from a Vanilla gift card, simply follow one of the twelve suggestions above.
Vanilla Visa gift cards operate the exact same way as other Visa gift cards, so feel free to proceed with the option that best suits your needs.
Can you use a Visa gift card at an ATM?
Yes, but in rare cases.
Most Visa gift cards cannot be used at an ATM as a PIN is required to secure the transaction.
However, certain banks like TIB make cash withdrawals at ATMs possible by allowing a PIN to be assigned to Visa-branded gift cards.
The ATMs, in this case, must display one of the following logos: Pulse, Plus, STAR, or NYCE network logos.
Can Visa gift cards be converted to the Cash App?
Yes, with a multi-step process, you can convert Visa gift cards to the Cash app using PayPal as your go-between.
Step 1
Just as before, you will need to follow the following steps to add your Visa gift card to your PayPal Wallet:
Sign in to your PayPal account
Click the "Wallet" tab in the menu bar
Select the "Link a card" option
Input your gift card information
Click "Link Card"
Step 2
You will now want to transfer your funds from your PayPal Wallet to your Cash App Wallet for the final steps.
To start, make sure your Cash App debit card is linked.
From the PayPal app, click on "Transfer money"
Then select "Transfer to your bank"
Enter the amount of money you want to move and click "Transfer"
Can you exchange a Visa gift card at Walmart?
Walmart does not allow Visa gift card exchanges.
While a few states require Walmart to pay the small remaining balances on gift cards, that would only be a few dollars.
Your best bet at Walmart is getting a money order or purchasing items to resell.
Closing thoughts on converting Visa gift cards to cash
While Visa gift cards provide a great amount of flexibility in how and where they can be used, you sometimes just need cash in hand.
Or perhaps you simply dislike the concept of carting around a bunch of gift cards in your wallet when everything could be conveniently in your chequing account.
In that case, you can easily select from the list of suggestions to find the option that will give you the best rate to save money and the convenience you need.
Similar Banking Posts
12 Tips to Convert Visa Gift Cards to Cash