How To Become A Freelance Writer With No Experience?
Are you interested in learning how to become a freelance writer with no experience?
You may want to change careers, write as a side hustle or start a freelance writing business.
In the last couple of years, even social media has promoted freelance writing as a possible lucrative career.
And since I am a part of several freelance writing communities, I often see newbies seeking tips on how to start their writing career.
So how can you get started freelance writing?
Let's take a look at the different approaches you can take.
This post contains affiliate links. We may earn a commission, at no additional cost to you, if you make a purchase through a link. Please review our disclosure for more information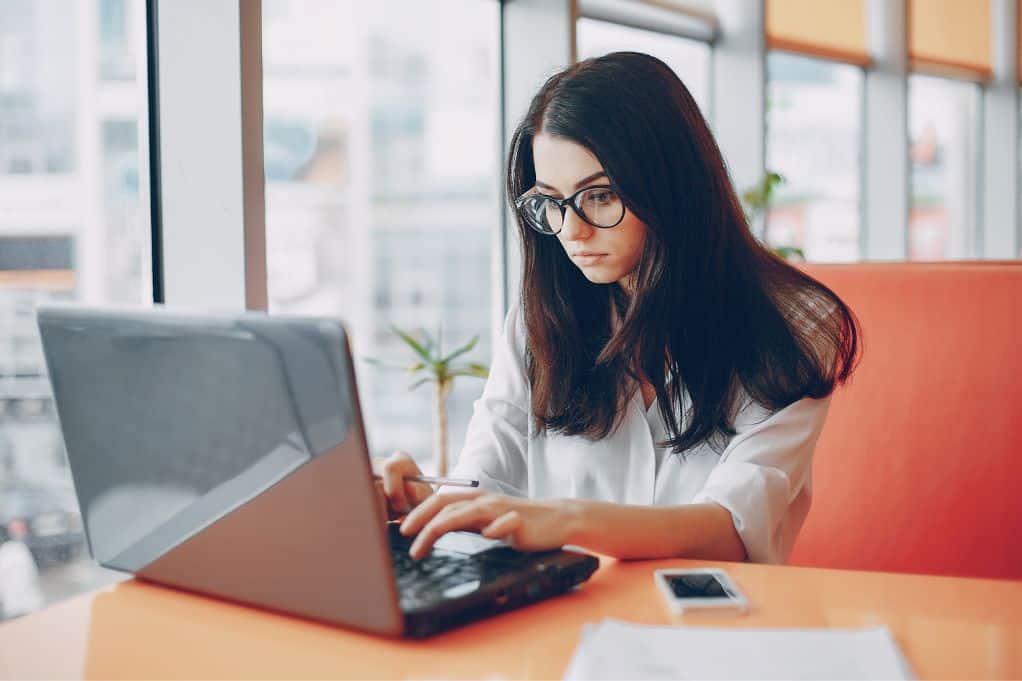 How To Become A Freelance Writer With No Experience
Learning the basics is essential for getting into any new field, especially if you want to earn money writing.
And while spending money before you start making money is never fun, it's generally necessary.
Now not to worry, I'm not going to recommend expensive courses.
I will list some affordable resources to help you get on the right path to your freelance writing career.
1. Sign up for a freelance course
My top recommendation is to take a couple of freelance writing courses.
You always want to get the lay of the land.
And what better way to get acquainted with a topic than taking a course created by freelance writers?
I've listed two freelance writing courses below; both are highly rated, covering topics from logistics to pitching your work.
Read through each course description to find which course best meets your needs.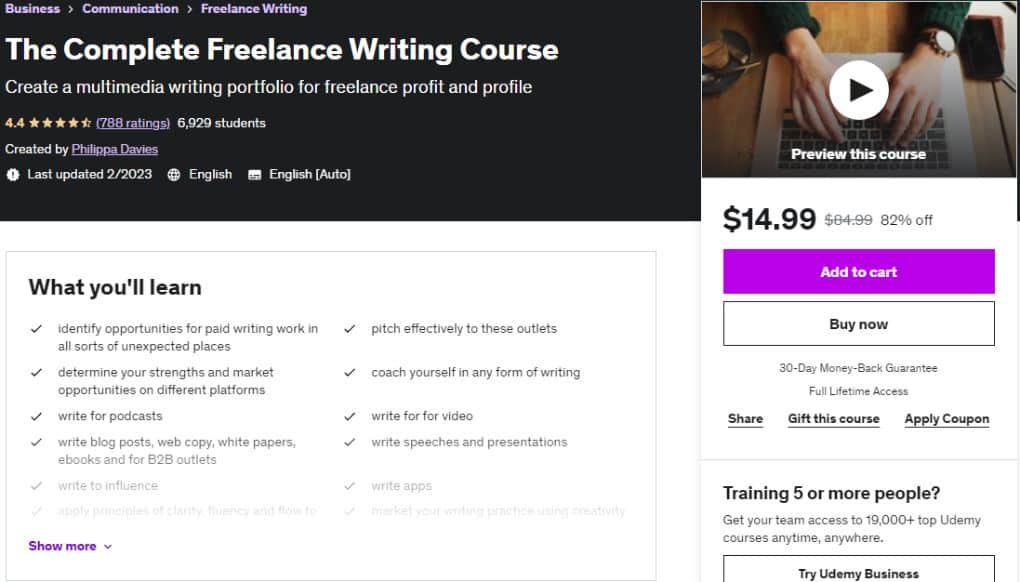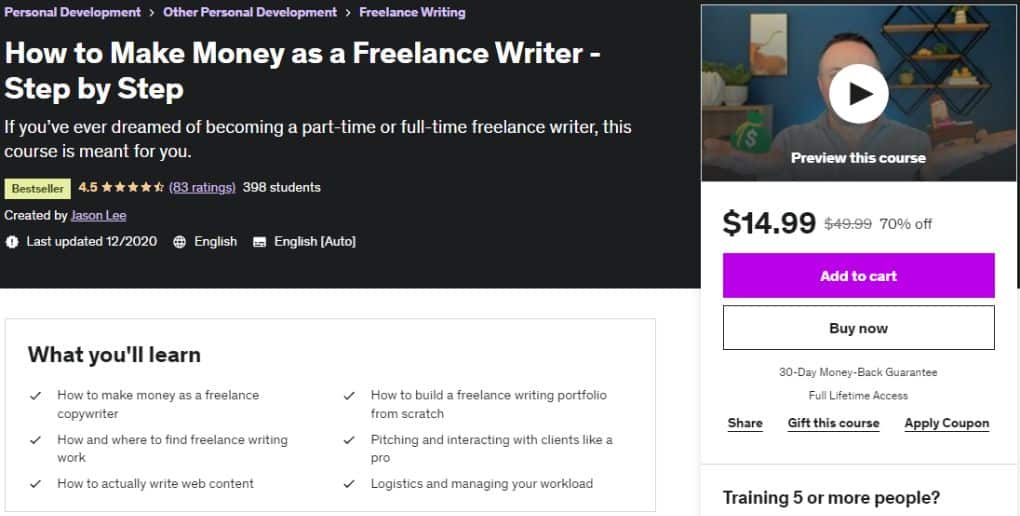 2. Learn SEO for freelance writing
Many freelancing opportunities are for online businesses.
This information makes learning about search engine optimization (SEO) extremely important.
There are many facets to optimizing your work, including on-page and off-page SEO.
Clients like bloggers will likely provide the main target keywords for their articles, but other freelance writing clients won't.
Learning proper keyword research is a step that can't be skipped.
You can go through Trinity Owen's FREE SEO Guide and snag her helpful SEO checklist when you sign up for her free SEO boot camp.
You can also jump right in and purchase her Get Your Keywords Together eBook.
This affordable course will help you get on the path to finding the right keywords for your clients using free SEO tools.
The next part of SEO you want to learn is how to format your articles properly.
On-page SEO plays a huge role in how well your client's articles will rank, meaning you need to understand the requirements.
Debbie Gartner's Easy On-Page SEO eBook is easy to follow and affordable.
It's the first book I purchased when learning about search engine optimization, and I found it extremely helpful for those getting started.
3. Pick your niche & services
When selecting your niche and which services you want to offer, consider the topics you are most knowledgeable about.
While your freelance writing skills have yet to be developed, you can utilize your expertise in other areas to help guide your new career.
Freelance writing covers many different areas of work, including;
Blog posts
Web copy
Email newsletters
Press releases
Product descriptions (Amazon & more)
Online website content
Marketing materials
Bloggers and other types of businesses even hire freelance writers to create eBooks from start to finish for them.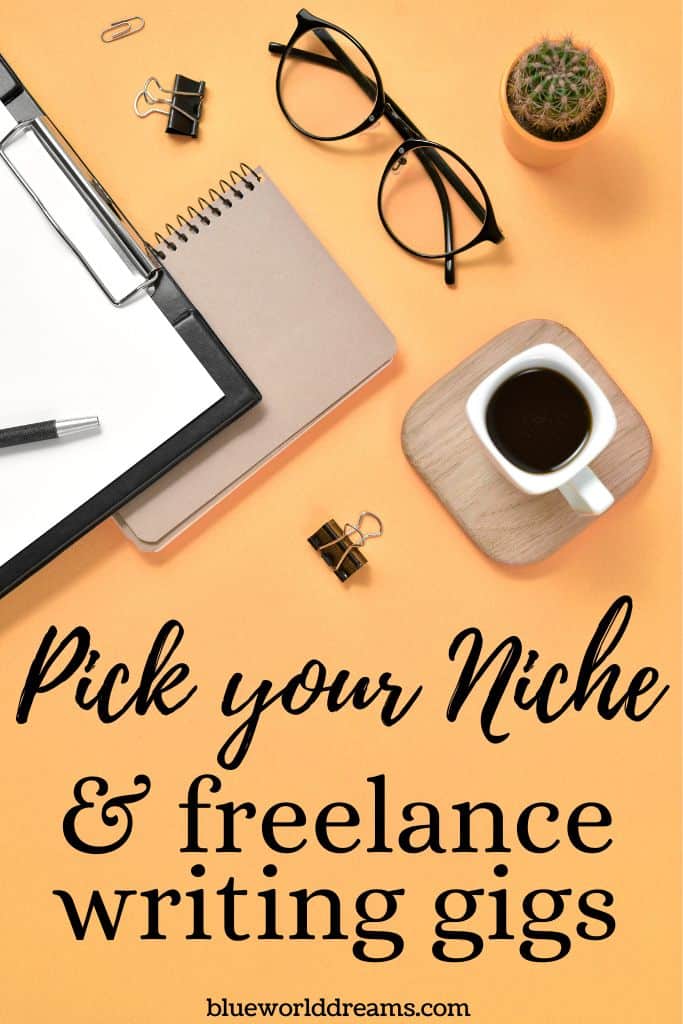 4. Create a freelance writing portfolio
Creating a portfolio as a freelance writer with no experience may seem daunting initially, but there are multiple ways to get started.
Create writing samples: One of the easiest ways to start building a portfolio is by creating writing samples to showcase your abilities.
You can prepare articles, essays, and short stories on topics that interest you and that will demonstrate your best quality work.
Guest posts: Guest posting is extremely popular, not just by freelance writers.
Well-established business owners still guest post to increase their visibility and earn valuable website backlinks.
Look for businesses or blogs in your selected niche that accept guest posts.
Most guest posts will be unpaid, but you will occasionally come across websites offering a small fee for each accepted project.
Even if the work is unpaid, submit your best work and follow the guidelines of each website.
Finding websites accepting guest posts is easy; just run a Google search for the niche followed by the guest post.
In the example below, I chose one of my favorite topics, coffee, and two websites that accept guest post applications popped up.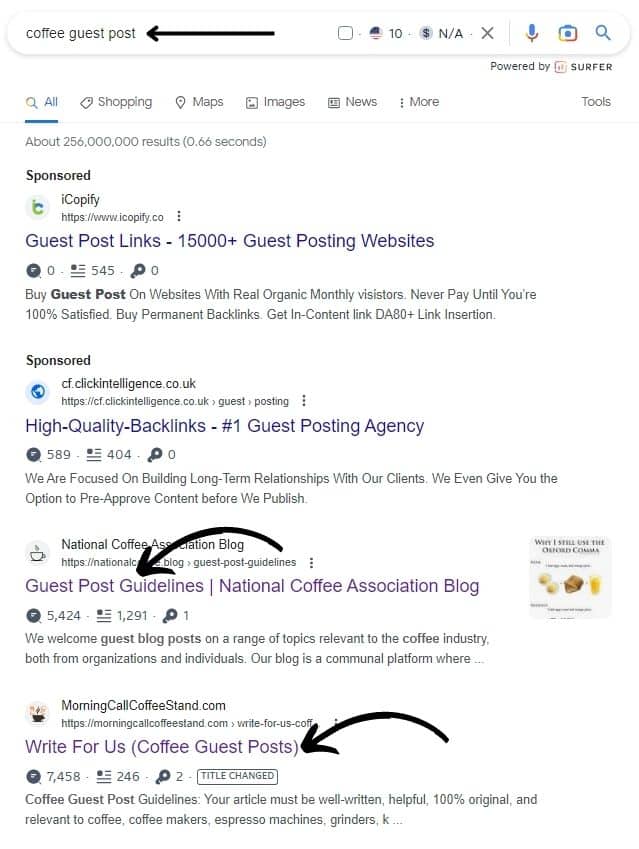 Content mills: Although these platforms have downsides, they can help freelance writers get started.
You can get some great sample pieces for your portfolio while earning a few dollars simultaneously.
Plus, you can't put a price on experience when learning a new skill.
I cover content mills like Fiverr and Upwork more in-depth in the following section.
5. List your freelance writing gigs online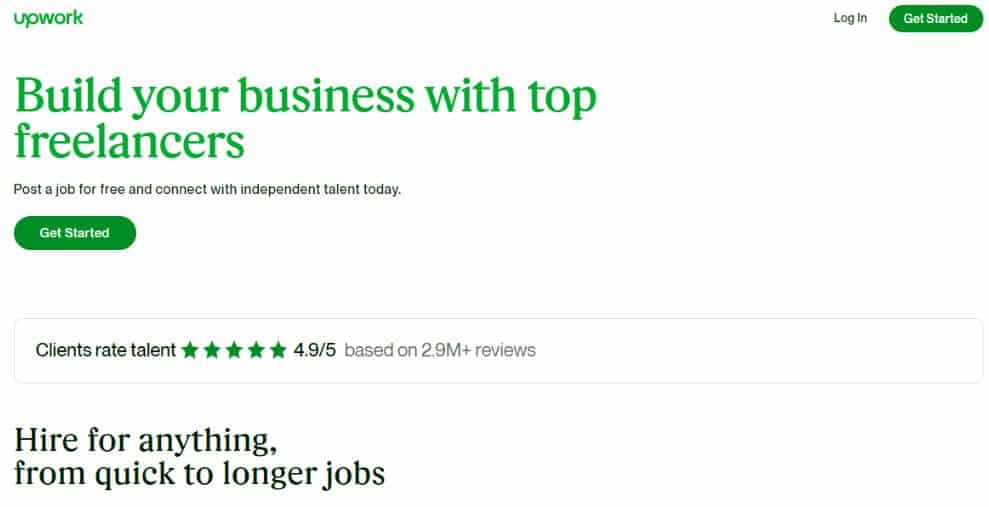 There are a lot of different platforms you can advertise your writing and services.
Two popular platforms include Upwork and Fiverr, but they often get a bad rep, with users either loving or hating them.
I view these platforms as an opportunity to get some experience under your belt and practice writing for various gigs.
Some writers limit their use of content mills to building their portfolio and then move on.
Other freelancers prefer to stick around and build a client base.
If you spend time on social media, you may have come across Alex Fasulo.
Alex is a freelance writer who earns $378,000 writing on Fiverr.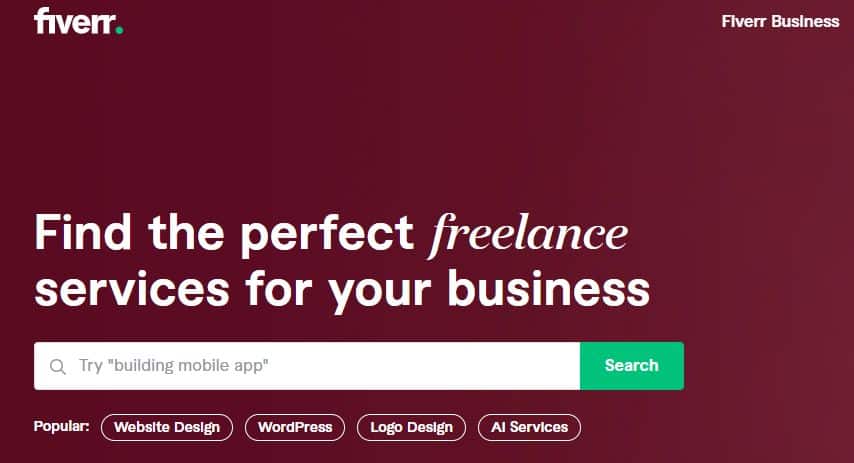 While some find her numbers hard to believe, I joined her Facebook community many months ago to do some research.
What I did find were other freelance writers slowly growing on the platform and increasing their earnings to impressive numbers.
Now I won't claim there weren't other freelancers still struggling to get their footing.
But seeing the growth of other freelancers and Fiverr's potential was nice.
Here is a recent success story that one member posted.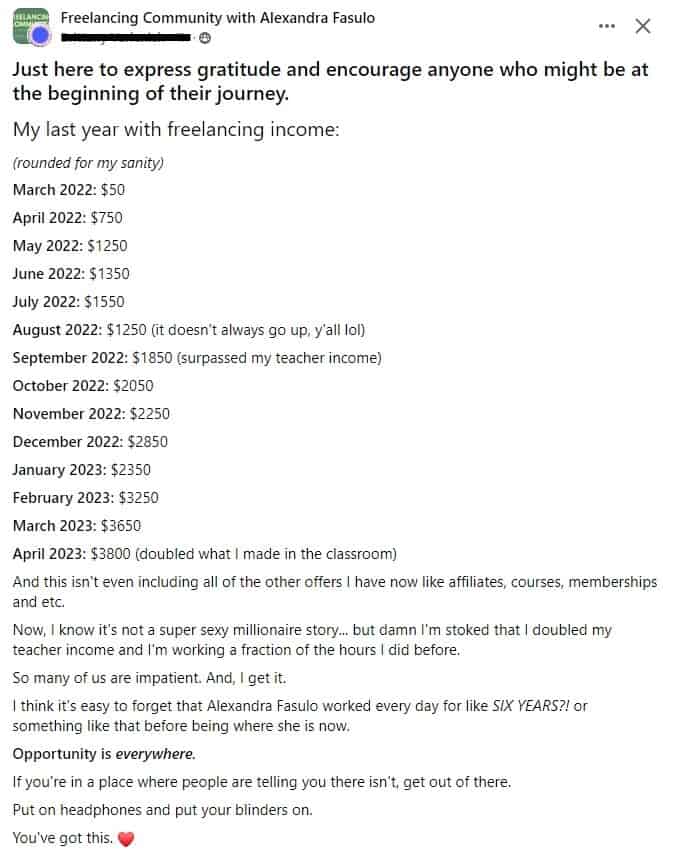 Plus, the group is helpful, with other freelancers willing to review your profile and offer pointers.
You will also find tips on how to navigate the platform to make long-lasting clients outside of Fiverr eventually.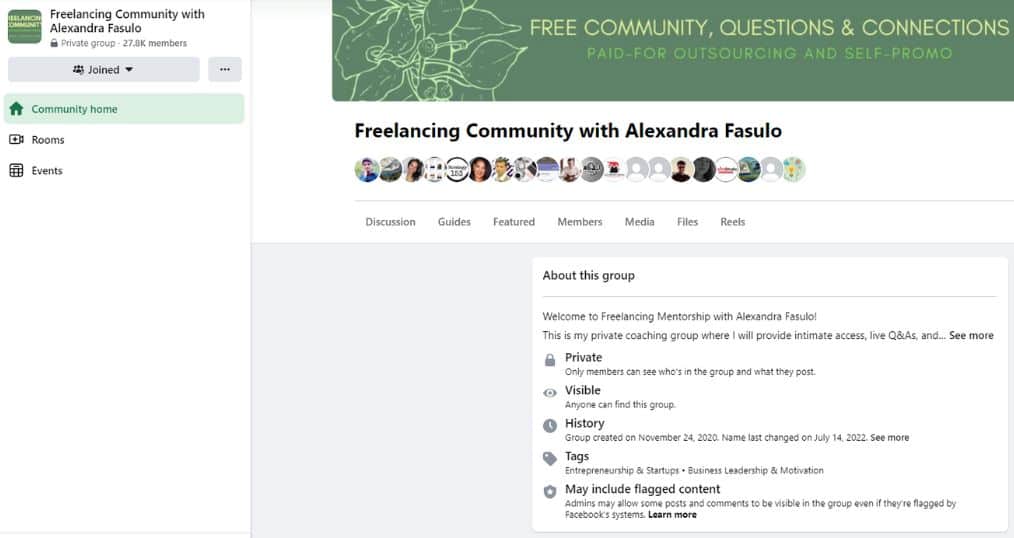 There are, however, a variety of other content mill platforms you can work with: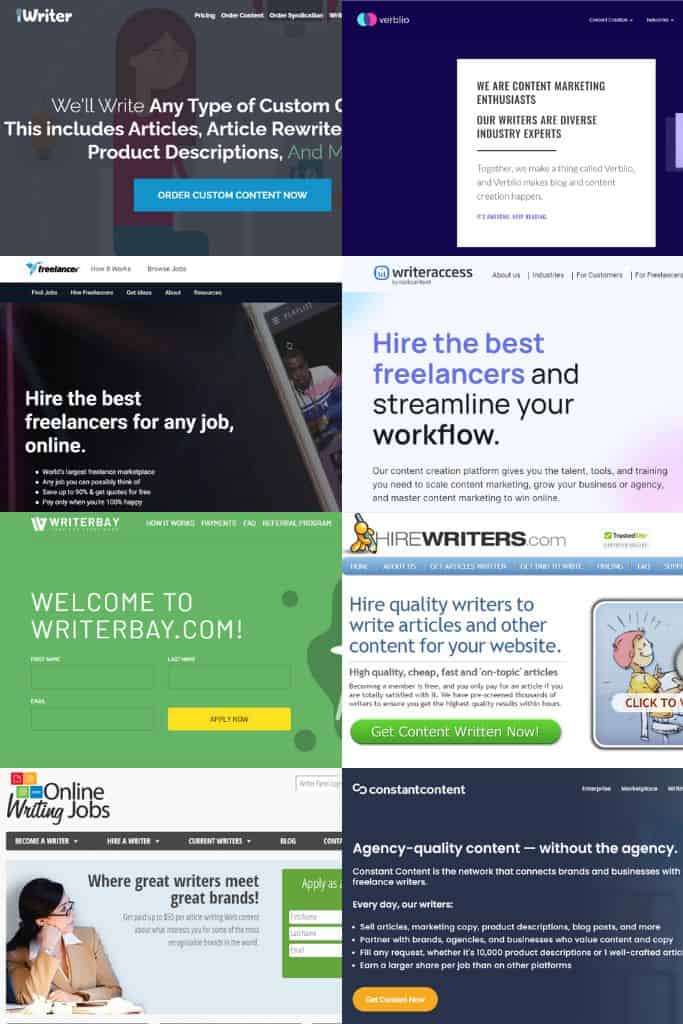 6. Publish your content online & start pitching
One of the last steps on how to become a freelance writer with no experience is to publish your writing samples online and start pitching to clients.
When I first joined the blogging community, I received a few website recommendations;
Medium is a vast free platform, and it's ideal for gaining new eyes on your work as a freelance writer.
Start uploading some of your writing samples on Medium today.
ActiveRain is technically a real estate platform, but writers submit articles on various topics daily.
But if you have experience in real estate, that will be a plus for you.
While Medium and ActiveRain are great platforms, I lean more towards Contently.
Aesthetics matter when it comes to presentation, and Contently offers freelance writers a great space to present their work to potential clients.
Set up your free freelance writer profile, upload your samples and images, and you are ready to start pitching to clients.
This platform is also a great alternative if you don't want to create your own freelance writer website.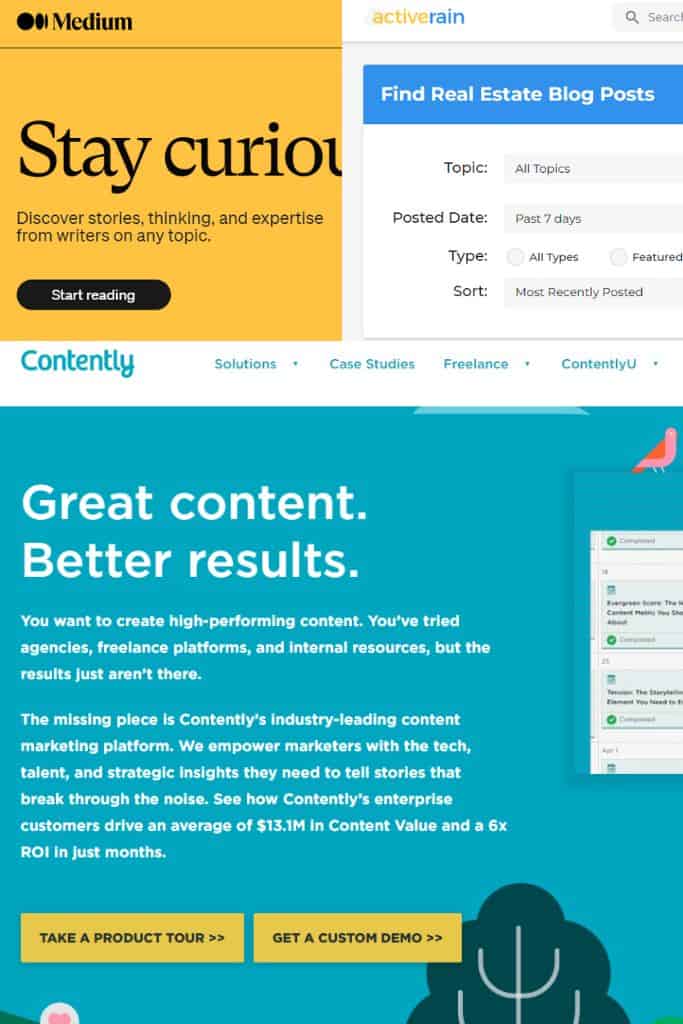 What are the best ways to find freelance writing jobs?
When it comes to tracking down freelance writing jobs, persistence is key.
Schedule a certain amount of time each day to search for gigs besides having your active listing on various platforms.
Search online for platforms like ProBlogger for active job listings.
I use ProBlogger to hire writers for some of my niche sites, and it's an easy-to-navigate platform for freelance writers.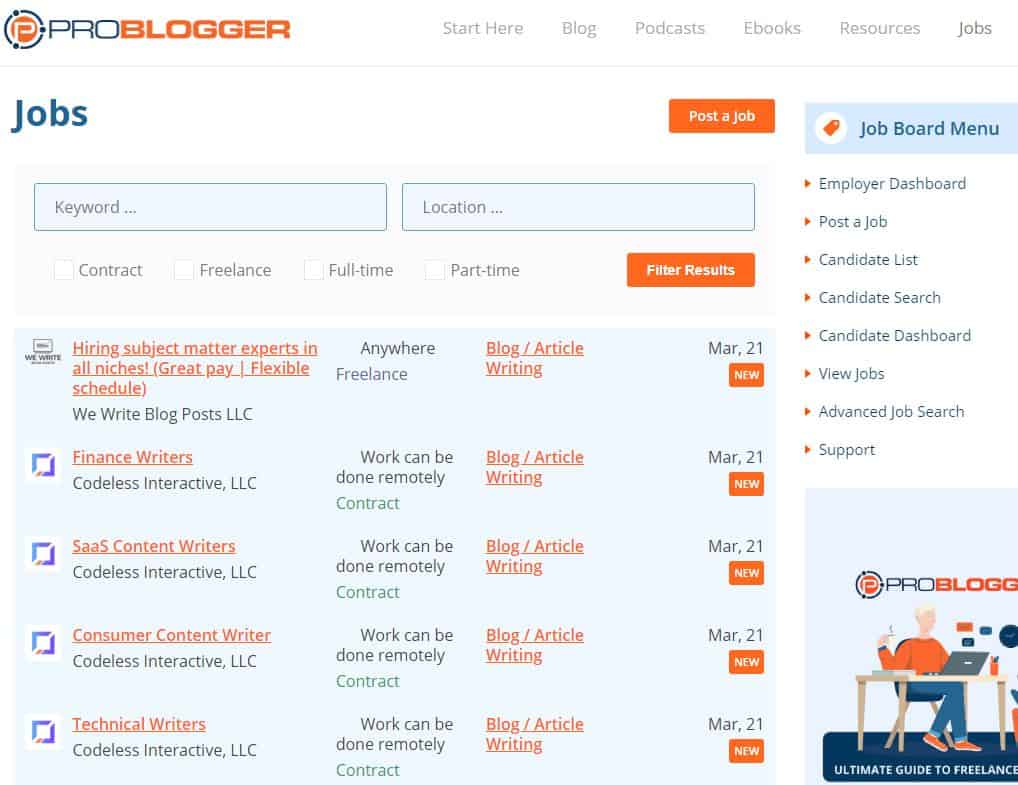 Another option is BloggingPro which lists writing jobs, copywriting, editing, magazine editing, and journalism postings.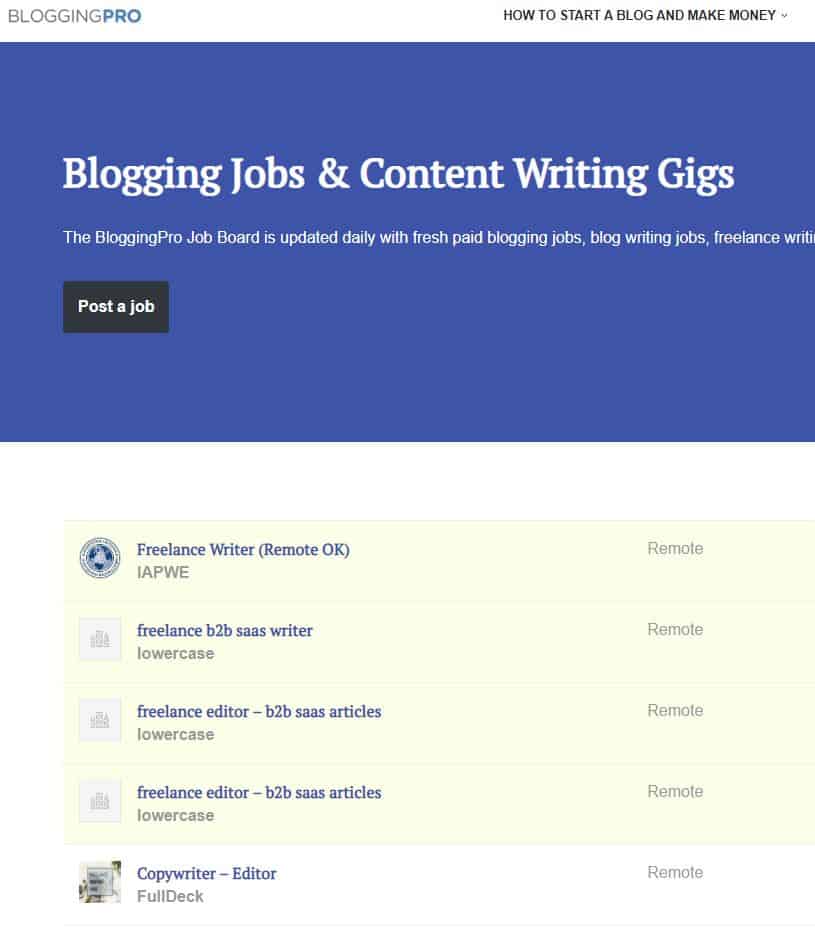 – You can also list your work on Linkedin; you might be surprised at how well this platform can bring in jobs for specific fields.
– Sieve through Facebook freelance writing groups, general writing groups, and groups for bloggers; there are so many groups you can visit.
They won't all be winners, but you can drop the rest once you narrow down the most active groups with relevant listings in your niche.
How to improve your freelance writing skills?
Asides from taking a freelance writing course, here are some extra tips you can implement into your schedule;
1- Read extensively: Reading regularly and on various topics can help develop a better understanding of your writing skills, voice, and tone.
Reading can also help you learn about different genres and industries, which is an essential part of freelance writing.
2- Write every day: Make a habit of writing something daily; the more you write, the better you become.
Writing each day can help refine your skills and develop your voice as a freelance writer.
3- Experiment with different writing styles: A great way to discover your voice is to write in various styles and genres to find the best fit.
4- Learn from other freelance writers: Find successful freelance writers in your areas of interest.
Read and analyze their styles and techniques, and note any particular points they have in common.
5- Request feedback: Getting a second and even third set of eyes on your work can be extremely helpful.
Writers are often too close to their projects.
Feedback is a great way to identify any strengths or weaknesses.
What are some popular freelance writing niches?
There are many areas in the field of freelance writing; here are some popular ones:
– Content writing: create articles, blog posts, and web content for websites and online publications.
– Copywriting: writing promotional and advertising copy, such as product descriptions, sales letters, and email campaigns.
– Academic writing: writing research papers, essays, or dissertations for students and academics.
– Resume writing: preparing resumes and cover letters for job seekers.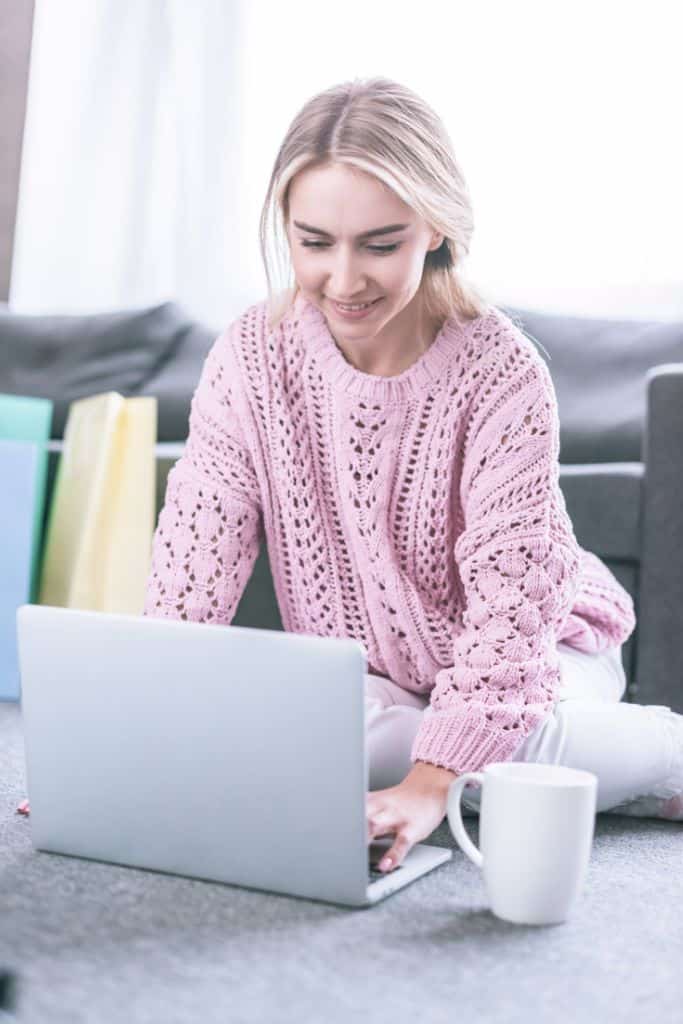 How much money can I make as a freelance writer?
According to ZipRecruiter, the yearly average for a freelance writer is $68,690 (when writing this article).
Monthly salaries are seen to be as low as $917 per month and as high as $13,750.
As always, these are the averages; salaries can vary less or more depending on each individual.
Common mistakes to avoid when starting as a freelance writer?
As a freelance writer, you'll find a few common mistakes new writers tend to make.
Let's take a look at some of those unnecessary pitfalls;
Not having a clear niche: It's important to specialize in a particular type of writing or subject.
This step helps you differentiate yourself from other writers and attract the right clients.
You don't want to niche down so much that your gig offers are limited, but you can't be an expert at everything.
Undercharging: This is an issue I often see in freelancing communities.
Newbie freelance writers undervalue their work and charge meager rates.
Undercharging your work makes earning anything close to a living wage difficult.
This mistake often happens on platforms like Fiverr and Upwork, where competitive rates can be set extremely low.
It's important to research industry rates and charge appropriately for your skills and experience.
Failing to market yourself: Freelance writing is a competitive field, and you must actively market yourself and your services to potential clients.
Marketing efforts can include;
Creating a professional website,
Advertising your services on multiple platforms,
Networking,
Cold pitching
Using social media platforms.
Poor time management: As a freelance writer, you must manage your time effectively to meet deadlines and balance multiple projects.
Developing a solid routine and time management strategies can help you avoid burnout and ensure your work is completed on time.
Not investing in your education and development: The best freelance writers constantly learn and grow.
Investing in your education and development is crucial.
Your ongoing education can include writing courses, attending conferences, reading widely in your chosen niche, and practicing your craft.
How to become a freelance writer with no experience: final thoughts
Don't let your lack of experience deter you from your freelance writing goal.
Everyone has to start somewhere; invest in yourself and take the necessary steps to secure your first freelance writing gig.
Remember the essential steps; take a freelance writing course, learn SEO, pick a niche, create a portfolio, publish your samples, and pitch to clients.
More ways to earn money
How To Become A Freelance Writer With No Experience?