Easy Vegan Spaghetti Squash
This healthy spaghetti squash recipe is the perfect choice for those who love pasta but want something lighter.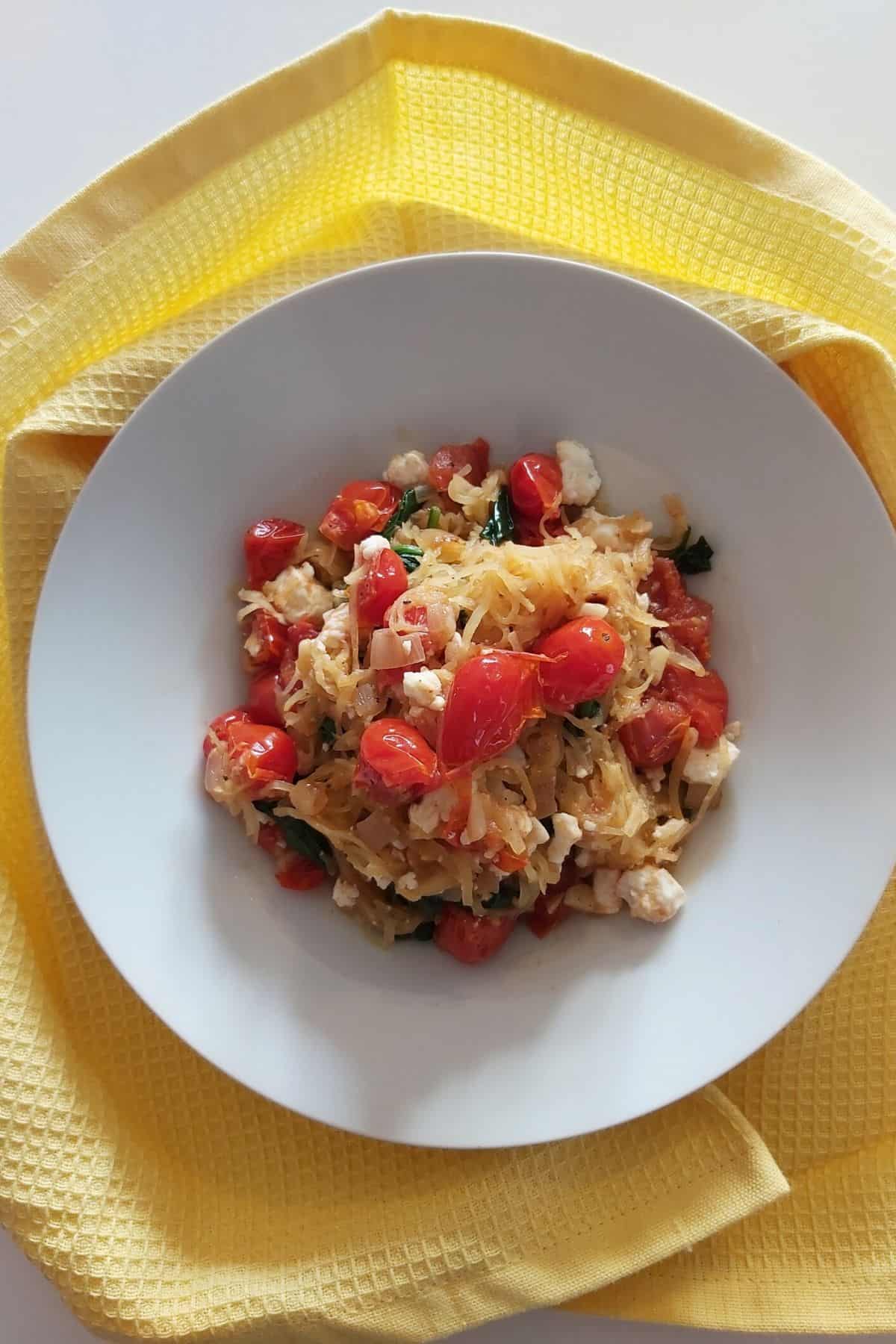 Last weekend I had a couple of spaghetti squash sitting on my counter, so I popped one squash in the instant pot for my puppy and one in the even for my hubby and me.
Who says you can't kill two birds with one stone?
I looked through my fridge and had the perfect ingredients to throw together a fresh and simple meal.
The beauty of this recipe lies in its simplicity; the flavors of the fresh vegetables coated in a simple glaze of extra virgin olive oil and fragrant garlic.
There is also nothing better than knowing dinner will be ready in under an hour. A meal that is quick to prep and where the oven does most of the work.
End the night with a delicious bowl of veggie pasta.
Are you like me? Do you love having prepared food in the fridge ready to go? 
What's great about cooked spaghetti squash is that it holds up well in the fridge.
Make extra and have some quick ready-to-go lunches or another easy dinner after a long day.
LET'S MAKE SOME ROASTED SPAGHETTI SQUASH
You will need just a few minutes of prep work to get your ingredients together and those spaghetti squash in the oven. Then grab a glass of wine until the final few minutes of cooking.
You will need to gather:
Spaghetti squash
Cherry tomatoes
Spinach
Shallots
Fresh Garlic
Vegan feta (optional)
Extra virgin Olive Oil
Salt, Pepper, Garlic Powder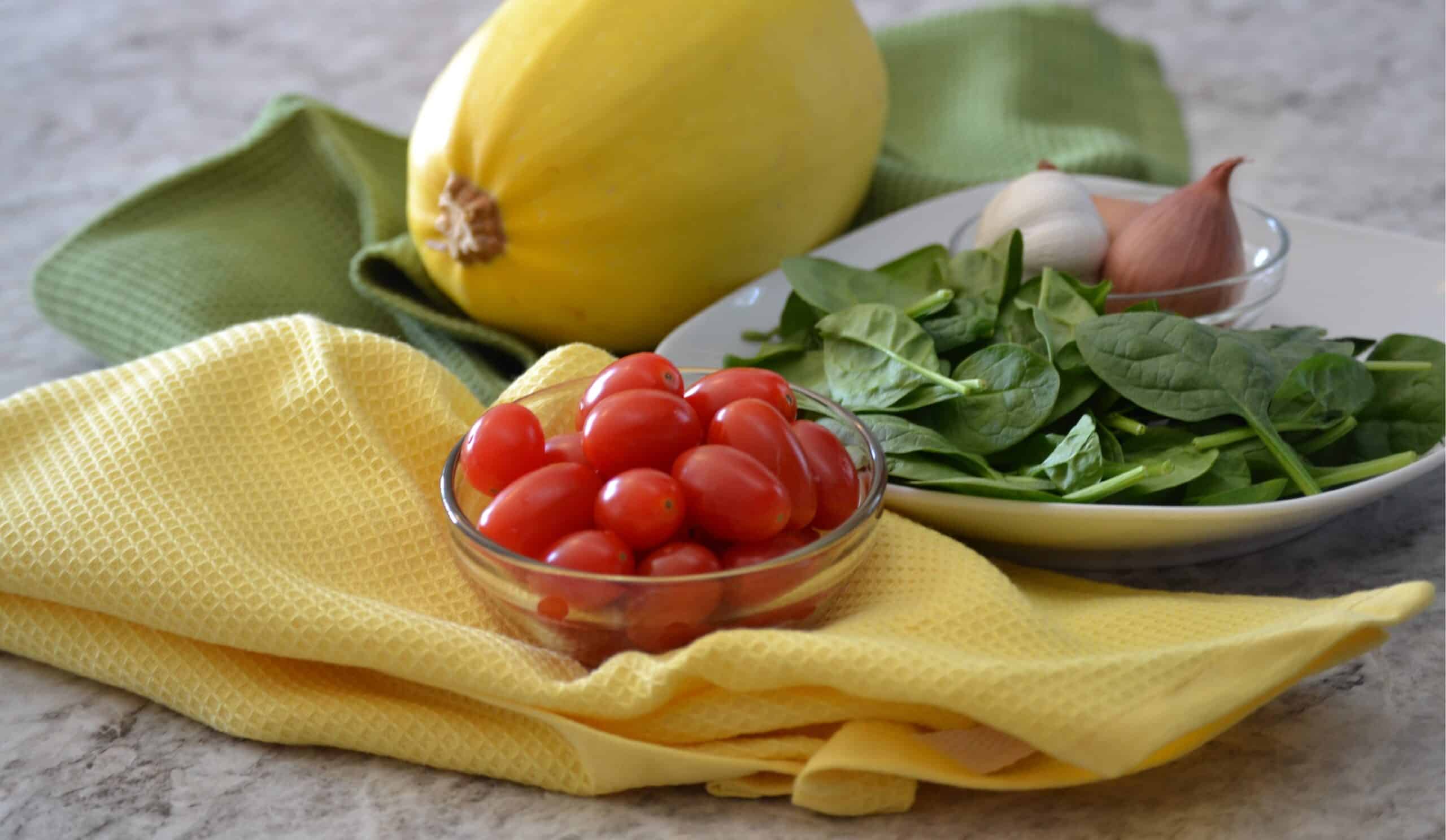 The first thing you want to do is get that oven set to bake at 400°C.
Start prepping your spaghetti squash. Wash it, and cut it down lengthwise.
Quickly scoop out the seeds and stringy fibers with a spoon. Spaghetti squash is a tough vegetable, so grab a sharp knife for this task but watch out for your fingers.
READ: 53 BEST YUMMY COZY FALL RECIPES OF THE SEASON
Drizzle about 1 tablespoon of olive oil into each half of your spaghetti squash. If you've got a rather large squash on your hands, you can bump that up to 1.5 tbsp per squash halves.
Add a generous amount of fresh ground pepper and a nice dash of salt and garlic powder.
Once that's done, cut your cherry tomatoes in half. Cut your shallots into small pieces or slice thinly.
Use your garlic press, rinse your spinach and crumble your feta.
You'll be done prepping before the oven hits 400°C.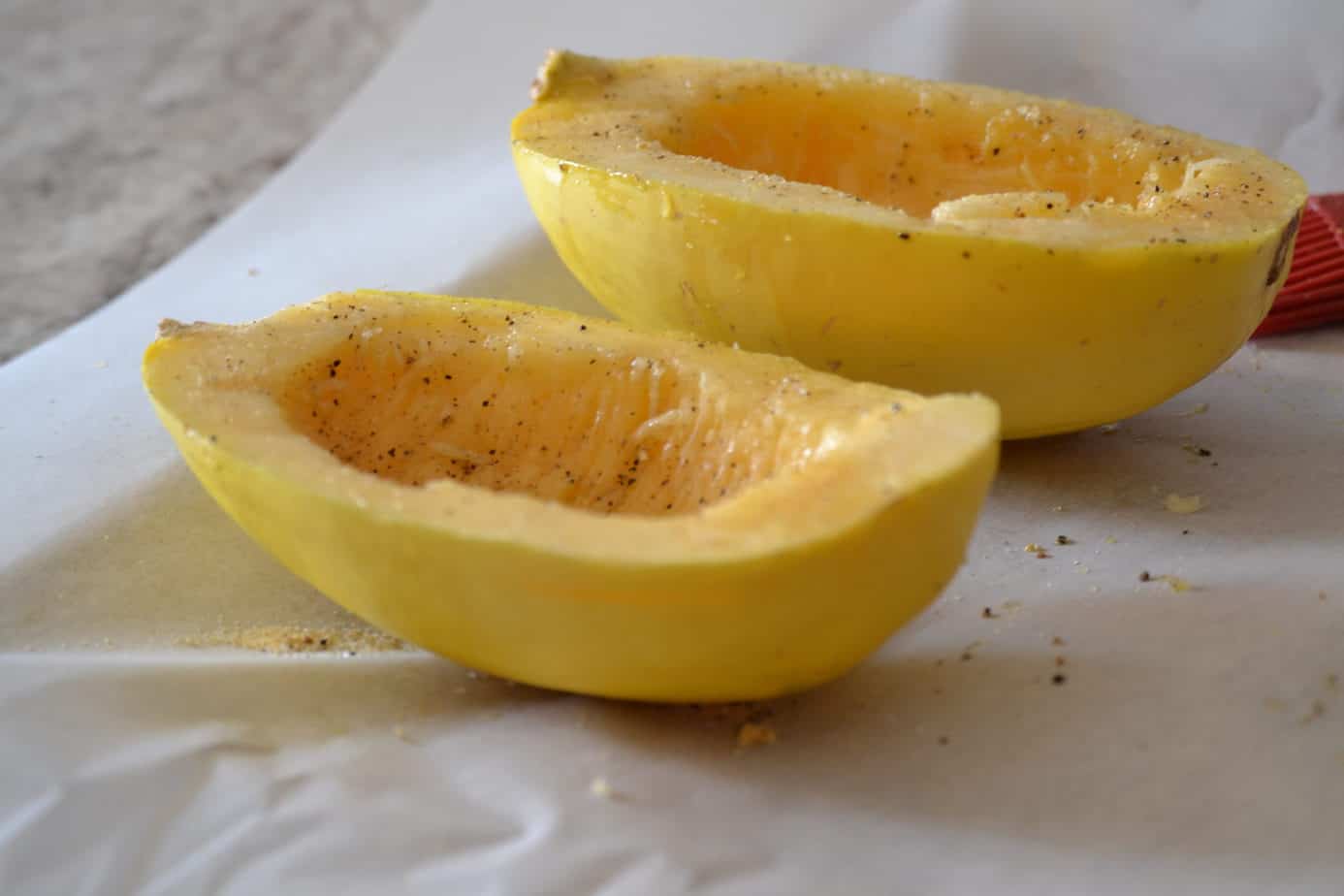 After 30 minutes, check in on your spaghetti squash as oven temperatures vary. If the edges are starting to look golden brown, pull them out.
If not yet golden, then set your timer for another 10 minutes.
Once those beauties are ready to go and have cooled a little, grab a fork and loosen those delicious strands.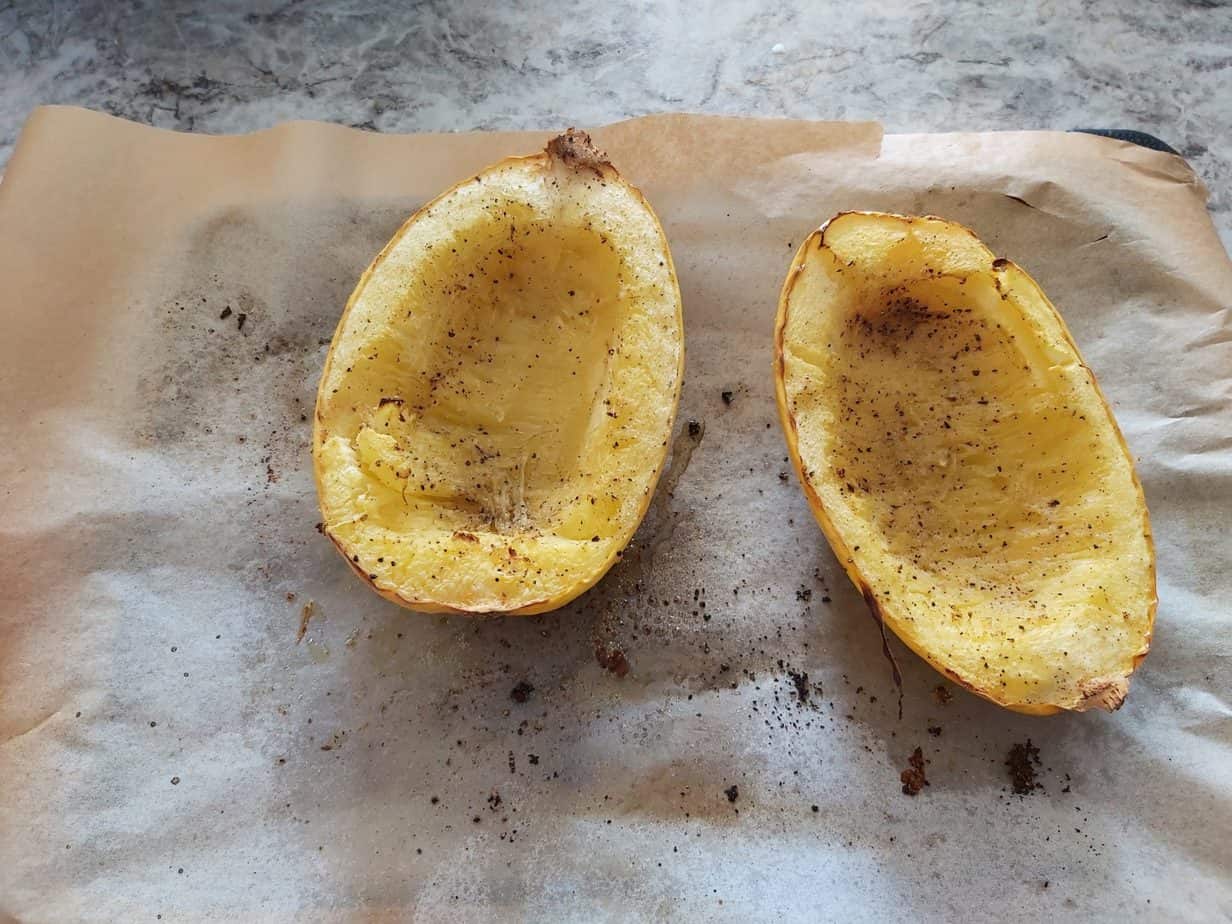 Once your squash is ready, heat 1.5-2 tbsp of extra virgin olive oil on low-medium heat and soften your shallots.
After 2-3 minutes, add your garlic and cook for 1 minute until fragrant, stirring often.
Add your tomatoes and cook for 2 short minutes and finish off with your spinach which will take only one additional minute.
Once that spinach has begun wilting, throw in your spaghetti squash and toss it all together for another minute or two until warmed through.
You can add some delicious crumbled vegan feta on top if you are craving a little something extra; either version is great.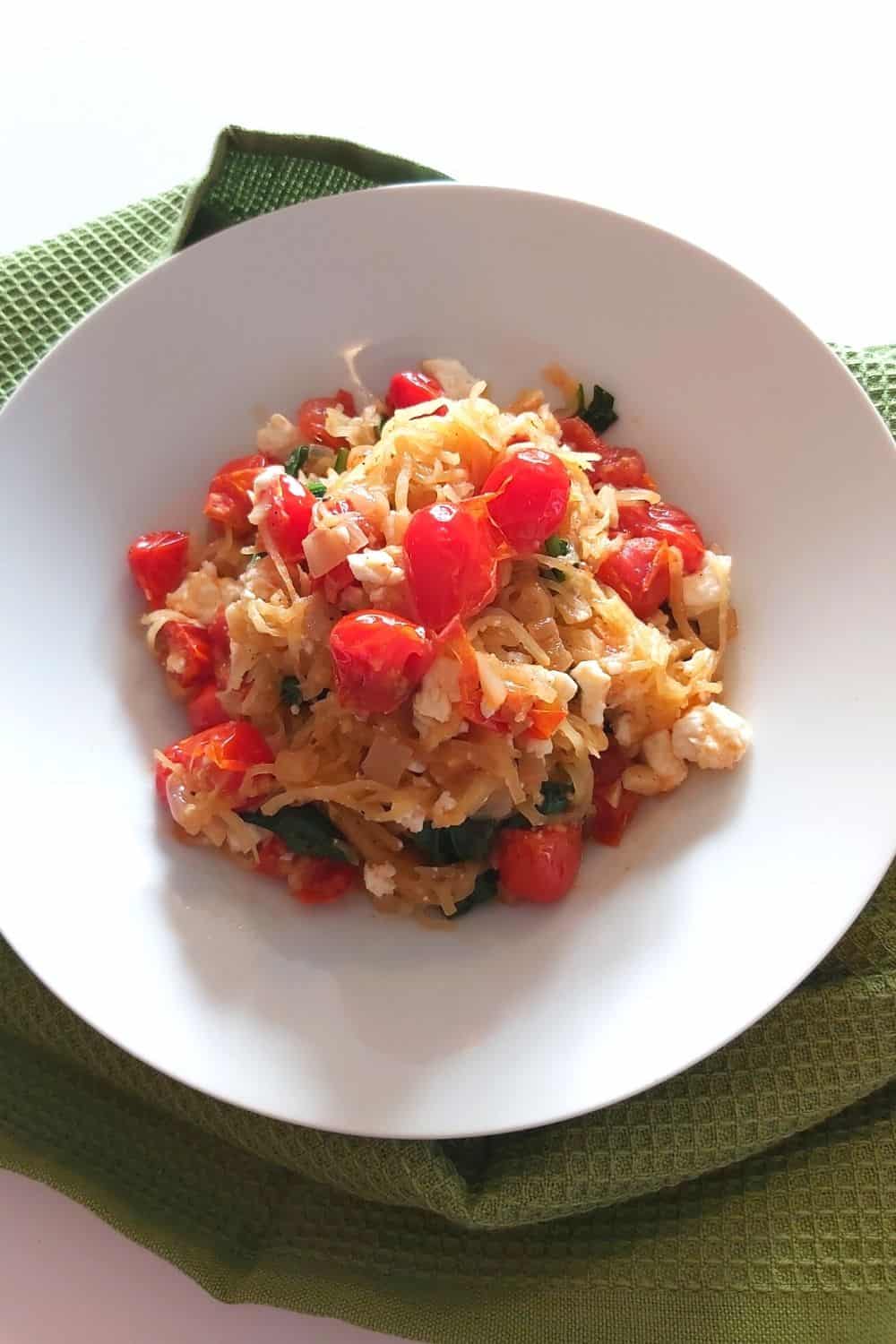 Extra ways to prepare Spaghetti Squash
Not a fan of always using the oven? Or are you a busy baking cake for dessert? No problem, spaghetti squash is a versatile vegetable and can be cooked in these other ways;
Note: I do not recommend skipping the oven for this particular recipe. A large portion of this recipe's flavor comes from the seasonings, olive oil, and spaghetti squash, all roasting together in the oven.
Can it be frozen?
Cooked spaghetti squash can be frozen for up to 8 months! Best to separate into portion sizes in individual freezer bags and store away.
Extra Benefits
Did you know that a cup of cooked spaghetti squash has only 42 calories in it? A cup of cooked pasta has 221 calories in comparison!
It contains 1/4 the carbohydrates that pasta has (10 grams vs 40 grams per cup of oven-roasted squash)
Spaghetti squash is high in fiber
It's a good source of Vitamin B6, Vitamin C, and Manganese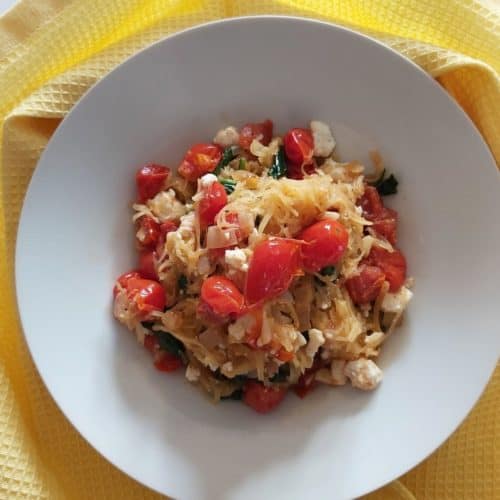 EASY VEGAN SPAGHETTI SQUASH
This simple vegan spaghetti squash recipe is a great weeknight dinner recipe, ready in under a an hour with minimal effort on your end.
Ingredients
4

tbsp

olive oil

4

gloves of garlic

2

shallots

1

cup

cherry tomatoes

2

cups

spinach

3

oz

vegan feta cheese

1

spaghetti squash
Instructions
Preheat your oven on 375°F

Wash, cut and deseed your spaghetti squash

Brush olive oil, salt, pepper and garlic powder onto your spaghetti squash halves.

Place in the oven and set your timer for 30 minutes. Check on your squash afterwards. Add more time as needed.

Remove squash from the oven and allow to cool for a few minutes. Afterwards, carefully loosen the strands from the spaghetti boats using a fork.

Add 1.5-2 tbsp of extra virgin olive oil to a pan on low-medium heat and begin softening your shallots for 2-3 minutes.

Add the crushed garlic to the pan and cook for 1 minute until fragrant. Stir often.

Toss in your tomatoes and cook for 2 more minutes.

Add the spinach and cook for 1 minute or until wilting begins.

Add in the spaghetti squash pasta and toss all together. Cook for 1-2 minutes until everything is warmed through.

Add vegan feta cheese to your finished pasta.