Become a Tattoo Model: Ink to Income
Are you looking to become a tattoo model and earn cash from your body ink?
Our easy guide will help you learn the basics and get started today!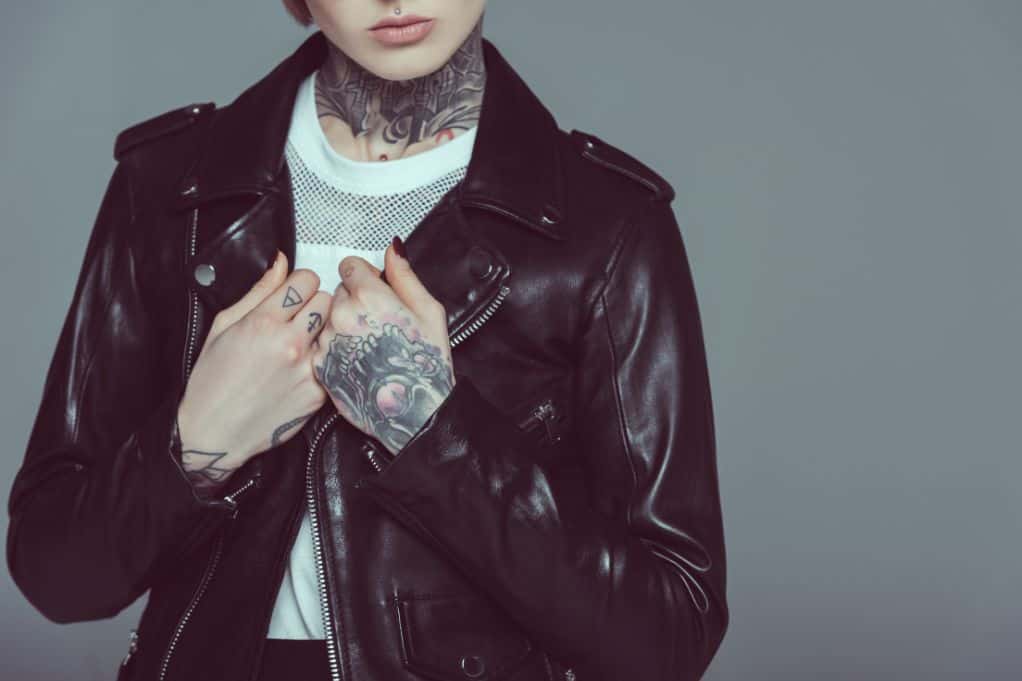 Are you thinking about becoming a tattoo model?
Let me tell you; it's not just about having cool tattoos on your skin!
Being a tattoo model means showing off your ink to the world in magazines, ads, runways, and even conventions!
But to become successful, you need to understand your body, be confident and learn to market your ink.
Let's look at the steps you need to take to become a tattoo model, from creating a portfolio to connecting with the right people.
So, if you're ready to show off your tattoos and become a tattoo model, keep reading!
Oh, and in case you are interested, we also have a post on How To Become An Alternative Model.
What is a tattoo model?
Tattoo models showcase their tattoos in various forms of media, such as magazines, advertisements, and social media.
As a tattoo model, you might also work as a live model at a tattoo convention or be a reference model for tattoo artists.
Depending on the project, you may also need to be filmed or photographed in different states of undress.
Being a tattoo model requires a thorough understanding of your body and the ability to hold several poses depending on the gig.
This post contains affiliate links. We may earn a commission, at no additional cost to you, if you make a purchase through a link. Please review our disclosure for more information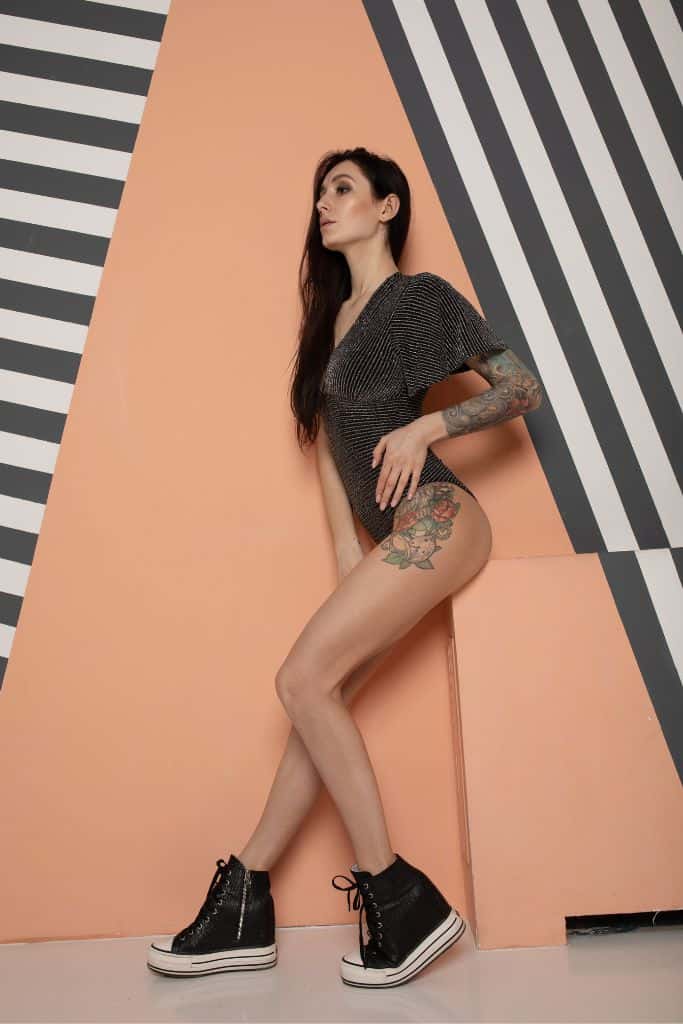 How to become a tattoo model?
I hate for this to sound obvious, but the first step to tattoo modeling is having good-quality tattoos.
1. Work with a professional photographer
Working with a qualified photographer that specializes in tattoo photography is key.
Since tattoos are their niche, they will know how to capture your tattoos in the most flattering light.
Plus, they will take snapshots in various poses and angles so you can put together a great portfolio.
You will want to include some classic headshots and close-ups of your tattoos.
2. Create a Comp Card & Portfolio
In the modeling world, your comp card is your resume and business card built into one.
Depending on where you live, comp cards are also known as composite cards, sed cards, zed cards, or z cards.
Plus, comp cards and portfolios go hand-in-hand when looking to secure modeling gigs.
Composite Card
Think of your comp card as a collage of your best photos and personal information.
It should be the first document inside your portfolio, as it's a snapshot of everything you offer.
The typical comp card measures 5.5×8.5 inches.
Most comp cards are double-sided, including your name and headshot on the front.
On the back, you will include your stats and 3-5 photographs.
Your stats should include your;
Height
Bust or chest size
Waist
Hips
Hair Color
Eye color
Shoe size
Tattoos (locations & sizes)
If you eventually sign with an agency, you'll include their details on the back, but for now, have your contact information listed.
Make sure your comp cards are good-quality card stock (request a sample).
And remember to bring a handful of comp cards with you.
I'll list some businesses further down that you can look up that offer comp cards.
Portfolio
Once you've got your pictures ready to do, you will want to start putting together a professional-looking portfolio.
You'll need to bring your portfolio for castings or Go-Sees opportunities.
Your best bet is to stick with the industry standards; you'll want a black portfolio that measures 9×12 inches.
The portfolio should include plastic sleeves to protect your photographs.
Since you never know how many pictures will be looked over, place your best photographs right after your comp card.
Your selection may be limited as you start, but you can always go back and change up the images as your portfolio grows.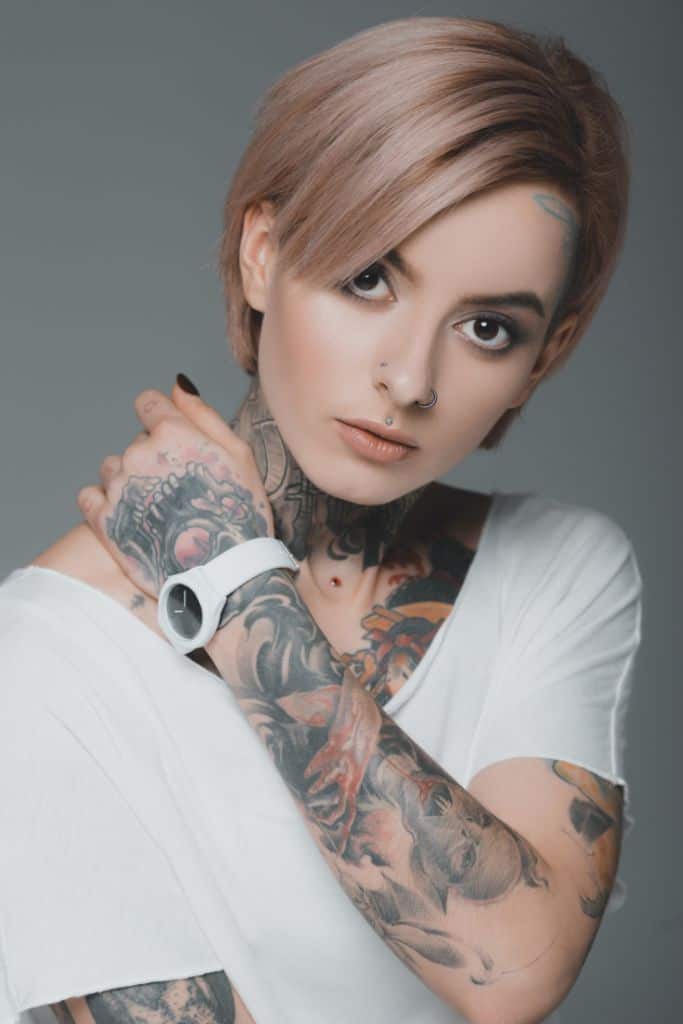 3. Make a website
While you can likely get away without making a website right off the bat, it's definitely something to keep in mind.
Not all castings are in person; your website is a great way for agencies to review your portfolio online.
Keep things light and fresh, featuring your best work in beautiful photo galleries.
You can use services like Pixpa or FORMAT to help you get started.

4. Promote your work
When first starting, your success will rely heavily on self-promotion.
Social media can be the best outlet for getting yourself noticed.
Create profiles on the top social platforms like;
Instagram
Facebook
Snapchat
Tik Tok
Twitter
Instagram is the most popular choice for models.
Here are some popular hashtags for tattoo models so far for 2023.
Instagram Hashtags
#tattoomodel #tattoo #tattoos #inked #tattooed #ink #tattoostyle #inkedgirls #tattooideas #tattoogirl #tattoomodels #tattoomodeling #toptattoomodels #aspiringtattoomodel #toptattoomodel #tattoomodelsforinstagram

5. Submit to modeling agencies
You don't need a successful modeling career before submitting your profile to modeling agencies.
Before submitting to any agencies, there are a few essential steps to take;
Carefully read the submission requirements, as each agency will differ
Submit the requested digitals or polaroids
Provide the necessary measurements & personal details
Make sure that you are submitting the specific poses each agency requires.
Keep your pictures unedited, makeup-free (or minimal), and your clothing and hairstyle simple.
Keep an eye out for agency open calls; this is a great way to secure a few moments with an agent and can sometimes make all the difference.
Here are some modeling agencies that allow tattoos and that hire tattoo models
6. Network & apply for modeling gigs
You don't need to wait for an agency to sign you to start searching for gigs as a tattooed model.
You can look for networking and jobs opportunities in a variety of places;
1- Talent agencies and businesses may hold open casting calls for new projects or product launches.
2- Check the classifies for possible modeling jobs
3- Sign up for World Tattoo Gallery, to advertise your tattoos
4- Collaborate with photographers, makeup artists, and hairstylists; check out Model Mayhem
5- Visit tattoo events & conventions coming up this year in 2023
6- Submit specific modeling photos to Punkabilly Clothing
7- Apply to other brands seeking models like InkAddict
8- Visit local tattoo shops for possible promotional needs
9- Lookout for social media promotions for events or festivals
10- Apply for special gigs like the Inked Cover Girl Search
11- Sign up for possible exposure & jobs on sites like iNKPPL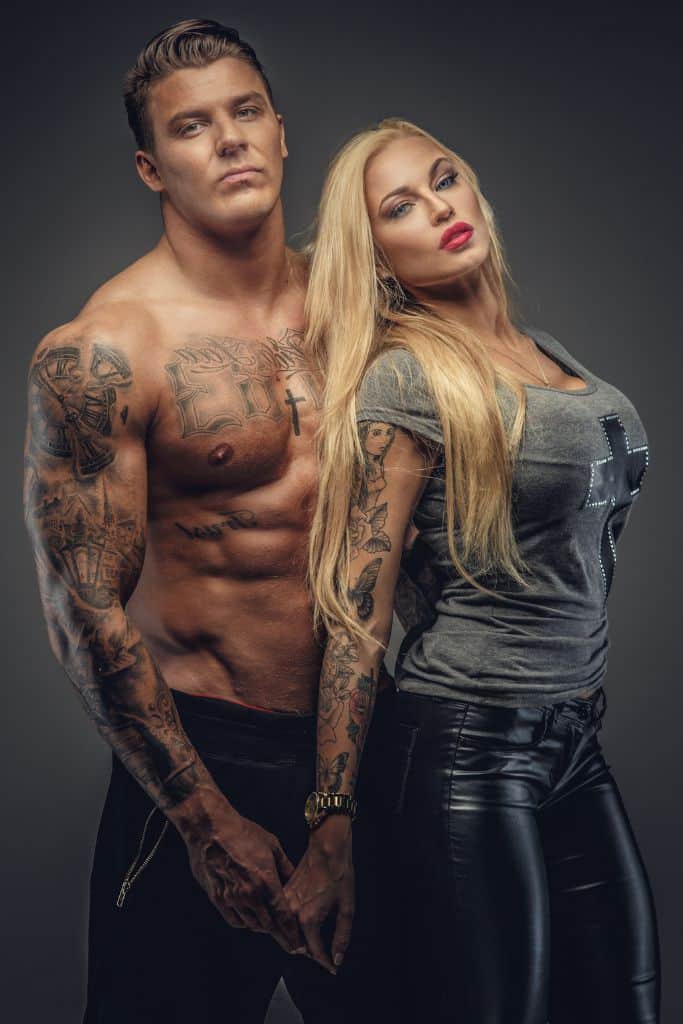 FAQ – Become a tattoo model
While we covered many of the main topics and steps for you to become a tattoo model, there are still some important questions to go over.
1. How much can a tattoo model earn?
At the time of writing this article, ZipRecruiter lists the average salary for tattoo models as $79,648 per year.
There is a large pay range in this field, with some tattoo models earning as low as $13,000 while others are as high as $266,000.
2. Where can I order a comp card?
If you are on a budget or don't have access to a local business, you can order comp cards from sites like Zazzle.
In my experience, Zazzle has provided great quality products and customer service.
Type "model comp cards" in their search bar, and the available templates will pop up.
You can also check out businesses like;
Spotlight Printing or Bunker LA
3. How many tattoos do you need for modeling?
There is, unfortunately, no correct answer to this question, as it will truly depend on the clients and types of gigs you are trying to secure.
You'll want at least one noticeable tattoo to get started.
Popular placements for body art include the arms, legs, chest, back, or neck.
More importantly, you want to ensure your tattoos do not contain obscene or offensive work.
Plus, if you decide to get more tattoos, you want to check with your modeling agency (if you signed with one).
You may get signed based on the type of tattoos you currently have and need to stick within a specific genre for new additions.
Either way, you want to ensure your tattoos have a cohesive feel.
4. Can you legally model tattoo art?
When it comes to modeling tattoos, you must ensure they are not subject to copyright laws.
Creative works are protected, and the tattoo artist may use work that belongs to someone else or their creative ideas.
If your goal is to model, discuss this with your tattoo artist before getting inked and get their written consent regarding promotional use.
Become a tattoo model: final thoughts
Becoming a tattoo model can be a rewarding, lucrative, and enjoyable experience.
Building a solid portfolio is essential to showcase your amazing tattoos and your ability to model them artistically.
Networking with industry professionals is the second part of the equation.
Being professional and prepared when applying for jobs can help you get your foot in the door.
Like any profession, let your passion and skills shine through to secure the job.
Similar Modeling Posts

Become a Tattoo Model: Ink to Income