White Chocolate Macadamia Nut Cookies You Need To Make!
These soft & chewy cookies will make you feel like you've just walked out of a bakery.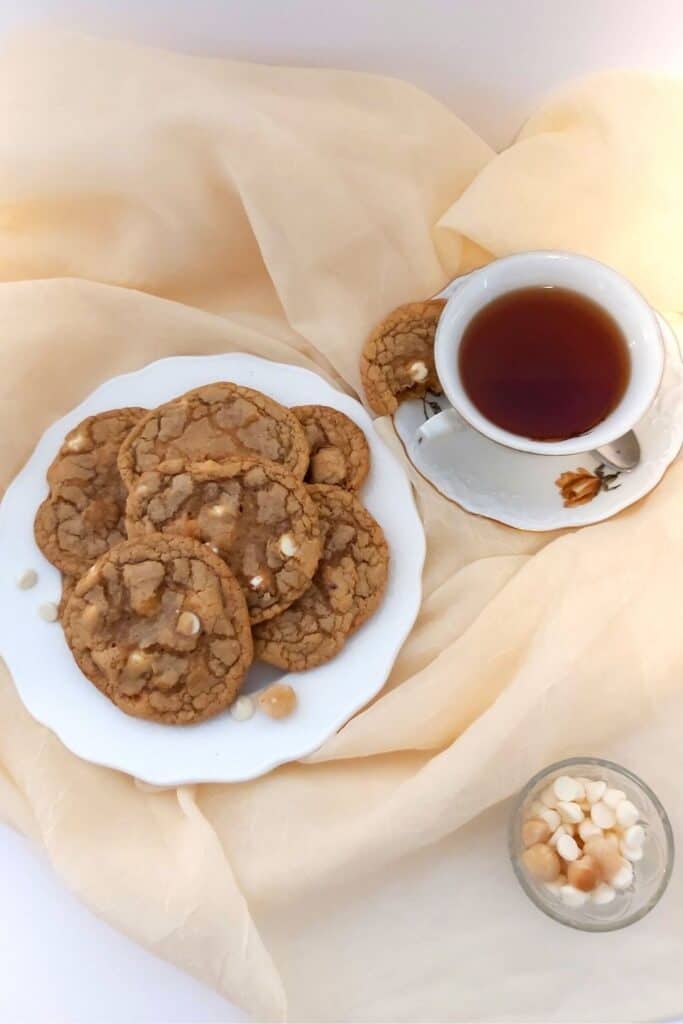 White chocolate macadamia nut cookies have to be my all-time favorite cookies.
But for some reason growing up, we never even made them at home.
It wasn't until that small coffee shop inside the Sears store that I was introduced to the most amazing white chocolate macadamia nut cookies.
That small little shop served the most basic of foods yet, at the same time, had these little gems for sale.
So once I moved on from that job, I knew I had to find a way to eat those amazing cookies again. 
Like with all recipe development, trial, and error were definitely on the menu.
But I won't pretend that I suffered too much sampling my "failed" attempts.
There is nothing like the smell of homemade cookies coming from your own oven.
What is also great is being able to prepare a recipe in 10 easy minutes and pop them into the oven to bake.
You can easily cut this recipe in half if you are craving just a few cookies for dessert.
You will need the following ingredients
All-purpose flour
Butter
Brown sugar
White sugar
Eggs
White chocolate chips
Macadamia nuts
Baking powder
Baking soda
Salt
These cookies are super quick to prepare, so start off by pre-heating your oven to 350°F on the Bake setting.
In a large bowl, just whisk together your melted butter, white and brown sugar, eggs, and vanilla essence. Just whisk until combined.
I like to let my butter slightly cool before dumping it in.
Sieve together your flour, baking powder, baking soda, and salt in a separate, smaller bowl.
Then you are just going to add these dry ingredients in to your bowl of wet ingredients.
Give them a gentle mix until fully combined.
And we're almost done; just add in your white chocolate chips and macadamia nuts and give them a quick mix with your wooden spoon.
Feel free to play with the white chocolate chip and nut ratio to your personal preference.
We are talking 450 grams (15.87 oz), so if you want to split that 50/50, that's fine, but it can also be a different ratio based on what you have at home or prefer.
All that's left is to scoop out your dough and place them on your lined cookie sheet.
Slightly press down each dough ball once it is on the baking sheet.
I love to use a cookie scoop to make even-size cookies.
These babies will bake for about 9 minutes. I like to turn on my oven light at around 7 minutes and see how they are coming along.
Your cookies will look slightly undercooked when they come out of the oven but will harden some as they reach room temperature.
If you like a harder texture, then keep them in for a couple more minutes, but I suggest no more than that as they, too will harden.
We want cookies as a final result, not hockey pucks 
This will be the hardest part of this recipe, resisting the urge to let them bake longer than they need.
When we bake these cookies at home, I like to bake one tray a little longer; that way, I have both kinds on hand, soft and chewy and slightly firmer cookies.
Substitutions
You can use the cookie recipe as a base and swap out the white chocolate chips for regular semi-sweet (or your preference).
The nuts can easily be substituted for another kind as well.
So give these bad boys and try and let me know how you like them.
And if you enjoyed this white chocolate macadamia nut cookie recipe, then give these delicious muffins a go!

Delicious Double Chocolate Espresso Zucchini Muffins You need to try this summer!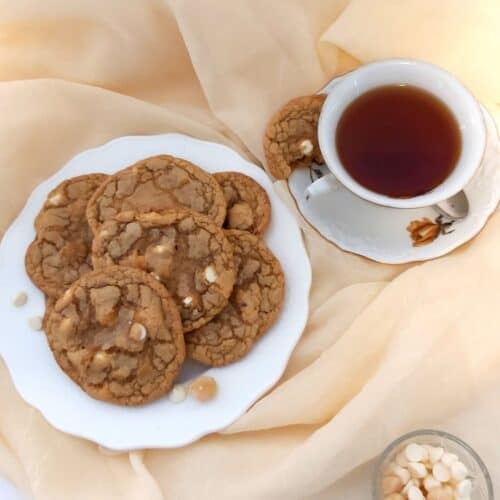 SOFT AND CHEWY WHITE CHOCOLATE MACADAMIA NUT COOKIES YOU NEED TO MAKE!
These soft bakery-style cookies are everything you need in a cookie. Delicious white chocolate, and crunchy macadamia nuts surrounded by soft chewy cookie dough.
Ingredients
2.5

cups

All-purpose flour

1

cup

Melted butter

Slightly cooled before using

1.5

cup

Brown sugar

1/2

cup

White sugar

2

Large

Eggs

or egg substitute

450

grams

White chocolate chips and macadamia nuts

total for both

2.5

tsp

Vanilla essence

1

tsp

Baking powder

1

tsp

Baking soda

3/4

tsp

Salt
Instructions
Set your oven to re-heat at 350°F on the Bake setting.

Whisk your melted butter, white and brown sugar, eggs and vanilla essence together in a bowl.

In a separate bowl, sieve together your flour, baking powder and baking soda.

Mix your dry ingredients into your wet ingredients bowl.

Add in your chocolate chips and macadamia nuts.

Use a cookie scoop to make your cookie balls and place them on your parchment paper-lined cookie tray. Gently press down a litle on each cookie ball.

Bake the cookies for 9 minutes (timing may vary slightly based on your oven).

*Note: The cookies will look a little undercooked when removing them from the oven.

If you prefer a harder cookie, you can bake them for a couple of additional minutes. Just keep in mind that your cookies will harden a little once they have reached room temperature.