Simple Healthy Vegan Butternut Squash Soup
This super easy butternut squash soup takes minutes to prep and gets simmering on the stove!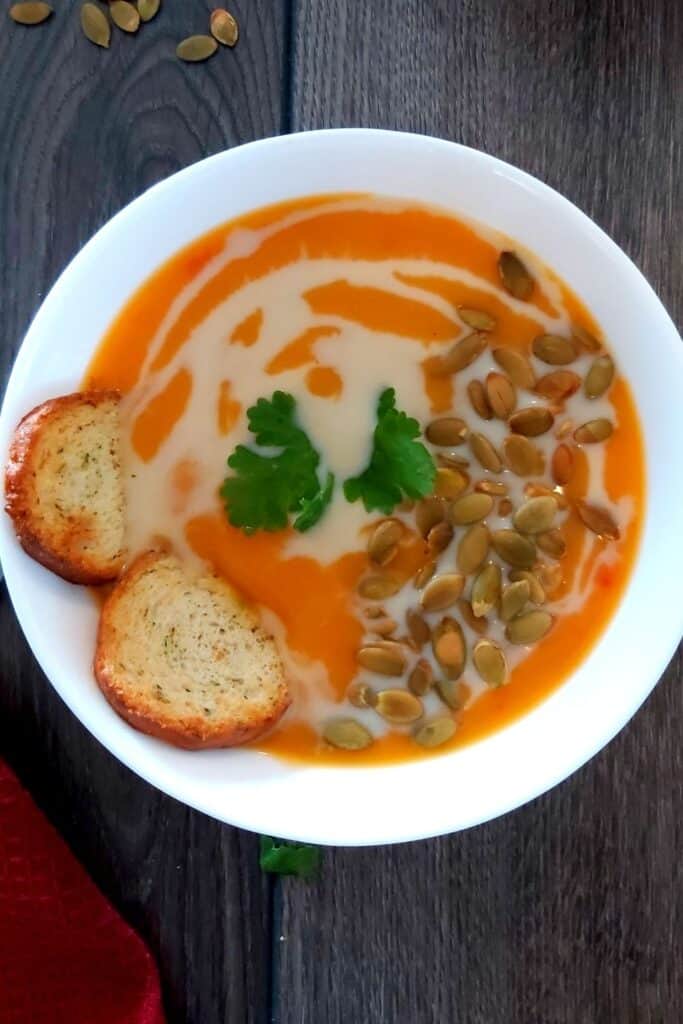 It's the perfect time to make this simple healthy vegan butternut squash soup.
As the summer season quickly comes to an end, the colder days suddenly bring on the urge for warmer meals in our homes.
There is nothing like a nice warm bowl of soup to take the chill out of the air.
And when planning our meals of the week, we love looking for seasonal vegetables to fill our cart, and winter squashes are currently available in abundance.
Butternut squash has a wonderful flavor.
It has a sweet and nutty flavor making it the perfect fall vegetable for a delicious soup that can be prepped and cooked in 30 minutes.
Simple Healthy Vegan Butternut Squash Soup Ingredients
Butternut squash
Red pepper
Onion
Garlic cloves
Vegetable broth
Salt/Pepper
Oat milk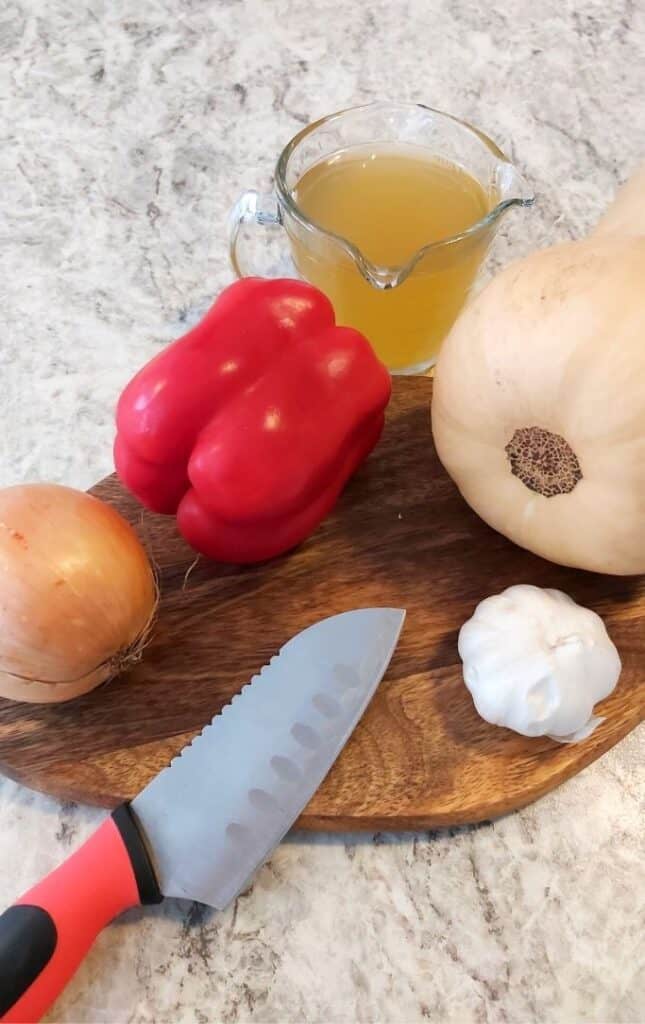 Easy Soup Preparations
This recipe is super simple to prepare. Simply peel and cut up your butternut squash into roughly one-inch pieces to make sure they cook up fast.
Chop up your red pepper (deseeded) and onion into any size you like, as it will be blended.
Add all your vegetables into a large pot and add in your vegetable broth.
I used my cheap 5.5 QT Dutch oven, that I got from my local grocery store.
I like to start my stove on high to get my pot to a roaring boil.
Then reduce the heat to medium-low to let the soup simmer for about 20 minutes until your butternut squash is cooked through when pierced with a fork.
Tip: If you have a few extra minutes, you can sauté your onions for a few minutes with a touch of olive oil for some extra flavor (optional)
In our family, we prefer to salt our meals ourselves, so I used reduced-sodium vegetable broth.
We added two teaspoons of salt to the final batch of blended soup with freshly ground pepper to taste.
As sodium content greatly varies among brands, I suggest salting to your family's preference once the soup is fully blended up.
It's also the perfect time to stir in your oat milk and fresh ground pepper.
Read: THAI CURRY ZUCCHINI AND PEA SOUP (INSTANT POT)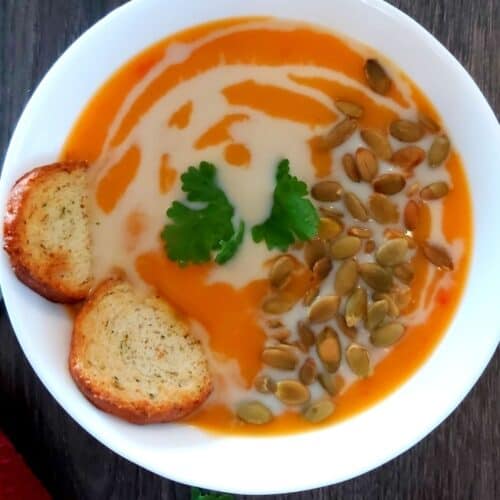 SIMPLE HEALTHY VEGAN BUTTERNUT SQUASH SOUP
This simple healthy vegan butternut squash soup takes just a few minutes or prepare and getting simmering on the stove.
Ingredients
5

cups

Butternut squash (3 lbs pre-chopped)

1

Red pepper

1

medium

Onion

6

Garlic cloves

1

carton

Vegetable broth (32 OZ)

We used low sodium broth

2

cups

Unsweetened oat milk

2

tsp

Salt

Pepper (to taste)
Instructions
Peel and chop your butternut squash into one inch pieces

Chop up your red pepper and onion into pieces (any size is fine)

Add all vegetables into a large pot with your vegetable broth

Bring your soup to a roaring boil. Then reduce the heat to medium-low temperature

Cook for 20 minutes or until the butternut squash is cooked through (test with a fork)

Remove from stove and cool to the require temperature of your blender and then blend to your preferred consistency.

Mix in your oat milk. Add salt and pepper to taste

Top with some roasted pumpkin seeds and a side of crostini for dipping (optional)
Notes
Substitutions/Modifications
You can replace the oat milk with your plant-based milk of choice, coconut milk is a great option. The oat milk does not overwhelm the soup but if your looking for a creamer flavor, full-fat coconut milk would do the trick.
If you are not on a plant-based diet and prefer a dairy product, then cooking cream or heavy cream are great alternatives.
Want to add a touch of spice? Try a teaspoon of red curry paste or Indian curry powder. You can also just add-in some cayenne pepper.
Refrigeration
soup holds up nicely for 3-4 days in the fridge. Make sure your leftover soup reaches room temperature before placing it in the fridge.
Instant Pot/Crockpot
This soup can be made just as easily simmering in a Crockpot throughout the day or using the soup setting on your Instant Pot. We have both small appliances so depending on my mood, schedule, or whats clean and available and just choose among them.
Tips: 
1) If time permits and you can make this soup the day before, that's even better. As with most soups, I find the flavors are really heightened when they have time to settle down and sit together in the fridge. 
2) If you have a few extra minutes, you can sauté your onions for a few minutes with a touch of olive oil for some extra flavor (optional)
Simple Healthy Vegan Butternut Squash Soup